A combination of volunteering and tourism, voluntourism is a popular form of international travel. You use your time and energy to help others while exploring a different country and culture.
At Projects Abroad, we take volunteer tourism a step further:
Contact us to find out more about how you can make a real difference while exploring the world.
1-3 of 138 Projects
Giant Tortoise & Sea Lion Conservation in the Galapagos Islands
See this project
Price:

$2,970 USD for 1 week

Extra Weeks:

$470 USD

Start Date:

Anytime

Minimum Duration:

1 week

Ages:

16 or over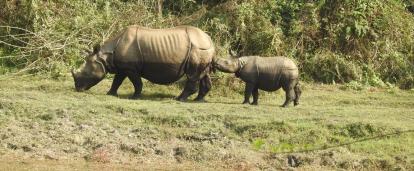 Rhino Conservation in Nepal
See this project
Price:

$3,140 USD for 2 weeks

Extra Weeks:

$470 USD

Start Date:

Anytime

Minimum Duration:

2 weeks

Ages:

16 or over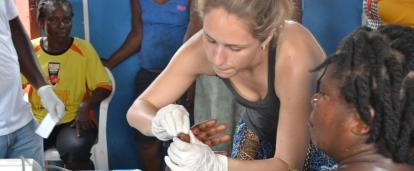 Medical Internships in Ghana
See this project
Price:

$2,470 USD for 1 week

Extra Weeks:

$370 USD

Start Date:

Anytime

Minimum Duration:

1 week

Ages:

16 or over
Load More
Can't find what you're looking for?
We'd be happy to talk about creating a custom voluntourism opportunity for you. Most of our staff have been volunteers themselves, so they're ready to answer your questions, big or small.
(+1) 619 320 2424
or email:
Get in Touch
to start planning your project
What are some good volunteer abroad opportunities?
You have a number of options for volunteer abroad opportunities with us. We make the volunteering process as hassle-free for you as possible, so you can enjoy your time abroad while making a real impact.
You can do things like:
These projects are just the tip of the iceberg! You can also do an international internship and we offer cultural exchange programs.
How does volunteer tourism benefit the community?
Sustainable and ethical change is one of our core values. We plan, monitor, and evaluate all our programs in close consultation with local communities. As a voluntourist with us, you're working towards making a real impact. Read more about our values and who we are.
Below, we explain in greater detail how you can use your skills, time, and energy to help others.
When you contribute to a well-run and sustainable project, you're helping to implement long-term development. Here are a few examples of how you can get involved.
By providing a local teacher with support and by creating educational resources on a Teaching Project, you'll indirectly impact the children they teach.
When you help a struggling entrepreneur get their business off the ground at a Microfinance Project, you're helping to support an entire family for years to come.
When you take part in environmental voluntourism, you're playing an active role in protecting animals and habitats like the Amazon Rainforest.
By participating in voluntourism, you're contributing to the local economy.
In their free time, most volunteers go sightseeing, like game drives and island tours. Many developing countries rely heavily on income from tourism. In this way, voluntourism companies and volunteers support local businesses.
Voluntourism companies employ local staff.
Projects Abroad employs dedicated, in-country staff wherever we work. We're not just committed to helping you discover what you're capable of. We do the same for our staff.
Volunteering tourism is increasingly popular and it's important to carefully research the organization you're considering traveling with. Experience, sustainability, and financial responsibility are essential to running programs that benefit local people.
Voluntourism Opportunities: more than just volunteering and sightseeing
With volunteering tourism, you're well placed to make a tangible impact on the people you work and live with. You'll also learn about the culture and traditions first-hand.
When they're abroad, most of our volunteers live with local host families. Your host family will welcome you into their home and help you become part of the community. You'll share their daily lives and learn their customs, which most tourists never experience.
When you choose to join a voluntourism program, you're also joining a global network of volunteers. Our volunteers come from all over the world. You'll find that most of them share your passion for giving back and your desire to broaden your horizons.