Join a teaching abroad program and help children access the education they need for a brighter future. We know that education is essential for breaking down the barriers of poverty and inequality. We see it every day on our Teaching Projects. By joining us on a volunteer teaching placement, you'll be able to make this change happen yourself!
This is what you can expect from our teaching volunteer opportunities:
Work with children and young people in elementary schools, high schools or colleges
Learn from and support local teachers as a teaching assistant
Contribute to lessons and get real classroom experience
Get a first-hand perspective on global education and its challenges
We have short and long-term teaching abroad placements available. If you're passionate about a specific subject or have the experience, let us know. We can make sure you're at a project that's the best fit for you. We have:
Programs for volunteers wanting to teach English
Placements for volunteers interested in teaching basic computer skills
Opportunities for volunteers wanting to teach physical education abroad
Our programs run year-round, and you can join a trip at any time. It's ideal if you're looking for summer teaching programs abroad, or interested in teaching during the school year.
Interested in joining a Teaching Project in Peru? You can support Peru's Ministry of Education teacher training, starting January 7 2024. Learn more.
Choose a Teaching Project
1-3 of 22 Projects
Take a Gap Semester Abroad in South America
See this project
Price:

$7,895 USD for 8 weeks

Extra Weeks:

$300 USD

Start Date:

Throughout the year

Minimum Duration:

8 weeks

Ages:

17-24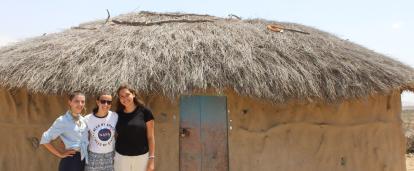 Take a Gap Semester Abroad in East Africa
See this project
Price:

$6,595 USD for 6 weeks

Extra Weeks:

$300 USD

Start Date:

Throughout the year

Minimum Duration:

6 weeks

Ages:

17-24
Volunteer Teaching with Monks in Sri Lanka
See this project
Price:

$2,340 USD for 2 weeks

Extra Weeks:

$320 USD

Start Date:

Anytime

Minimum Duration:

2 weeks

Ages:

16 or over
Load More
Can't find what you're looking for?
We'd be happy to talk about creating a custom volunteer teaching abroad project for you. Most of our staff have been volunteers themselves, so they're well placed to answer your questions, big or small.
(+1) 619 320 2424
or email:
Get in Touch
to start planning your project
Is an international teaching program right for me?
Our teaching abroad opportunities are for you if:
You're interested in education and how people learn
Your career path includes this vision: seeing yourself at the front of a classroom, motivating students, and helping them realize their full potential
You're a qualified teacher looking to volunteer and teach abroad
You're a retired teacher looking for volunteer opportunities
You'd like to empower the next generation of global citizens
You're eager to travel, meet people from around the world, and learn about different cultures
If any of these points interest you, then we can help! We have teaching overseas programs to suit different levels of experience and interests. You can learn how to teach abroad, or use your skills to make a real difference.
Teach English around the world and use the experience to build a strong resume. You'll also have an edge in interviews, especially if you're applying for a teaching qualification.
You'll work alongside a local teacher, and we'll teach you what you need to know before you step into a classroom. You don't need:
A TEFL or CELTA qualification
Previous teaching experience
Knowledge of the local language
All you need to teach English abroad is a passion for education. If you're interested in teaching, but want to focus on other community issues, you can consider one of our Youth Development and Social Work Projects. We can also organize Teaching Internships abroad for those with specific requirements. Read our full list of projects for volunteering abroad.
As I had hoped, my time in Argentina shaped the direction of my future. While working at St. Mark's, I realized that the adult classes were my favourite ones to teach. Consequently, I decided to pursue a career in post-secondary education. - Robin G, Teaching in Argentina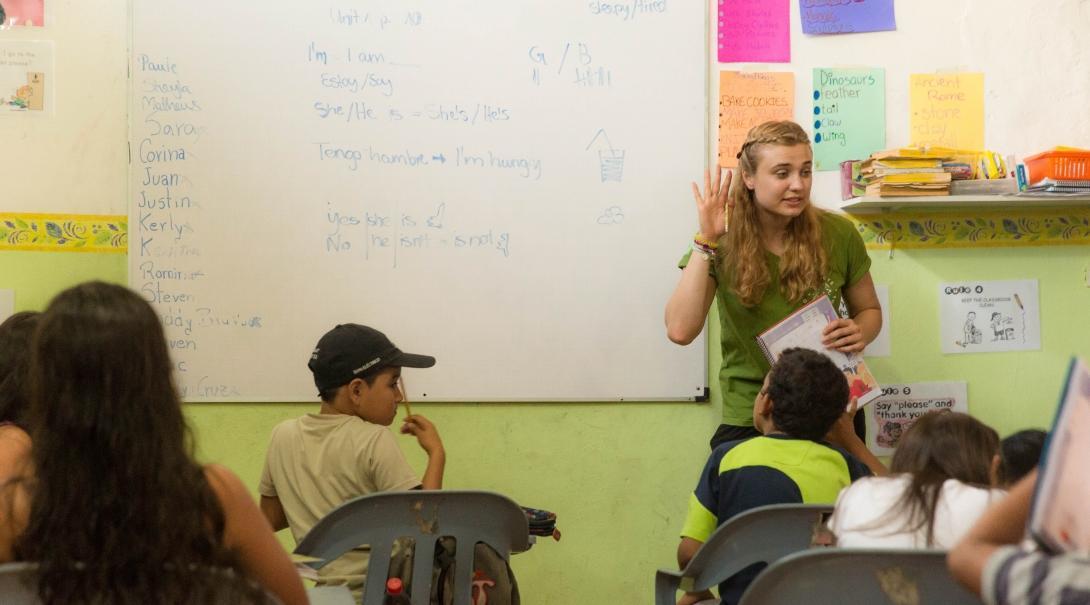 What are the benefits of teaching abroad?
Teach around the world and expect to gain:
Skills like teamwork, communication, leadership, resilience, organizing, planning, and time management
Teaching experience in a real classroom environment
A global mindset, from working and empathizing with people from different cultures and backgrounds
Confidence from challenging yourself outside of your comfort zone
All of the above will improve your resume to give it the edge it needs for future applications. You'll experience personal development while teaching English overseas.
Although teaching proved to be more difficult than I anticipated, the children motivated me to try my best. Their diligence and sweet smiles were inspirational. I quickly learned lesson planning, the ins and outs of flashcards, games, and how to manage a classroom full of hyperactive children. - Ekaterina L, Teaching in Cambodia
Why does international teaching matter?
We believe that education is essential so that young people to move beyond the barriers of poverty and disadvantage. The schools we support are often stretched to the limit of their resources. On an international teaching opportunity with us, you'll provide extra support and enthusiasm where it's really needed.
My best memories of teaching were the days that we made huge breakthroughs. The children were so bright and picked up ideas quickly. I was only there for a short time, but I felt we made a lot of progress- the kids couldn't hold a pencil properly when I arrived and could write the alphabet when I left! - Ruth B, Teaching in Ghana
What sets Projects Abroad's Teaching Projects apart?
At Projects Abroad, our first aim is to benefit the communities we work in. Our volunteer teaching opportunities are ethical and well supported. Here are some factors that set us apart:
Dedicated staff support
Each project has a full-time member of staff whose job it is to support our volunteers. We don't expect our volunteers to be qualified teachers or experts in education. On a teaching opportunity abroad, you'll work with trained teachers from the local community who will guide you along the way.
Our local Projects Abroad staff will also be available to help. They'll help you plan your work and be available to give you advice and assist you with anything you need.
A targeted approach
We're about a lot more than pitching up and pitching in. We stand apart from other volunteering projects because we're guided by annual reviews and thorough needs assessments, which are recorded in our Management Plans.
This level of professional strategic thinking around each project is very important to us. It helps us make sure our volunteering teachers and the communities we serve both get the outcomes they need.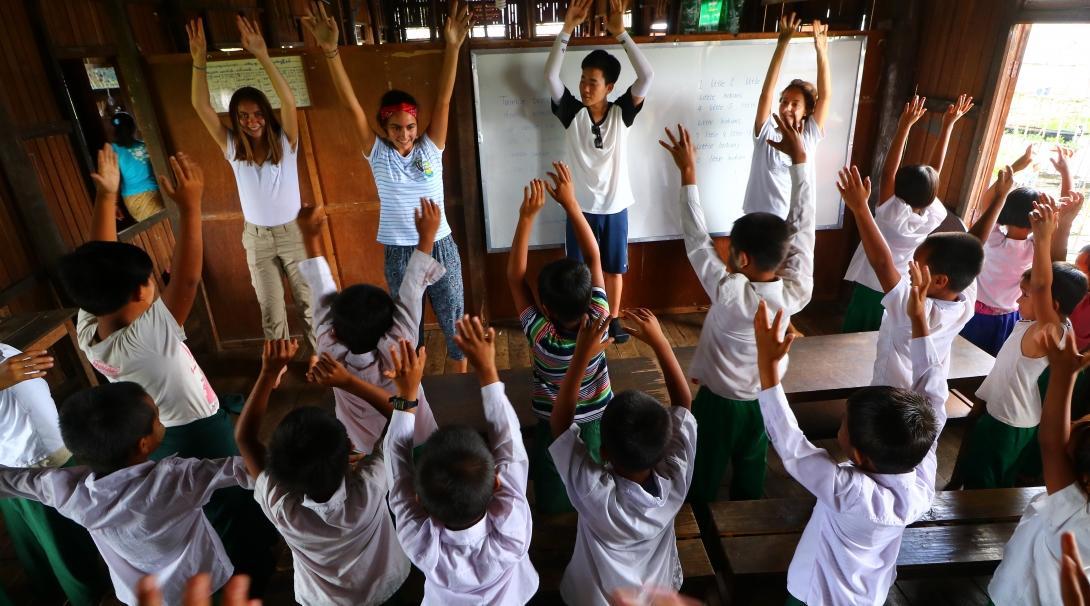 Our Child Protection Policy
Not quite what you're looking for?
Take a look at the following pages where you'll find collections of similar projects: