We're thrilled to announce that Americans can now join our projects in Mexico again! Are you ready to channel your energy into something meaningful by immersing yourself in another rich culture, but a little hesitant to venture too far from home? Why not pop down to the Mexican heartland and join us on a Conservation, Medical or Business project ? Our team is waiting to pick you up and show you what makes Jalisco one of the best hidden gems in North America. Please contact us today for the latest information.
Volunteer in Mexico with Projects Abroad and help serve communities in need through a variety of project options. You'll contribute to ongoing work to support communities while experiencing life in a beautiful country first-hand.
We offer several different kinds of volunteer work in Mexico. You can support early childhood development at an under-resourced care center, protect endangered turtles on black sand beaches, gain valuable experience on a Medical Internship by working at a local hospital, and more. We even offer Spanish language add-on courses for an even more immersive experience.
Our projects are based in vibrant Guadalajara, or tropical Cuyutlan and La Paz, depending on what project you choose. We have full-time staff in Mexico who are there to support you 24/7.
Modern-day Mexico boasts a simulating blend of Mesoamerican cultures, Spanish traditions, and contemporary arts. You'll get to explore both idyllic coastlines and cactus-strewn deserts in the evenings and on your weekends off.
Projects available in Mexico
1-3 of 18 Projects
Available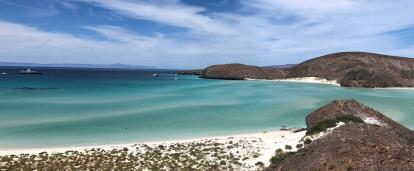 Scuba Diving and Marine Conservation in Baja California Sur, Mexico
See this project
Price:

$2,395 USD for 1 week

Extra Weeks:

$750 USD

Start Date:

Anytime

Minimum Duration:

1 week

Ages:

16 or over
Summer 2022 | Register Now
Conservation Volunteer Work in Mexico for Teenagers
See this project
Price:

$3,005 USD for 2 weeks

Extra Weeks:

$530 USD

Start Date:

Summer/Winter Break

Minimum Duration:

2 weeks

Ages:

15-18
Summer 2022 | Register Now
Public Health Internship for Teenagers in Mexico
See this project
Price:

$3,105 USD for 2 weeks

Extra Weeks:

$580 USD

Start Date:

Summer/Winter Break

Minimum Duration:

2 weeks

Ages:

15-18
Load More
Can't find what you're looking for?
We have the expertise and staff on the ground to create a custom project for you, or simply help you find the best option.
Speak to one of our Mexico experts on:
(+1) 619 320 2424
or email:
Get in Touch
to start planning your project
Where we are based in Mexico
Our volunteer opportunities in Mexico take place in Guadalajara. Our Conservation Project is based in Cuyutlan.
Guadalajara
Guadalajara has winding cobblestone streets, beautiful colonial architecture, and a buzzing urban area. The modernization of the city lets you experience the old and new, all within one city. So you'll get a taste of traditional Mexican culture and the energy of a growing modern city environment.
Cuyutlan
Cuyutlan feels a world away from everywhere. It has black-sand beaches, gentle waves, and a relaxed attitude. This quiet beach town is the home of our Sea Turtle and Coastal Conservation Project.
Is Mexico on your bucket list?
Safety and staff support
Your safety and security is our prime concern. We have many procedures and systems to ensure you have the support you need to enjoy your trip with peace of mind. Our Projects Abroad staff are available 24 hours a day to help, and will be on-hand to make sure you settle in well at your accommodation and placement. If you encounter any problems, they will be available to help at any time.
Find out more about safety and backup.