Volunteer in Cambodia with Projects Abroad and help local communities in need. You'll contribute to ongoing development goals. You'll experience life in this beautiful country, while learning about its history and fascinating culture.
We have many volunteer opportunities in Cambodia to choose from. You can support early childhood development and teach English in kindergartens, or work at under-resourced schools. Or, travel to rural areas where healthcare services are limited, and help us provide free basic medical care.
All of our projects are based in the capital city of Phnom Penh. Our offices are in the city center. Our full time local staff are on call 24/7 if you need support.
When you aren't volunteering, you can explore. Enjoy tasty dishes like Cambodian chicken curry or fresh fish amok, learn how to Apsara dance, or visit the many buddhist temples.
Projects available in Cambodia
1-3 of 12 Projects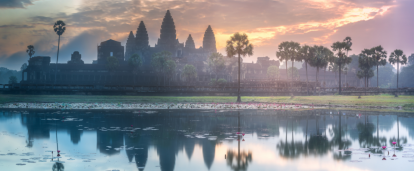 Take a Gap Semester Abroad in Asia
See this project
Price:

$7,895 USD for 10 weeks

Extra Weeks:

$300 USD

Start Date:

Throughout the year

Minimum Duration:

10 weeks

Ages:

17-24
Khmer Cultural Project in Cambodia for Volunteers over 50
See this project
Price:

$2,845 USD for 2 weeks

Extra Weeks:

$570 USD

Start Date:

Throughout the year

Minimum Duration:

2 weeks

Ages:

50 or over
Medical Internship in Cambodia
See this project
Price:

$2,940 USD for 2 weeks

Extra Weeks:

$420 USD

Start Date:

Anytime

Minimum Duration:

2 weeks

Ages:

18 or over
Load More
Can't find what you're looking for?
We have the expertise and staff on the ground to create a custom project for you, or simply help you find the best option.
Speak to one of our Cambodia experts on:
(+1) 619 320 2424
or email:
Get in Touch
to start planning your project
Meet the team in Cambodia
Where we are based in Cambodia
Phnom Penh
All our opportunities to do volunteer work in Cambodia are based in Phnom Penh. This is a magnificent city along the banks of the Tonlé Sap and Mekong rivers. There are many historical sites that detail the events of the Khmer Rouge era, so the city is definitely one for history enthusiasts.
The city is rapidly developing to keep up with an expanding population and growing tourism industry. Some places have an intriguing mix of traditional and modern life.
As you walk the streets, you'll be greeted by saffron-clad monks, chaotic traffic, and friendly people. Around every corner, your nose will be lead to some of the most delicious Cambodian food. You can visit Buddhist temples, browse local markets, and treat yourself to delicious fish amok or Cambodian chicken curry. The famous Angkor Wat Temples are only a few hours' drive away.
What do I need to know about traveling to Cambodia?
Safety and staff support
Your safety and security is our prime concern. We have many procedures and systems to ensure you have the support you need to enjoy your trip with peace of mind. Our Projects Abroad staff are available 24 hours a day to help, and will be on-hand to make sure you settle in well at your accommodation and placement. If you encounter any problems, they will be available to help at any time.
Find out more about safety and backup.