Experience living in vibrant South America through engaging, community work. Try the tango, taste savory empanadas, and practice your Spanish with friendly locals! While in Argentina volunteering, you'll discover the daily life of a new culture.
On our volunteer programs in Argentina, you'll be connected with local organizations to create lasting impact in the community. On our Argentina volunteer programs you can:
Our main base in the metropolitan city of Cordoba, Argentina's second largest city and the capital of the Cordoba Province. We also offer Conservation near the town of Puerto Madryn in Patagonia. Our full-time staff in Argentina are there to support you 24/7 as you need it.
There are many exciting things to do while volunteering in Argentina. You can visit the the historic Spanish downtown or the enormous Mar Chiquita salt lake. Go on adventurous hikes along the trails in the Andes Mountain Range or swim in the beautiful rivers of the sierras. Weekends in the city you can visit museums, cafes and street fairs while mingling with volunteers from around the world. On weekdays you'll be busy working on your project, learning Spanish and living like a local.
Projects available in Argentina
1-3 of 15 Projects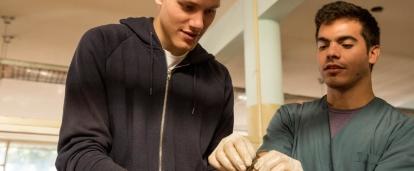 Medicine Internships with Spanish in Argentina for Teenagers
See this project
Price:

$3,145 USD for 2 weeks

Extra Weeks:

$620 USD

Start Date:

Summer/Winter Break

Minimum Duration:

2 weeks

Ages:

15-18
Radio Journalism Internship in Argentina
See this project
Price:

$2,520 USD for 1 week

Extra Weeks:

$420 USD

Start Date:

Anytime

Minimum Duration:

1 week

Ages:

16 or over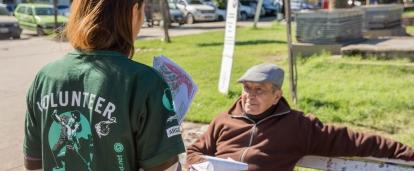 Human Rights Internship in Argentina
See this project
Price:

$2,520 USD for 1 week

Extra Weeks:

$420 USD

Start Date:

Anytime

Minimum Duration:

1 week

Ages:

16 or over
Load More
Can't find what you're looking for?
We have the expertise and staff on the ground to create a custom project for you, or simply help you find the best option.
Speak to one of our Argentina experts on:
(+1) 619 320 2424
or email:
Get in Touch
to start planning your project
Where we are based in Argentina
Cordoba
You'll be based in Cordoba. This city has good public transport links over short and long distances. Traveling is therefore extremely convenient.
If you enjoy nature, there are many hiking adventures in the nearby mountains. Enjoy the outdoors of Parque Sarmiento, and admire the historical sites in Plaza San Martin. There are also many local museums and art galleries to visit, and the hip neighborhood of Güemes has cafes, restaurants, and a weekend street fair.
Argentina has delicious local cuisine. Try the famous emapanadas, Cordoba's most famous flavor being criolla, or spend the weekend at an asado with friends or sipping mate in the park.
Puerto Madryn
Conservation volunteers stay at "La Esperanza'' wildlife refuge, around 80km north of the city of Puerto Madryn. It has 12km of beautiful coastline on the San Matías Gulf and covers an area of ​​6,700 hectares. Guanacos, pumas, sea lions and other species live there throughout the year. Every year it is visited by southern right whales, orcas, humpback whales and dolphins.
Puerto Madryn is a city in the northeast of the Chubut province in Argentina. The city is located on the shores of the Golfo Nuevo, on the Atlantic Ocean. It is considered the gateway to the Valdés peninsula, declared in 1999 as a World Heritage Site by Unesco and a Biosphere Reserve since 2015. It is one of the most important tourism centers in the entire region and the country, also considered as the national capital of diving.
What it looks like to volunteer in Argentina
Is Argentina on your bucket list?
Safety and staff support
Your safety and security is our prime concern. We have many procedures and systems to ensure you have the support you need to enjoy your trip with peace of mind. Our Projects Abroad staff are available 24 hours a day to help, and will be on-hand to make sure you settle in well at your accommodation and placement. If you encounter any problems, they will be available to help at any time.
Find out more about safety and backup.