Our internships in Public Health can help you cross two accomplishments off your list. Firstly, you get relevant clinical experience to support your education and career in the United States. Secondly, you give back by bringing crucial healthcare services to developing communities.
This is how to get experience in Public Health with Projects Abroad:
Work in clinics, community centers, or schools (we also do home visits in some countries)
Learn essential medical skills, like how to measure blood pressure and sugar levels
Use your clinical skills to conduct basic health checks
Raise awareness of disease and other health issues during educational campaigns, like how to prevent the spread of Dengue Fever in the Philippines
Get a deeper insight into healthcare practices and challenges in developing countries
All our global health opportunities are safe, supportive, and ethical. Our staff are there when you need them, and all of your work is supervised by a healthcare professional. Best of all, the work you do has long-term benefits for the people you treat! For example, if you do a blood sugar test that leads to a diabetes diagnosis, we refer the patient for further treatment and monitor their progress at future outreaches.
Choose a Public Health Program
1-3 of 7 Projects
Public Health Internship for Teenagers in Mexico
See this project
Price:

$3,145 USD for 2 weeks

Extra Weeks:

$620 USD

Start Date:

Summer/Winter Break

Minimum Duration:

2 weeks

Ages:

15-18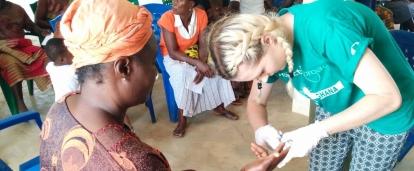 Public Health Internship in Ghana
See this project
Price:

$2,720 USD for 1 week

Extra Weeks:

$420 USD

Start Date:

Anytime

Minimum Duration:

1 week

Ages:

16 or over
Public Health Internship for Teenagers in Cambodia
See this project
Price:

$3,145 USD for 2 weeks

Extra Weeks:

$620 USD

Start Date:

Summer/Winter Break

Minimum Duration:

2 weeks

Ages:

15-18
Load More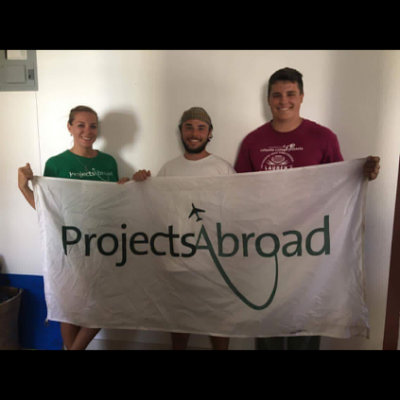 I learned how to correctly obtain a patient's blood pressure and blood sugar levels, and we practiced these skills several times a day leading up to the mobile clinic.
As well as conducting the surveys for the programme, I was also able to help out at different events across the community including vaccination clinics for babies and small children. At these clinics I measured the length and weight of the babies and was also allowed to give oral polio vaccinations to those who needed it.
Public Health Internship in the Philippines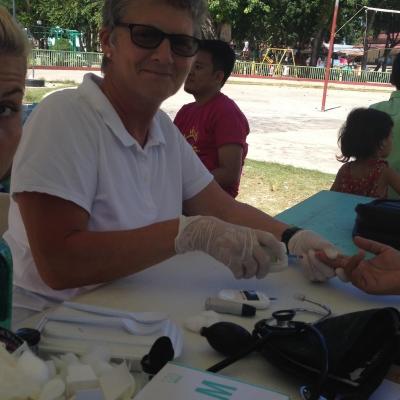 We needed baseline statistics so we designed a house-to-house sanitation questionnaire and were accompanied by our coordinator who translated and the Chef du Quartier.
How to Gain Experience in Public Health
Our Public Health Projects are a great fit for students, graduates, and professionals. If you don't have previous experience, we'll make sure you start at a level you're comfortable with. You can join if you want to:
Explore the field of public health as a high school student
Get hands-on clinical experience on public health opportunities for undergraduates
Go into the field and find out if a career in public health is really for you
Conduct clinical research abroad as a postgraduate student
Use our global health opportunities to broaden your experience as a Public Health professional
Our friendly Project Experts are here to help you select the best Public Health Internship for you, chat to them today!
No matter where you go as a public health volunteer abroad, you can rely on our staff to be there for you 24/7 whenever you need them. During work hours, you'll be guided and supervised by medical professionals. If you have questions for them, ask away, and take notes. We encourage you to learn as much as possible on our global health internships!
Not 100% convinced that a Public Health Internship is a good fit for you? Here are other options for you to look at:
General Medicine: clinical experience in medical facilities like hospitals, where you can rotate between departments like Pediatrics and Surgery
Nursing: experience what day-to-day life as a nurse is like in developing countries first-hand
Summer Public Health Internships Abroad
Our programs run throughout the year, so you can easily do a healthcare internship in the summer. On our Flexi Trips, which are perfect as global health internships for undergraduates, you can choose your own travel dates. This means you decide when to arrive and how long your internship will be. On a High School Special, you arrive and leave on set dates, so you'll always be with a group.
If you're organizing an international health summer internship at the last minute, read more about how we facilitate trips on short-notice.
What will I gain from health internships abroad?
Our global health volunteer programs help you prepare for the next stage of your education and career by doing something exciting and completely different. You'll get invaluable clinical experience for your resume, which will help you stand out from the crowd and drive your professional development.
You'll also gain other advantages, such as:
Develop global competencies like teamwork, communication, resilience, leadership, time-management, organization, and planning
Observe diseases and conditions that aren't as common in your home country
Increase your self-confidence as you push past your comfort zone
Hone your ability to empathize and work with people from different cultures and backgrounds
Experience a more in-depth internship than you might have back home
How are our Public Health internships different?
At Projects Abroad, our first aim is to benefit the communities we work in. You can be assured that your internship is ethical, well supported, and part of a better future. Here are a few elements of our work that set it apart from other internship programs:
Recording our work in a secure database
We created a Global Impact Database so we can track the positive impact our programs have. This is a secure and anonymous database that we use to identify specific areas of need. It allows us to use data to shape medical outreaches and health awareness programs. We can also monitor individuals we see often, report our results, and collect data for our own global health research. All of this work is guided by our Management Plans.
Real work with trained professionals
On our internships, you work alongside real healthcare professionals. You'll observe them in their everyday work and hear more about their experiences. You're likely to get more insights into the frontline of medical care than in your home country.
A tailored approach
We're often able to tailor your global health internship abroad to your interests. You can work in more than one department or focus on one particular area, or experience outreach work in the local community.
Our Medicine & Healthcare Policy
We take the safety of our volunteers, interns, and the people they work with very seriously. That's why we've put in place a comprehensive Medical Ethics Policy.
Need more help?
Our friendly Project Experts are ready to answer your questions, big or small.
(+1) 619 320 2424
or email:
Get in Touch
to start planning your project
Not quite what you're looking for?
Take a look at the following pages where you'll find collections of similar projects: