Take your learning to the next level by joining a medical internship abroad with us. We offer ethical programs, and you can choose which country you'd like to work in.
On a medical volunteer program with us, you can expect to:
Learn from local doctors, nurses, and professional healthcare workers
Participate in healthcare outreaches
Experience a healthcare system that is different to your home country
Learn about global healthcare issues
Meet interns from all over the world
Boost your resume with real-world medical work experience
Learn important medical skills, like checking vital signs or blood pressure
We have a number of programs available. We offer:
Pre-medical internships for undergraduate students working on medical school applications
Practicums for medical students
Medical internships for high school students ages 15-18
Our programs are flexible and we have professional in-country staff available to support you whenever you need it.
Choose a Medical Project
1-3 of 21 Projects
Medical Internship in Peru for Teenagers
See this project
Price:

$3,045 USD for 2 weeks

Extra Weeks:

$570 USD

Start Date:

Summer/Winter Break

Minimum Duration:

2 weeks

Ages:

15-18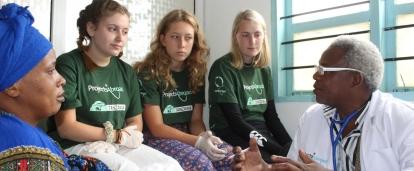 Medical Internship for High School Students in Tanzania
See this project
Price:

$3,045 USD for 2 weeks

Extra Weeks:

$570 USD

Start Date:

Summer/Winter Break

Minimum Duration:

2 weeks

Ages:

15-18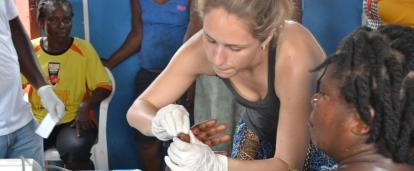 Medical Internships in Ghana
See this project
Price:

$2,470 USD for 1 week

Extra Weeks:

$370 USD

Start Date:

Anytime

Minimum Duration:

1 week

Ages:

16 or over
Load More
Can't find what you're looking for?
We'd be happy to talk about creating a custom project for you. Most of our staff have been volunteers themselves, so they're well placed to answer your questions, big or small.
(+1) 619 320 2424
or email:
Get in Touch
to start planning your project
Is a medical internship abroad right for me?
Does medicine interest you? Have you dedicated the next few years to studying the human body? Do you want to help people while gaining clinical experience? If you answered yes to any of those questions, then an international medical placement is perfect for you.
Having this kind of global health care experience will strengthen your resume and give you great discussion points in interviews and essays. It can also help pre-med students decide if they want to pursue a medical degree further.
Local experts and Projects Abroad staff will be there to support you while you gain medical work experience abroad. Aside from working at your placement, there will also be many opportunities to volunteer in the local community. You can:
Work at community outreaches and gain hands-on medicine experience
Give educational presentations to raise awareness of healthcare issues
Meet children, the elderly, and staff who will give you more insight into the local healthcare system
We also have alternative placements if you want a hands-on internship but feel Medicine and Healthcare isn't the right route for you. You can consider a Veterinary Medicine or Social Work internship.
Summer Medical Internships
Our flexibility means we can help you plan a summer medical internship for periods as short as one week. Your summer internship will be filled with opportunities to learn, observe, and add clinical experience to your resume.
We understand how busy life can be as a medical student, that's why our medical volunteer programs allow you to choose:
Start dates
End dates
A placement and country that interests you
Chat with our project experts about how we can make your medical internship abroad worthwhile.
What will I gain from a medical internship abroad?
On your trip, you'll gain skills that will prepare you for the next stage of your education and career. Expect to:
Enhance your global competencies like teamwork, communication, leadership, resilience, organizing, planning, and time management
Gain more in-depth medical work experience than you might get in your home country. Concerned about how much you can benefit from your project if you don't have previous medical experience? Read our blog about volunteering abroad without experience
Develop the ability to work and empathize with people of different cultures and backgrounds, helping to develop a global mindset
Boost your confidence from pushing past your comfort zone
Gain clinical experience by taking part in hospital volunteering, clinic, or outreach volunteer activities
Medical volunteering will enhance your resume and your personal development.
Why do Medical Internships matter?
Gaining medical work experience abroad will bring you closer to a future working in your chosen field. We're proud to support future talent who'll bring vital skills to communities in need.
All of our medical interns will also always take part in volunteer work abroad too. This is done through outreaches, and during community days. These days are aimed at uplifting local communities where we work.
How are our Medicine and Healthcare Internships different?
At Projects Abroad, our first aim is to benefit the communities we work in. You can be assured that your medical internship is ethical, well supported, and part of a better future. Here are just a few elements of our work that set it apart from other internships:
Recording our work in a secure database
We created a Global Impact Database so we can track the positive impact our programs have, including our medical projects. This is a secure and anonymous database that we use to identify specific areas of need. It allows us to use data to shape medical outreaches and health awareness programs. We can also monitor individuals we see often, report our results, and collect data for research. All of this work is guided by our Management Plans.
Real work with trained professionals
On our medicine and healthcare placements, you'll work alongside real healthcare professionals. You can observe them in their everyday work, ask questions and hear more about their experiences. You're likely to get more insights into the frontline of medical care than in your home country.
A tailored approach
We are often able to tailor a medical internship to your interests. You can work in more than one department or focus on one particular area, or experience outreach work in the local community.
Our Medicine & Healthcare policy
We take the safety of our medical volunteers abroad and the people they work with very seriously. That's why we've put in place a comprehensive Medical Ethics Policy.
Not quite what you're looking for?
Take a look at the following pages where you'll find collections of similar projects: