Our cultural immersion programs abroad provide the perfect opportunity to learn about different cultures and traditions. You'll experience a completely different way of life first-hand, as you live and work in the heart of some of the most fascinating cultures in the world. You can trek through the desert and live in a ger with a nomad family in Mongolia. Or live in a Samoan village and learn about a unique kind of island life. With our diverse selection of cultural immersion projects, there's sure to be a project for you!
You'll also become part of our global network of volunteers. You'll build international connections, learn about volunteers from around the world, and make lifelong friends.
Join one of our cultural exchange programs abroad and broaden your perspective of the world. You'll go home with a renewed outlook on life and a richer knowledge of people and places you might never have heard of before your trip.
Our international cultural exchange programs are a chance for a completely unique experience. You'll get to know different countries in a way you wouldn't as a tourist.
Cultural Exchange Programs
View specific types of projects using the links below:
Is a cultural immersion program abroad right for me?
Our international cultural immersion programs are suited to students and adults. You'll hone valuable skills like communication and planning, while also learning more about distinct culture-specific practices. Learning to adapt to a different culture will stand you in good stead for furthering your education and career.
You don't need any specific requirements to join. Our local staff will be on-hand 24/7 to support you and guide you through your project. The local people you live with will also be there to teach you and help you integrate into the community.
Choose a Cultural Exchange Project
1-3 of 10 Projects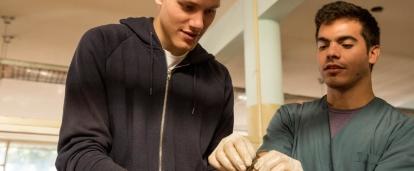 Medicine Internships with Spanish in Argentina for Teenagers
See this project
Price:

$3,145 USD for 2 weeks

Extra Weeks:

$620 USD

Start Date:

Summer/Winter Break

Minimum Duration:

2 weeks

Ages:

15-18
Spanish Language Course in Ecuador
See this project
Price:

$2,670 USD for 1 week

Extra Weeks:

$1,020 USD

Start Date:

Anytime

Minimum Duration:

1 week

Ages:

16 or over
Community Volunteer Work in Fiji
See this project
Price:

$2,470 USD for 1 week

Extra Weeks:

$370 USD

Start Date:

Anytime

Minimum Duration:

1 week

Ages:

16 or over
Load More