Join us for a medical internship in Ghana and learn from doctors by shadowing them on their rounds. You'll work at a large regional hospital, and learn about diagnosing and treating different diseases and conditions. You'll get valuable insight into a developing country's medical practices, which could help your future career.
You'll also get practical work experience doing basic health checks in rural communities. We'll teach you what to do, and you'll work under supervision. Your work will also include giving talks to raise awareness around key healthcare issues.
You'll work in one of three locations in Ghana and live with a local host family. Seize the opportunity to explore a West African country, meet new people, and eat tons of Ghana's famous jollof rice!
When you apply you only pay $295, which comes off the total price.
Looking to do more than one project? Call us on (+1) 212 244 7234 to see if we can offer a discount.
Project Overview
Flexi Trips - A flexible project that gives you the support and independence you need as you volunteer
Completely flexible dates
Anyone aged 16 or over can join
What's included in the price?
Accommodation

Food (three meals a day)

Travel and medical insurance

Airport pick-up and drop-off

Full induction and orientation by an experienced staff member on arrival

Transport to and from your work placement

In-country support and 24-hour back-up from our team of full-time local staff

Emergency assistance from our international emergency response team

Project equipment and materials, including access to our database with thousands of resources

A supervisor/mentor at your work placement

Training and workshops from our experienced local staff

Regular social events and community activities with other volunteers and interns

Access to our local office with internet connection

Certification of project completion

Access to our alumni services and discounts

Visa support and advice

Fundraising support, including your own personalized fundraising website

Pre-departure preparation by your own specialist Volunteer Advisor

Personalized MyProjectsAbroad website, with all the information you need about your project, accommodation and destination

A cultural awareness course

Membership to our volunteer social media groups, to share information and to get in touch

Support to help you complete registration or internship documents, if applicable
What's not included?
Flights

Visa costs (where applicable)
Is a medical internship in Ghana right for me?
This internship is ideal for anyone who wants to see medicine in practice. You'll get first-hand experience of working in a hospital in a developing country.
You can use this internship to add work experience to your resume before applying to medical school. You can also talk about all you saw, learned, and how you overcame challenges during interviews or in application essays. It's also a great way to explore different departments within a large hospital. This is especially useful if you're a medical student deciding on a specialization.
Remember that you'll be shadowing doctors and nurses in a busy medical environment. It's important to be proactive, ask questions, and demonstrate initiative. This will ensure that you develop a good relationship with the staff, and that you learn as much as possible during your medical placement in Ghana.
Our medical internship in Ghana runs throughout the year, and you can join at any time from a minimum of one week. We encourage you to stay longer, so you can see and learn more.
What will I do on this project?
Working under the supervision of medical professionals, you will:
Join doctors and nurses on their daily rounds at the hospital
Do practical health checks during community outreaches
Take part in health education campaigns and focus on disease prevention
Your work will be split in three main areas:
Join doctors and nurses on their daily patient rounds
You will shadow doctors and nurses on their daily rounds. They'll teach you about Ghana's prevalent diseases, their diagnoses, management, and treatment. You should be prepared to to encounter patients who suffer from diseases and conditions that you don't see at home, such as Malaria and Typhoid.
During your time as a medical intern in Ghana, you'll also spend some time in different departments of a large regional hospital. This will give you insight into various specializations and could help you choose your own later in your studies.
Do health checks during community outreaches
In Ghana, many rural and disadvantaged areas lack access to healthcare services. Most people cannot afford to travel to clinics or pay to see a doctor. This is also the case in marginalized communities, like leprosy camps. We organize regular outreaches, where you get involved with tasks like:
Treat and dress chronic wounds at a leprosy camp
Treat wounds and ringworm infections at schools
Do health checks in rural communities, focusing on measuring blood pressure and blood sugar levels, and run free malaria tests
This is important work, that gives you the chance to help others while learning and using basic medical skills.
Take part in health education campaigns
You will help us raise awareness about key healthcare issues around the country. We do this by holding talks in schools, care centers, or local communities. Typical topics will include:
Good hygiene practices
Malaria prevention
Sexual education
Sexual education is critical, as this is still considered a taboo topic in many schools. You could also focus on healthy lifestyle choices to prevent illnesses like heart disease and diabetes.
Types of placements available
During your medical internship in Ghana, you will be able to work in a number of different departments. These include:
Accident and Emergency
Pediatrics
Maternity
Pharmacy
Physical Therapy
Surgery
If you're interested in a specific department, please feel free to contact us and we can help advise you.
Where you will be working in Ghana
You will be based in one of three locations: Cape Coast, Dodowa, or Accra.
Most of our interns are placed in Cape Coast, but there are also placements available in Accra and Dodowa.
Accra
With a population of 2.7 million people, Accra is the largest city in Ghana and also the country's capital. If you would like to experience this burgeoning West African city, you can request a placement here too.
Our placement in Accra is at a hospital, where you will have access to most departments.
Cape Coast
This is where most of our interns are placed. Here, you will work in a teaching hospital with patients who have a wide range of illnesses. You will also get the opportunity to interact with local medical students and gain insight into their curriculum.
Cape Coast is a vibrant fishing port with a fascinating history, which you will love exploring in your downtime.
Dodowa
If you have no previous medical experience, you will be placed in Dodowa. Here you will have more professional supervision and guidance. You'll work in a regional hospital.
A typical day as a medical intern in Ghana
On any given day, you will work shifts alongside your supervisors. These shifts typically take the following form:
Morning: 8am - 2pm
Afternoon: 2pm - 8pm
Night: 8pm - 8am
Each shift starts with rounds as you follow the consulting doctor and learn about each patient's case and course of treatment. Use this opportunity to ask plenty of questions. After rounds, you'll assist nurses with patient care. You can watch them administer medication and treatment, and help to update patient files. Nurses always appreciate help in general patient care as well such as feeding, bathing, and bed changing.
Please note that hospitals in Ghana are often busiest in the mornings. Don't be late for the morning shift if you'd like to witness the bulk of the day's work!
Afternoons are a great opportunity to get to know the staff and patients better.
Two days per week, you'll join one of our community outreaches to assist with doing health checks.
During the hours you aren't working, you'll have free time to explore Ghana's colorful culture and natural beauty with your fellow interns.
Since you will be living with a local host family, breakfast or dinners offer great opportunities to get to know them better and fully immerse yourself in their way of life.
What are the goals and impact of this Medicine internship?
The main goal of this project is to help expand your medical knowledge with guidance from experienced local doctors and nurses.
It also gives you insight into the healthcare system of a developing country. Many Ghanaian government hospitals receive limited funding, which means they often lack the resources that are standard in most western hospitals.
As a developing country, Ghana also suffers from a double burden of disease. Infectious diseases are still rife, with occasional outbreaks of cholera and ongoing cases of malaria. The introduction of a more western lifestyle means that now there is also an increase of diseases like hypertension and diabetes.
Through school and community outreaches, we help educate local people about malaria prevention and the importance of early treatment. Our interns also help conduct screenings and tests to prevent further complications. We also offer basic healthcare services, as people are not always able to afford treatment for infected wounds, ringworm, or malaria.
Here are our five main goals for our medical program in Ghana:
Promote the exchange of medical knowledge
Improve access to basic healthcare
Promote awareness of non-communicable diseases, like diabetes
Improve the quality of healthcare
Reduce the number of malaria cases
Gain work experience in healthcare on an international medical internship in Ghana, while helping us achieve these long-term goals.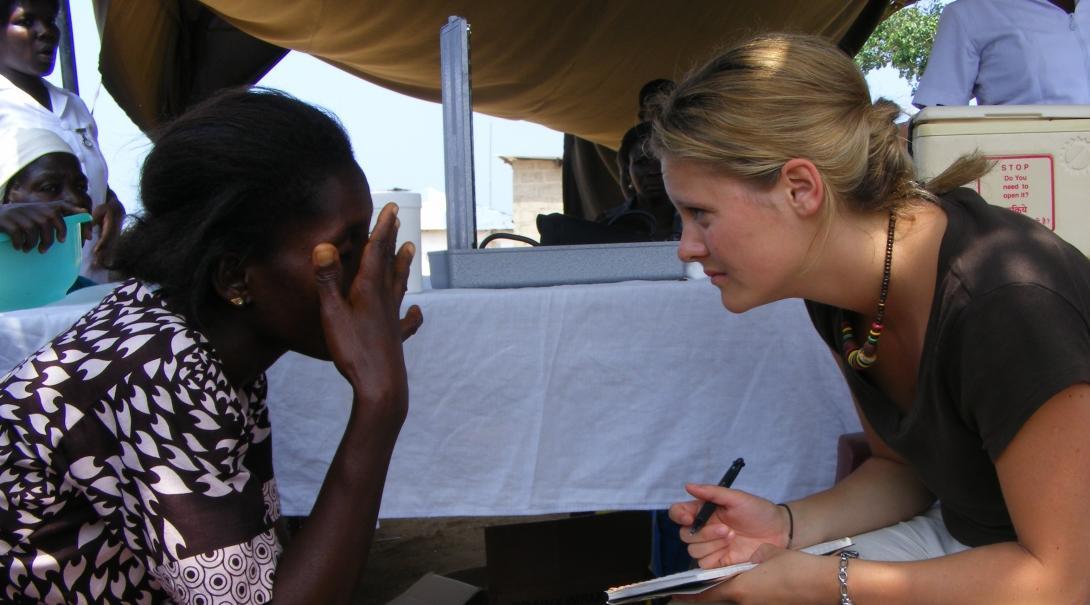 I was working in the accident and emergency department seeing injuries and illnesses that you would never have suspected to see at home. . . We were also given opportunities to help clean and bandage wounds, help with pharmacy runs, take patients for X-rays, take blood samples to the lab and accompany the doctors and nurses on hospital rounds.
Medical Internships in Ghana
On the way to my placement, I met three members of the Projects Abroad staff. I, like many other volunteers, was extremely nervous, but these three people made me feel welcome and answered all my questions. I was given general information about Ghana and a daylong tour around the city in which I would live and work for my entire placement.
Medical Internships in Ghana
Professional Volunteers and Medical Practicums for Students
This project is also ideally suited to professionals interested in using their skills to help, as well as university medical and healthcare practicum students.
As a professional, you can be sure we'll match your training and expertise to the placement where you're needed most. With your support, we can make an even bigger impact on the local communities we work with.
If you're a practicum student, we'll organize a practicum placement where you can learn as much as possible. We want you gain the knowledge and skills that will begin to shape your professional career.
Contact us so we can help organize a specific placement for you.
Management Plans
We set out the aims and objectives of our projects in documents called Management Plans. We use them to properly plan the work you'll do. They also help us measure and evaluate our achievements and impact each year.
Ultimately, our Management Plans help us make our projects better. This in turn means you get to be part of something that makes a real impact where it's needed. Read more about our Management Plans.
Measuring Our Impact
Our projects work towards clear long-term goals, with specific annual objectives. Every volunteer and intern we send to these projects helps us work towards these goals, no matter how long they spend on our projects.
Every year we take a step back and look at how much progress we've made towards these goals. We put together a Global Impact Report, which documents our achievements. Find out more about the impact our global community of volunteers, interns and staff make, and read the latest report.
Not quite what you're looking for?
Take a look at the following pages where you'll find collections of similar projects: