Get the experience you need to drive your career forward after years of hitting the books, either by volunteering after college or through our internships for recent college graduates.
On postgraduate programs abroad with Projects Abroad, seize the opportunity to:
Add relevant, hands-on experience to your resume
Work with a diverse range of experts and professionals from around the world
Conduct in-depth research for further postgraduate studies
Put your studies and knowledge to work in real-world settings
Hone global competencies like communication, planning, and problem-solving
Our post grad opportunities abroad are safe, flexible, and hassle-free - the Projects Abroad guarantee. Your program can be tailored to your exact requirements, and we work with you to ensure you get everything you need out of the experience. We also offer research opportunities for recent college graduates, so we can organize anything you need to collect data for thesis work.
You may also be interested in our brand new Gap Semester Program, Going Beyond.
"I never expected the incredible opportunities that I was about to have while working at the Projects Abroad Human Rights Office (PAHRO). I learned more in my month of interning then I ever could have imagined. It was the first time in my life I felt like I was doing tangible work, and at the same time, I was actually touching the lives of people." Emily D, Law and Human Rights in South Africa
Choose a Program
1-3 of 140 Projects
Giant Tortoise & Sea Lion Conservation in the Galapagos Islands
See this project
Price:

$2,970 USD for 1 week

Extra Weeks:

$470 USD

Start Date:

Anytime

Minimum Duration:

1 week

Ages:

16 or over
Rhino Conservation in Nepal
See this project
Price:

$3,140 USD for 2 weeks

Extra Weeks:

$470 USD

Start Date:

Anytime

Minimum Duration:

2 weeks

Ages:

16 or over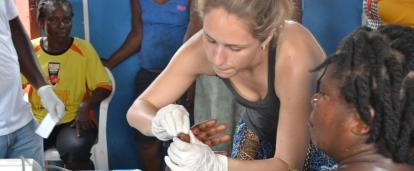 Medical Internships in Ghana
See this project
Price:

$2,470 USD for 1 week

Extra Weeks:

$370 USD

Start Date:

Anytime

Minimum Duration:

1 week

Ages:

16 or over
Load More
Need more help?
Need more information on what kind of work you will do day-to-day? Our Project Experts are also available to answer any questions you have about our programs:
(+1) 619 320 2424
or email:
Get in Touch
to start planning your project
Internships for Recent College Graduates: What can I do?
Our internships are ideal for anyone looking for work opportunities abroad for recent graduates. No matter which program you choose, you can expect a combination of:
Travel
Hands-on experience
Real-world situations where you can test your skills
Here are some of our most popular internships for recent college graduates:
See a full list of our internships abroad.
Who knows, our recent college grad internships could lead you down a new and exciting career path.
"Not only did I learn important skills regarding health screenings (taking blood pressure, blood sugar, body fat readings, and conducting nutrition counselling sessions), I was also able to put into practice what I already knew and teach the locals basic healthy living practices. It was extremely rewarding to hear the positive feedback and thanks during my last week. I truly felt as if I had made a difference in helping them lead a happier and healthier life! It has really fueled my passion for promoting healthy living, and I look forward to working within this industry in the future." Sarah S, Nutrition in Fiji
Volunteer Abroad after College: What can I do?
As a volunteer abroad after college, you can use your time and energy to make a real difference.
All of our programs are built around achieving long-term goals guided by the United Nations Sustainable Development Goals (UN SDGs). We champion Responsible Volunteer Travel and have policies guiding our work, so you can rest assured you're part of an ethical experience.
Here are several of our most popular volunteer opportunities for recent college graduates:
See a full list of our volunteer abroad programs.
Volunteering after college can take your resume to new heights. The wealth of global experience and skills you gain, together with proving your adaptability and willingness to help others, is invaluable.
Summer Programs for Recent College Graduates
Is your heart set on going abroad after graduating in May? All of our volunteer programs and internships run in June, July, and August (better still, they run year round!) so you can easily fit in a trip before you enter the working world.
You choose your own dates on a Flexi Trip, so you can decide how long you want to travel. No matter what else you fill your summer with - from filling in job applications to interviews - a Projects Abroad trip can fit.