We understand that getting clinical experience as a high school student can be extremely difficult. We offer young people like you a safe, guided experience into the world of medicine through our international High School Special programs.
Our summer medical internships for high school students focus on experiential education, so you learn by doing. You can expect to:
Shadow doctors and other medical professionals in busy hospitals and clinics
Attend medical workshops and seminars
Get an insight into the healthcare challenges people face everyday
Participate in community healthcare outreaches that serve people in need
Learn essential medical skills like measuring blood pressure and blood sugar levels
You'll be part of an ethical medical program for high school students that benefits local communities. Furthermore, you'll actively demonstrate your commitment to healthcare and helping people, which will help your college or medical school application stand out from the crowd!
"I've always wanted to be a doctor, but hands-on experience in the US is hard to come by. So when I heard about Projects Abroad, I was ecstatic. I love travelling and experiencing new cultures, and Ghana seemed like a great place to do just that." - Medicine High School Special in Ghana by Victoria G
Want to know everything about our medical internships?
How old do you have to be to be an intern at a hospital?
Our hospital volunteer opportunities for high school students are open to people between the ages of 15-18.
High School Specials are designed specifically for young people by our qualified staff, and all activities are age-appropriate and safe. In addition, we ask all students to follow our code of conduct for medical volunteering. This policy helps us ensure that our programs are ethical, and that we really help the local people we work with.
What kind of medical internship can I do as a student?
For high school students interested in medicine, we have two kinds of summer programs:
Medicine High School Specials
Public Health High School Specials
Medicine
Medicine High School Specials mainly focus on clinical experience. Here are the program highlights:
Observe doctors in different hospital departments, like General Medicine or Pediatrics
The departments you work with vary between destinations. For example, in Mongolia, you can spend time working with an ambulance unit. In Tanzania, you may view surgery!
As many of you already know, treatment is just one of many aspects involved in healthcare. So you also focus on preventative care through outreach and education. This element is not only deeply rewarding, but crucial to providing communities with effective healthcare
This program is like a pre-med internship, which makes it ideal for young people interested in becoming doctors and nurses. It may also help inform your decision that pursuing a career in medicine is right for you.
We also offer medical projects for high school students in Argentina where you can experience Spanish immersion. When you're not shadowing doctors or working at an outreach, you'll have regular Spanish classes. We'll teach you according to your level, and you'll learn relevant medical words and phrases to use at your project.
Public Health
During Public Health High School Specials, most of your time will be spent out in the field. Here are the program highlights:
Help medical professionals provide healthcare services through community outreaches
Assist with education, and help spread awareness around relevant topics. For example, you may educate communities about nutrition in an effort to prevent diabetes
Have opportunities to practice healthcare in a clinical setting. We offer this to better inform your approach to preventative care
Public Health programs are a great option for people interested in Healthcare, Advocacy, and Social Work.
"Before one ENT surgery to repair the eardrum, called a tympanoplasty, the surgeon actually took us through the anatomy of the ear and explained exactly what she was going to do to repair the hole. Going into surgery with this knowledge made the surgery so interesting as I actually knew what was going on and why." - Medicine High School Special in Mongolia by Kimberley M
Our Project Experts would be happy to discuss these options in order to determine the program that best meets your needs and goals. Please reach out by email or phone to speak with a representative today!
Choose a High School Internship
1-3 of 10 Projects
Medical Internship in Peru for Teenagers
See this project
Price:

$3,045 USD for 2 weeks

Extra Weeks:

$570 USD

Start Date:

Summer/Winter Break

Minimum Duration:

2 weeks

Ages:

15-18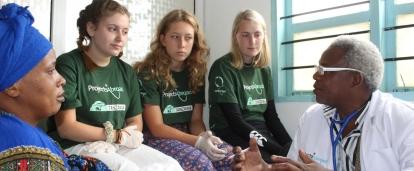 Medical Internship for High School Students in Tanzania
See this project
Price:

$3,045 USD for 2 weeks

Extra Weeks:

$570 USD

Start Date:

Summer/Winter Break

Minimum Duration:

2 weeks

Ages:

15-18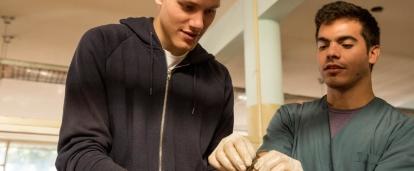 Medicine Internships with Spanish in Argentina for Teenagers
See this project
Price:

$3,145 USD for 2 weeks

Extra Weeks:

$620 USD

Start Date:

Summer/Winter Break

Minimum Duration:

2 weeks

Ages:

15-18
Load More
Need more help?
Most of our staff have been volunteers themselves, so they're ready to answer your questions, big or small.
(+1) 619 320 2424
or email:
Get in Touch
to start planning your project