Do something exciting and different and become an international volunteer. With Projects Abroad, you'll play a direct role in supporting communities or protecting endangered animals through our global volunteer programs.
This is what you can expect from our volunteer opportunities abroad:
Add new skills to your resume
Meet and work with groups of diverse people around the world
Learn from experienced local and international professionals
Be part of ongoing efforts to implement real change
Hone global competencies like communication and planning
Learn about the challenges affecting people in developing countries
Our volunteer programs are entirely flexible, safe, and hassle-free. We offer short- and long-term volunteer opportunities, so you can join us at any time during the year. When you start and end a project is entirely up to you! Our staff are also available to you 24/7 during your project, no matter what type of volunteer work you do.
I had an incredible experience volunteering with Projects Abroad in Belize and would recommend it in an instant. Don't hesitate, say yes to every opportunity that comes your way and go with an open mind! - Maddy C, Teaching in Belize
Choose a Volunteer Program
1-3 of 138 Projects
Giant Tortoise & Sea Lion Conservation in the Galapagos Islands
See this project
Price:

$2,970 USD for 1 week

Extra Weeks:

$470 USD

Start Date:

Anytime

Minimum Duration:

1 week

Ages:

16 or over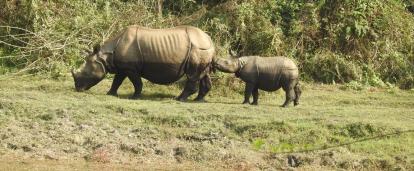 Rhino Conservation in Nepal
See this project
Price:

$3,140 USD for 2 weeks

Extra Weeks:

$470 USD

Start Date:

Anytime

Minimum Duration:

2 weeks

Ages:

16 or over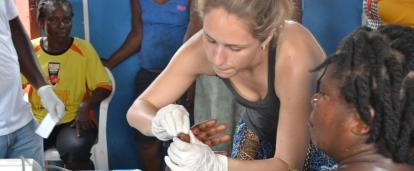 Medical Internships in Ghana
See this project
Price:

$2,470 USD for 1 week

Extra Weeks:

$370 USD

Start Date:

Anytime

Minimum Duration:

1 week

Ages:

16 or over
Load More
Where can I find international volunteering opportunities?
We offer a range of overseas volunteer opportunities for you to choose from. Our Project Experts can help you find the type of volunteer work abroad that best matches your goals and interests. You can explore your passions and do things like:
See a full list of our opportunities to volunteer abroad.
Looking for real-world, professional work experience? Our internships abroad may be a better fit for you. We have programs where you can:
Gain clinical experience by shadowing doctors in busy hospitals
Observe vets as they conduct surgical procedures at animal clinics
Tackle law and human rights issues and raise awareness
Work with budding entrepreneurs to launch businesses with the help of interest-free loans
See a full list of our international internships.
I went into this experience with an open mind, expecting to learn more about the medical field and gain experience in a hospital setting. Little did I know that I would leave Tanzania not only gaining invaluable medical experience, but also learning about myself and the human experience as a whole. - Mario M, Medicine in Tanzania
Types of Volunteer Opportunities
When you volunteer in another country with Projects Abroad, you can choose from different types of trips. If you want to work more independently, we strongly recommend our Flexi Trips. For those wanting to travel with a group over fixed dates, we offer Team Trips. We also have organized group trips for:
Whichever volunteer opportunity you choose, you can be guaranteed that you're working toward goals that form part of a bigger picture. Worried about how much of a difference you can really make if you're only taking a short trip? Read our popular blog where we explain how our short-term volunteering opportunities in other countries make an impact.
I don't believe words can truly describe the unforgettable experience I had. From the people, cultures and trips, the memories I gained will forever remain with me. Not once did I feel unwelcome and Projects Abroad worked very hard to make sure everyone felt safe and happy. If you have any problems, you're only a phone call or email away from having someone on hand to advise you. - Jenny G, Childcare & Community High School Special in South Africa
Summer International Volunteer Opportunities
Summer is the perfect time to do volunteer work in other countries, especially if you want to join a group like a Team Trip or High School Special. We always have dates set during June, July, and August for these trips. If you want to join a Flexi Trip, you choose your own dates during the summer.
Our volunteer service opportunities tend to fill up quickly just before summer, so we recommend getting your application in as early as possible to secure a place. However, if you decide to do overseas volunteer work at the last minute, this is something we can organize. Read our page about last minute volunteering opportunities abroad to learn what we can do for you at short notice.
Can't find what you're looking for?
We'd be happy to talk about creating a custom project for you. Most of our staff have been volunteers themselves, so they're ready to answer your questions, big or small.
(+1) 619 320 2424
or email:
Get in Touch
to start planning your project