Do an overseas internship with Projects Abroad and learn from experienced local professionals in developing countries while adding global experiences to your resume.
Through our internship placements, you can expect to:
Get first-hand practical knowledge in your field of interest, like Medicine or Law
Immerse yourself in experiential education and learn by doing
Network with local and international professionals
Drive your career forward with real professional development
Our Project Experts can help you find work opportunities abroad that match your requirements and level of experience. Our programs run throughout the year, so we offer a variety of long and short-term internships that you can join at any time.
Options for Internships Overseas
View specific types of internship experiences using the links below:
What are the best internship abroad programs for me?
With us, you don't need to worry about how to get an internship abroad. Our internship opportunities are open to people of all ages and occupations. They're especially popular for:
High School Graduates
College Students
Recent Graduates
By interning abroad, you'll gain practical work experience and skills that will help set you apart with university admission panels and future employers. In addition, we can easily organize research opportunities at your project if you need to collect data for a thesis.
Is an internship not quite what you're looking for? Take a look at our volunteer programs abroad. You can work in Childcare, Conservation and more.
How to Intern Abroad
Interested in getting international experience as an intern? We recommend Flexi Trips for anyone aged 18 and older. You'll be independent while still having the support of our in-country staff when you need it.
If you're between the ages of 15-18, our High School Special programs are for you. You'll work in a safe, supportive environment, and our staff will be by your side throughout your trip.
To learn more about the types of trips we offer, go to our trip formats page.
To join an international internship program, follow these easy steps. You can also speak directly to one of our Project Experts for guidance.
What are the benefits of an internship abroad?
This is what you can gain from an internship abroad:
Add practical work experience to your resume
Work alongside professionals and learn from their experience
Get an insight into global issues and challenges
Improve competencies like communication, time management, and planning
With our flexibility, we can organize certificates of hours and accommodate any other requirements you have, as well as custom internships.
Our internship abroad programs are also ethical, and we have guidelines in place for those working with children or animals, or in medical settings. Read more about our approach to ethical programs.
Summer Internships Abroad
If you want to work abroad for the summer, our global internships are a great fit. You can travel with us at any point over June, July, or August, from as little as one week.
Our Medicine & Healthcare, Law & Human Rights, and Conservation Internships fill up very quickly for the summer. If you want work opportunities abroad in one of these fields, we recommend getting your application in as soon as possible!
Organizing a summer intern placement at the last minute? We can arrange a program for you on short notice. Read our page about last-minute internships and volunteering abroad.
Choose an International Internship
1-3 of 139 Projects
Medical Internship in Nepal
See this project
Completely flexible dates
Anyone aged 16 or over can join
From 1 week
From $1770 USD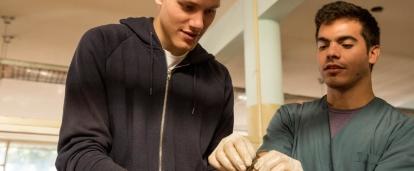 Medicine Internships in Argentina for Teenagers
See this project
Fixed dates during school break
This project is only for 15-18 year olds
From 2 weeks
From $3105 USD
Medical Internship in Peru for Teenagers
See this project
Fixed dates during school break
This project is only for 15-18 year olds
From 2 weeks
From $3005 USD
Load More