Are you interested in Peace Corps volunteer opportunities, but not sure about a two-year commitment? Projects Abroad is an organization like the Peace Corps, but with short-term options and fewer requirements.
Projects Abroad is an international volunteer organization that connects individuals with flexible programs around the world to support under served communities.
Here are the main differences between Projects Abroad and Peace Corps opportunities:
We offer long and short-term programs; you decide the amount of time you want to volunteer
Our programs are extremely flexible; you choose when you want to travel and which country you want to go to
We don't require you to have a degree or qualification when you apply
We don't require previous experience for most of our programs, as we teach you everything you need to know when you start
Our programs are open to all ages and skill levels. We also offer programs specifically designed for high school students ages 15-18
We provide 24/7 support from our staff in every country we work, so you'll always have help and guidance when you need it
Choose a Volunteer Program
1-3 of 90 Projects
Take a Gap Semester Abroad in South America
See this project
Price:

$7,895 USD for 8 weeks

Extra Weeks:

$300 USD

Start Date:

Throughout the year

Minimum Duration:

8 weeks

Ages:

17-24
Giant Tortoise & Sea Lion Conservation in the Galapagos Islands
See this project
Price:

$2,970 USD for 1 week

Extra Weeks:

$470 USD

Start Date:

Anytime

Minimum Duration:

1 week

Ages:

16 or over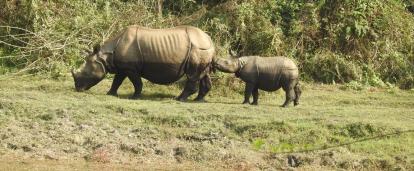 Rhino Conservation in Nepal
See this project
Price:

$3,140 USD for 2 weeks

Extra Weeks:

$470 USD

Start Date:

Anytime

Minimum Duration:

2 weeks

Ages:

16 or over
Load More
Projects Abroad Can Help You Join the Peace Corps
If you want to volunteer with the Peace Corps, but cannot meet the requirements, Projects Abroad is the perfect alternative.
We can help you get the experience you need to pursue a degree in your chosen field or further your career. We offer volunteer abroad programs, overseas internships and study abroad opportunities in:
Our programs will be a stepping stone you need to meet your goal of working with an organization like the Peace Corps in the future.
How old do you have to be to join the Peace Corps?
For Peace Corps programs, you need to be at least 18 years old. Projects Abroad accepts volunteers of all ages and skill levels.
We have programs designed specifically for you:
These programs focus on experiential education, and give people a safe and guided introduction to volunteering and traveling abroad.
Like Projects Abroad, the Peace Corps has no upper age limit for seniors and retirees. However, if you need more flexibility in where and when you travel, Projects Abroad is the program for you. You choose what you want to do, where to go, and your travel dates. Our Project Experts can help you choose which project best matches your skills and experience.
Projects Abroad Offers You Flexibility and Choice
The Peace Corps is a great way to give back and gain experience abroad after you graduate. However, your service time will be just over two years, which not everyone is able to do.
With flexible programs running year-round, Projects Abroad is the ideal short-term Peace Corps alternative. You'll support communities in need and gain insights into global issues, all within a time period of your choosing.
Concerned about making a real difference with short-term volunteering? Read our popular blog about how we ensure that your work makes a tangible impact.
Projects Abroad is Preparation for the Peace Corps
If you are interested in international volunteering, Projects Abroad is a great opportunity for you to see if the Peace Corps is a right fit for you.
Because of the flexibility in our programs, you'll have the chance in a safe and hassle-free environment to see if a long-term volunteer project is something you are interested in.
Through our programs you will also join an alumni network of like-minded activists. You'll meet people from around the world while you collaborate for a shared goal, and leave with greater professional opportunities. You may even have the opportunity to be a Projects Abroad Ambassador or a full-time employee!
Finally, you can feel confident that our programs will leave an impact. We partner with local NGOs and organizations to create long-term, sustainable solutions in the countries we work. Our management plan is built around the UN's Sustainable Development Goals to ensure your contributions make a difference.
Need more help?
Let us create a custom project for you. Most of our staff have been volunteers themselves and can answer all of your questions, big or small.
(+1) 619 320 2424
or email:
Get in Touch
to start planning your project