Volunteer abroad during the holiday season on one of our winter break service trips. You can use the break to support communities by teaming up with a group to do volunteer work. At the same time, you'll also explore local sights and experience the culture.
Our winter volunteer programs abroad are short-term Team Trips that all form part of our efforts to find long-term sustainable solutions to specific challenges. The work you'll do is important and it won't be a quick fix.
These trips run according to fixed dates and each one has a set itinerary. We've filled these itineraries with service work and social or cultural activities. You'll work with a group and you'll have support from our in-country staff 24/7. We'll make sure your time abroad is hassle-free and runs as smoothly as possible.
Choose a Winter Break Trip
1-3 of 8 Projects
Paused Until Late 2021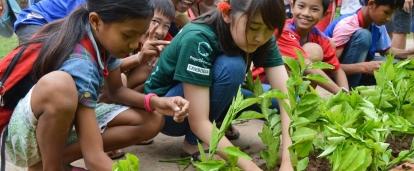 Childcare Volunteering for Groups in Cambodia
See this project
Fixed dates throughout the year
Anyone aged 18 or over can join
From 1 week
From $2,220 USD
Medical Internships in Nepal for Teenagers
See this project
Fixed dates during school break
This project is only for 15-18 year olds
From 2 weeks
From $2,605 USD
Volunteer Building in Nepal for Teenagers
See this project
Fixed dates during school break
This project is only for 15-18 year olds
From 2 weeks
From $2,605 USD
Load More
Can't find what you're looking for?
We'd be happy to talk about creating a custom project for you. Most of our staff have been volunteers themselves, so they're ready to answer your questions, big or small.
(+1) 619 320 2424
or email:
Get in Touch
to start planning your project
Is a winter break volunteer program right for me?
By volunteering abroad during the winter, you can spend the holidays giving back to communities and traveling.
Our volunteer Team Trips are based on a short-term model that's part of our long-term goals. What you do is part of a long-term plan. It's not a quick fix for the holidays.
We also provide you with a hassle-free experience, and you'll have 24/7 support from our in-country staff while you're abroad.
What volunteer work abroad can I do during my winter break?
We offer volunteer Team Trips abroad during the winter months for high school and college students. You can choose a type of work you're passionate about or seize the opportunity to do something new and different.
Depending on which Team Trip you choose, you could:
Support early childhood development at care centers
Help communities build schools and other important infrastructure
Bring basic medical care to communities that lack healthcare services
Many of our destination countries are experiencing their warmer months during this time. You can enjoy the beautiful weather of countries like Fiji, Kenya, the Philippines, South Africa, and Nepal.
For any last-minute winter volunteering applications, please contact our office.