At a glance
Work in the Ghana Police Service, helping victims of domestic abuse, and preventing violence against women and children.
Provide important help to the local community, and potentially take part in outreach work and educational campaigns.
Spend time exploring this West African country over the weekends while making friends with the other interns from around the world.
Is the Human Rights internship in Ghana right for me?
This internship is perfect for students interested in human rights work. By working in a developing country like Ghana, you'll see different kinds of human rights abuses. You'll learn how to approach and work with each of these issues.
This is a great way to help your CV stand out, and it will give you interesting points to talk about in interviews. This experience is especially valuable if you want to work in areas such as counselling, social work, or assisting with victims of domestic abuse.
If you don't have a background in human rights but are still interested, then sign up! You don't need previous experience. You'll be supervised by professionals and there will be lots of opportunity to observe and learn from them. This is a great way to learn and get practical experience if you're thinking about a career in law or human rights work.
This project accepts interns throughout the year, so you can join on the dates that suit you. You can stay from as little as two weeks. We encourage you to stay longer if possible, so you can learn more and make a bigger impact.
What will I do at my Human Rights placement in Ghana?
You'll work directly with local staff in the Domestic Violence and Victim Support Unit (DOVVSU) and Criminal Investigation Department (CID) in the Ghana Police Service. You'll assist with the following tasks:
Observe interviews and victim statements
Attend crime scenes, observe evidence gathering, and go to court
Help prepare for and assist on community outreach talks
At your Human Rights placement in Ghana, your work will focus on the following areas:
Observe interviews and victim statements
You'll be working as part of the Domestic Violence and Victim Support Unit (DOVVSU) in the Ghana Police Service. You'll spend the bulk of your time working alongside a supervisor, assisting in their important work. The unit exists primarily to protect the rights of the vulnerable against all forms of abuse, be it physical, sexual, emotional/psychological, socio-economic, or harmful cultural practices.
As a result of this, a large part of the work involves being available for members of the public and treating victims/complainants and their families with respect and courtesy. You'll get involved by taking statements, joining interviews, and helping provide victims with information on their cases as well as details of the investigations.
Attend crime scenes, observe evidence gathering, and go to court
Another part of the job is traveling out into the community to investigate reported cases of domestic abuse and violence against local women and children. This is where you'll get to see the whole, end-to-end process that takes place with a case like this. You'll be out and about, observing evidence gathering and learning how cases are pieced together.
Often victims will be referred for medical services or specialised help from clinical psychologists, social workers from the Department of Social Welfare and counsellors attached to the Unit. The department also collaborates with NGOs and other civil society organizations that may be able to offer assistance to victims in need of necessary support services.
Finally, if a case can be made to prosecute, you may also be able to attend court with members of the unit. This will give you a chance to observe the Ghanaian court system, and see how cases are brought to trial.
Help prepare for and assist on community outreach talks
Many people don't know their basic human rights and therefore aren't aware when these rights are abused. We're working to change this through ongoing awareness campaigns and workshops. Our goal is to share knowledge and empower people to stand up for their rights and the rights of others.
When possible, you'll do research into human rights topics and use this information to develop these campaigns and workshops. You'll also help run them.
Where will I be getting human rights work experience in Ghana?
Akuapem Hills
While assisting with human rights work in Ghana, you'll be based in the beautiful Akuapem Hills region. Around an hour away from the capital city of Accra, you'll be surrounded by lush greenery, and enjoy a more relaxed pace of life. You'll always be greeted by children on their way to school, or be offered a seat if the locals see you have been standing anywhere too long!
You'll work with members of the Ghana Police Service. This is a professional environment, and you'll be expected to be punctual and willing to work hard. This is a unique opportunity to help local people from within the police system.
There will be days when you travel to more rural communities for outreach work. You'll work with people, as well as local schools and other institutions.
A typical day as a Human Rights intern in Ghana
You'll start each day with breakfast with your host family. Get dressed in semi-formal, conservative clothing before heading off in a tro tro or shared taxi. On your first day, your supervisor will accompany you to ensure you know your way around.
Your day will start at 8am and you'll finish up at 5pm, Monday to Friday. You'll get an hour each day for lunch.
On an average day, you'll arrive at the office and meet up with your supervisors before starting on the day's work. Morning tasks could range from sitting in on interviews with victims of domestic violence, to attending court.
In the afternoons, you'll continue with work to support the Domestic Violence and Victim Support team. You may get the chance to plan presentations for educational campaigns, attend meetings, or assist with project planning for future outreaches in the local community.
Once you are done for the day, you can spend time getting to know your host family. Over the weekends, you can explore the beautiful countryside and learn about Ghana's history at one of the many national museums. You'll also have the chance to visit Cape Coast and walk through the old fishing town or relax on the beach.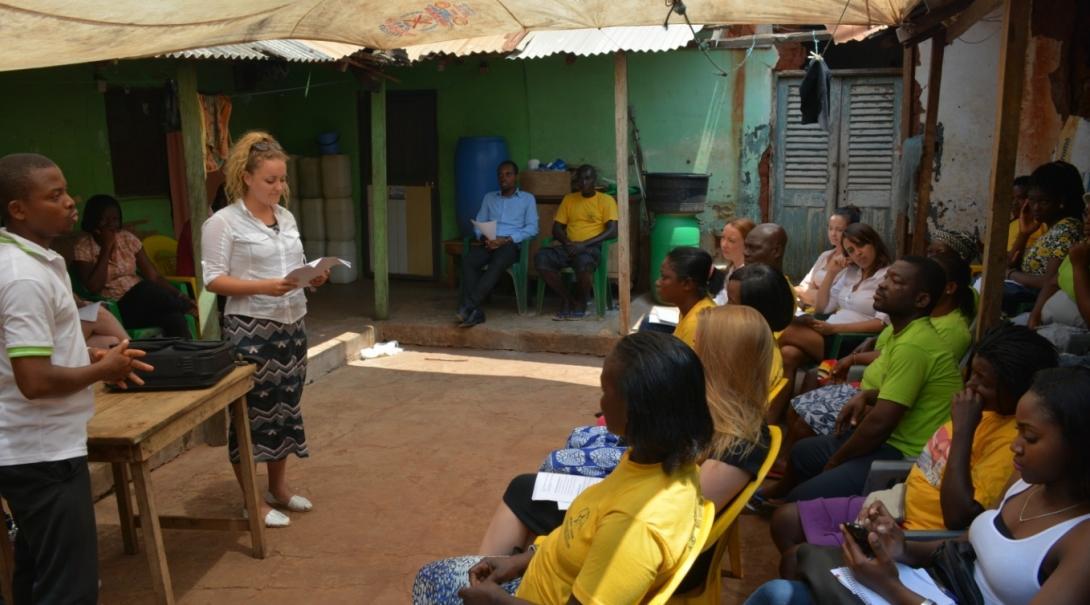 What are the aims and impact of the Human Rights Internship in Ghana?
The aim of this project is to promote and protect the basic human rights of vulnerable and disadvantaged groups in Ghana. In addition, we give you practical human rights work experience, and an insight into the challenges people face every day in Africa.
Ghana is a stable and democratic country in West Africa. However, it still faces many challenges and shortcomings with human rights. Issues like domestic violence and child abuse remain a significant problem.
Our partner, the Domestic Violence and Victim Support Unit (DOVVSU) was established in October 1998 as a specialized unit within the Ghana Police Service. This was formed in response to the increasing number of reported cases of abuse and violence against women and children.
You'll work towards the following goals in our Human Rights Management Plan:
Increase awareness of human rights
Identify and monitor human rights abuses and vulnerable areas
Resolve human rights abuses
Join our Human Rights Internship in Ghana and help marginalised communities while gaining work experience in the field of human rights.
Measuring our impact
Our projects work towards clear long-term goals, with specific annual objectives. Every volunteer and intern we send to these projects helps us work towards these goals, no matter how long they spend on our projects.
Every year we take a step back and look at how much progress we've made towards these goals. We put together a Global Impact Report, which documents our achievements. Find out more about the impact our global community of volunteers, interns and staff make, and read the latest report.
Food and accommodation
You'll stay with a host family in Ghana. They will welcome you into their home, eager to share their customs and have you teach them about your own culture. We believe that this is the best way to immerse yourself in the culture of Ghana and have a truly unique experience.
We will always try to let you live alongside at least one other Projects Abroad volunteer or intern at the same host family. Your room will be modest, but comfortable, clean, and safe.
Your program fee includes three meals a day.
Find out more about our accommodation.
Leisure activities and free time
Volunteering in Ghana is an ideal way to explore this colourful West African country. There's a huge variety of different activities to do while you're there, giving you plenty of exciting ways to spend your free time.
Music is a central part of Ghanaian culture. In the bigger towns, especially Accra, you will hear some great live bands and have some memorable nights out. Evenings spent at buzzing restaurants will also give you a taste of some of the delicious local cuisine.
For a look into Ghana's history, you can tour the slave forts of Cape Coast and visit museums. Nature lovers will relish trekking through the rainforests of Kakum National Park or Mole National Park.
We run a wide range of projects in Ghana so there's sure to be other volunteers there during your trip. This means you can explore the country solo or connect with other volunteers and travel as a group.
Safety and staff support
Your safety and security is our prime concern. We have many procedures and systems to ensure you have the support you need to enjoy your trip with peace of mind. Our Projects Abroad staff are available 24 hours a day to help, and will be on-hand to make sure you settle in well at your accommodation and placement. If you encounter any problems, they will be available to help at any time.
Find out more about safety and backup.
Not quite what you're looking for?
Take a look at the following pages where you'll find collections of similar projects: