At a glance
Do building volunteer work in Nepal and help us rebuild classrooms destroyed by earthquakes. You'll work with local builders, and construct classrooms from the ground up. You'll also refurbish classrooms. Each brick laid helps more children return to learning in a safe environment.
In April 2015, deadly earthquakes ripped through Nepal, leaving destruction in their wake. Schools, roads, homes, and so much more were lost. In that same year, Projects Abroad called for volunteers from around the world to help rebuild. We've focused our efforts on building classrooms so children have safe spaces to learn.
You'll get involved with all aspects of the building process and work under the supervision of builders, engineers, and architects.
You'll be based in Kathmandu, Nepal's capital city, and live in a guesthouse. With the majestic Himalaya mountain range, or age-old temples around the corner, you have much to see and do during your free time.
Anyone aged 16 or over can join
Is the Building Project in Nepal right for me?
Building in Nepal is perfect for anyone willing to help using their own two hands. You'll see the immediate fruits of your labor with each brick you lay, or each wall you paint.
No experience in construction? No problem! Masons, engineers, and architects are on hand to guide and instruct you.
This experience will also help boost your CV for any application or interview you do. Your time in Nepal will show an interest in global affairs, and demonstrate your commitment to helping others.
As a volunteer on the Building Project in Nepal, you will also get multiple opportunities to explore a country rich in culture, history, and natural wonders like the Himalayas.
Your work will focus on the following areas:
Building classrooms from the ground up
Your tasks will include clearing sites, digging foundation trenches, mixing cement, and laying bricks to create walls. All of your work is part of our efforts to give children safe spaces to learn in. Masons, architects, and engineers will guide your work at all times at the construction sites.
Building toilets and washing facilities for schools and the local community
You will also work to build toilets and washing facilities that will serve hundreds of people. This will give young and old in the community the dignity that each person deserves.
Renovating existing classrooms
Your work doesn't end at construction. When you're finished building, you'll start painting. As part of your volunteer building work in Nepal, you'll paint the walls and paint educational murals. Murals like the ABCs and 123s will also help teachers with their lessons long after you've returned home.
Where in Nepal will I be working?
Kathmandu
The Kathmandu Valley will be your home away from home in Nepal. This country of 25 million people is also home to Mount Everest, the tallest mountain in the world above sea level.
Most of your time will be spent at a building site, working with masons, engineers, and architects to build and renovate classrooms. You will also get involved with building toilets and washing facilities for schools and the local community.
You will live with other volunteers in a guesthouse organized by Projects Abroad. You'll share meals with the other volunteers, and you'll probably find yourself building friendships that span countries and cultures!
Eager to experience the cultural and tourist side of Nepal during your volunteering trip? You can plan a souvenir shopping expedition, or use a weekend for a trip to the city of Pokhara.
A typical day on the Building Project in Nepal
Each day in Nepal is different. You will wake up in the guesthouse, and have breakfast with fellow volunteers. Wearing sturdy shoes and clothes you don't mind getting dirty in, you travel to the building site in transport organized by Projects Abroad.
You will work Monday to Friday, from 9.30am to 4pm.
Your daily activities will depend on which stage the building is at. Each day you check on your tasks with the supervisor or mason on duty. From there, you collect the materials needed and join volunteers on the latest building project. One day may be dedicated to building, another day you may be painting.
During your lunch break, you'll eat your packed lunch with the other volunteers and staff on duty. We strongly recommend drinking plenty of water throughout the day, as your work is labor intensive.
At the end of your working day, you can relax at the guesthouse or explore. We encourage you to use weekends to wander through a Nepali temple, go on a Monastery tour, or learn how to cook a Nepali meal! There's so much to do and so little time, make each moment in Nepal count.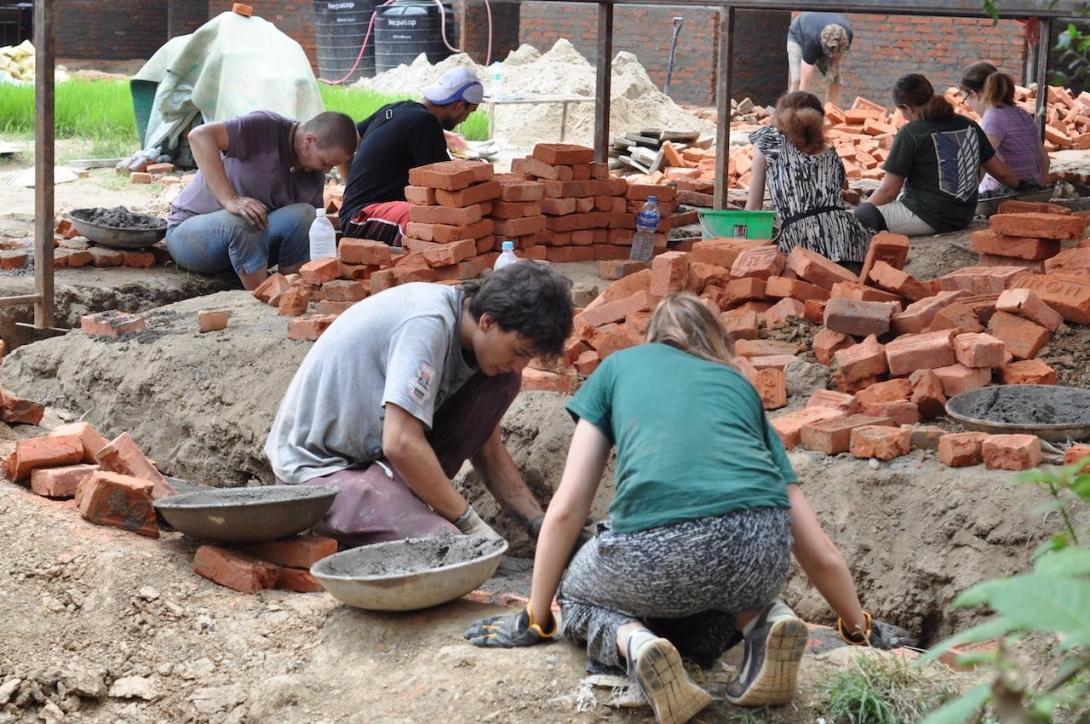 What are the aims and impact of this project?
The aim of this project is to rebuild classrooms destroyed by earthquakes, and provide safer learning environments for children.
In 2015, a devastating earthquake struck Nepal. Schools, homes, and vital infrastructure were damaged and lost. That same year, we started a Building Project to restore what was lost. By 2017, volunteers had built 96 classrooms at nine schools. This meant 2,000 children were able to resume schooling in safe and colorful classrooms.
There is still a lot of work that needs to be done. Many schools lack the funds to rebuild and desperately need help. With your efforts, we can build more classrooms and help a great number of children return to school. You'll put your strength into building for a cause, and get your hands dirty doing something good.
"I felt so grateful to all Projects Abroad volunteers for helping out our school during such a difficult time. I also don't have a word to thank them. I have seen them working so hard in the heat and rain to complete the school. I will always be grateful for all the volunteers of Projects Abroad," said Sunrise School Principal, Mr. Surendra Maharjan.
Join this Building Project in Nepal and see the direct result of your work and the positive impact it has on the local community.
Measuring Our Impact
Our projects work towards clear long-term goals, with specific annual objectives. Every volunteer and intern we send to these projects helps us work towards these goals, no matter how long they spend on our projects.
Every year we take a step back and look at how much progress we've made towards these goals. We put together a Global Impact Report, which documents our achievements. Find out more about the impact our global community of volunteers, interns and staff make, and read the latest report.
Not quite what you're looking for?
Take a look at the following pages where you'll find collections of similar projects: