Sometimes you just need a break. Whether it be after high school, after college graduation, or a sabbatical during your working career. But you may be asking yourself:
Is it a good idea to take a gap year?
And we'd say yes. Don't study a college course you hate because you feel you have to. Don't rush straight into a terrible job after graduation because that's the logical next step. And don't struggle through burnout at your current job because you'll end up resenting it. If you have the means, take a break from your routine.
But after you decide to take that year out, you may be left asking yourself, "what can I do in my gap year?". Planning a gap year can be overwhelming, most of us have been there. To make your decision process easier, we have put together a list of the top 5 things to do in a gap year in 2022. We hope they'll spark a few ideas and encourage you to make the most of your time off.
1. Travel the world
One of the most popular things to do on a gap year is travel. This is the time to explore and broaden your mind. From the jungles of South America to the beaches of Asia, the ancient cities of Europe to the grasslands of Africa – there's a big world out there and what better time to explore it.
Here's our top pick of things to do:
Explore Machu Picchu in Peru
Hike the Himalayan Mountain range in Nepal
Learn to dive among the coral reefs in Thailand
Surf in South Africa
Spot wildlife on a safari in Kenya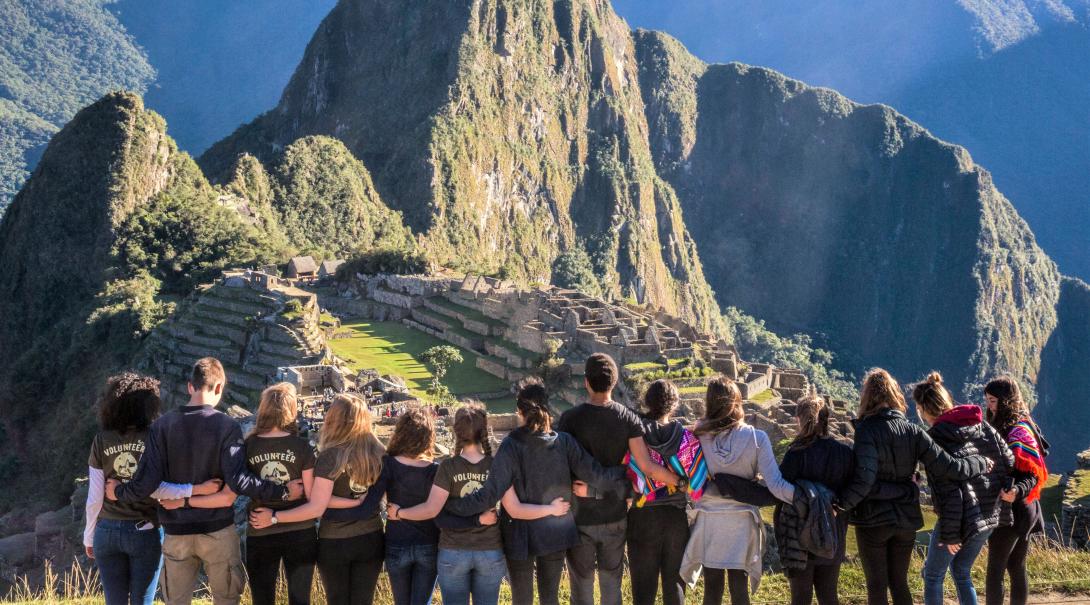 2. Volunteer abroad
Volunteering is definitely something to consider when planning a gap year. Choosing the right project can be incredibly rewarding. You'll get to contribute to communities, learn new skills, and build up your confidence.
Of course, we believe we offer the best voluntary projects around. That's because we don't leave our impact up to chance. Every one of our projects is carefully planned and monitored so that you know you're actively making a difference.
Do your research and make sure you choose a gap year program that you're passionate about. It may be Childcare, Conservation, Building, or something else. Whether you volunteer at home or abroad, it may just be the best decision you ever make.
You can combine your love of travel with the volunteer opportunities we offer abroad. We even have an all-inclusive Global Semester program so that you can experience all this and more during your time abroad.
"I would recommend it 100%, because you see so many parts of the world and experience so many adventures. You meet a lot of locals and get to know everyone in your group with each their own background and culture. You can learn so much from all of them. If you're in for the adventure, you should go for it." - Mandy J, Global Gap volunteer
3. Earn a bit of money
Lots of people choose to take their gap year immediately following high school or college. This is a good time to earn a little bit of money if you're strapped for cash, saddled with student debt, or just looking to save for future travels or studies.
The idea of stacking shelves at your local supermarket might not be particularly appealing, but bear in mind that your gap year is yours to do with as you like. You could split time between working and traveling. You could even combine the two and work abroad.
4. Learn a language
If traveling features high up on your 'things to do on a gap year' bucket list, then learning a new language should be up there too. The ability to speak a little Español at a bus station in Peru, or a few words of Français at a local market in Madagascar will help you no end. It also adds a bit of spice to your growing resume.
Learning a major international language such as Mandarin and Spanish will be of huge benefit to those thinking of entering the business world. For more information, take a look at the language courses we offer.
5. Boost your resume with an internship abroad
For college hopefuls and those looking to improve their job prospects in 2022, a gap year program could be the perfect time to get practical work experience. From a fashion internship in London to shadowing a doctor in a Nepalese hospital, work experience will help you stand out from the crowd.
We provide a variety of internships including Medicine & Healthcare, Law & Human Rights, Journalism and more. This experience will provide you with basic skills and a confidence that'll benefit you in your later studies or career. You'll also have some great stories to share in future interviews.
There's no good or bad way to spend your gap year in 2022, but bear in mind that future employers are likely to question how you spent your time. Volunteer work, knowledge of a second language, travel, and work experience are all valuable additions to a resume.
If you'd like to combine travel with volunteer work or internship experience, then take a look at Gap Semester Projects abroad. And if you want to combine all three, then our all-inclusive Gap Semester program is for you. We'll make sure you get the best of everything.
Want to know more about our Projects?
Get in touch with our Projects Experts. They'll be happy to answer any questions you may have.
(+1) 619 320 2424
Get in Touch