Seize the opportunity to volunteer and travel this year with Projects Abroad. You can give back to communities in need, or protect endangered wildlife as you travel and volunteer with animals in stunning environments like rainforests. Whatever you choose to do, you'll become part of our efforts to change the world through long-term plans and solutions. And with our stance as champions of responsible volunteer travel, you can be assured that you'll have an ethical experience.
There are several benefits to our volunteer travel programs. You will:
Our programs are entirely flexible, so your volunteering trip abroad starts with choosing:
What kind of work you want to do
Where you want to go
If you want to travel and do volunteer work independently, but still have support when you need it, we recommend joining a Flexi Trip. You can join a Team Trip if you enjoy working in a group that takes on a challenge together over set dates.
Having visited Cambodia on a holiday, I had always wanted to visit it again but not as a tourist. I wanted to live there as a local and do something meaningful. - Edward H, Teaching in Cambodia
Is a travel volunteer opportunity right for me?
Travel with Purpose
If you want to do something meaningful for others or the environment, and you're passionate about travel, a volunteer trip abroad is for you.
Every task you do will contribute towards our long-term, sustainable goals. We have Management Plans that outline the aim of each project we run and help us focus our resources on the most important goals. They also allow us to structure our work and monitor its impact.
Hassle-Free Travel
We offer a hassle-free experience on all of our trips. This gives you the space to focus on your work and what's important to you. If you're itching to see the world while actively making a difference, our programs are for you!
Volunteer Programs to Travel the World for All Age Groups
Outside of our Flexi Trips and Team Trips, we also have volunteer travel programs specially built for different age groups. These include:
Whether you're looking to volunteer independently or embark on a volunteer trip with a group, we can match you to the project that best fits your goals. Interested in learning more? Read this blog about our best volunteer abroad programs. If you have more questions, get in touch with our Project Experts.
Can I travel the world for free as a volunteer?
Choose a Volunteer Travel Program
1-3 of 90 Projects
Take a Gap Semester Abroad in South America
See this project
Price:

$7,895 USD for 8 weeks

Extra Weeks:

$300 USD

Start Date:

Throughout the year

Minimum Duration:

8 weeks

Ages:

17-24
Giant Tortoise & Sea Lion Conservation in the Galapagos Islands
See this project
Price:

$2,970 USD for 1 week

Extra Weeks:

$470 USD

Start Date:

Anytime

Minimum Duration:

1 week

Ages:

16 or over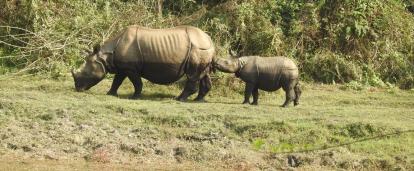 Rhino Conservation in Nepal
See this project
Price:

$3,140 USD for 2 weeks

Extra Weeks:

$470 USD

Start Date:

Anytime

Minimum Duration:

2 weeks

Ages:

16 or over
Load More
Can't find what you're looking for?
We'd be happy to talk about creating a custom volunteer travel program for you. Most of our staff have been volunteers themselves, so they're ready to answer your questions, big or small.
(+1) 619 320 2424
or email:
Get in Touch
to start planning your project