Volunteer in Nepal with Projects Abroad and take part in work that serves the needs of the local community. This is an opportunity to immerse in Nepalese culture while supporting ongoing work that helps those in need.
You can help to rebuild schools and homes which were damaged in the 2015 earthquake, or support young children through education. You can choose to spend time in the Himalayas conducting wildlife research. There are also many options to gain experience through a medical internship in fields like dentistry and nursing.
We work in different locations in Nepal. Conservation volunteers are based in the village of Ghandruk, while the rest of our volunteers work in Kathmandu or Chitwan. Our full-time staff in Nepal will be available to support you 24/7 if you need it.
Nepal is a small country but offers so much to visitors. It has a rich history with many colourful festivals and sacred religious sites. The country is probably best known for its snow-capped mountains and breathtaking views. Seize the moment and soak in the sights and sounds for the experience of a lifetime.
Projects available in Nepal
1-3 of 17 Projects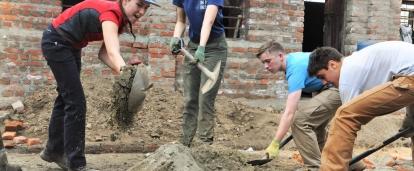 Building Volunteer Work in Nepal
See this project
Completely flexible dates
Anyone aged 16 or over can join
From 1 week
From $2,070 USD
Paused Until 2022
Childcare Volunteering in Nepal for Volunteers over 50
See this project
Fixed dates throughout the year
Anyone aged 50 or over can join
From 2 weeks
From $2,305 USD
Dentistry Internship in Nepal
See this project
Completely flexible dates
Anyone aged 16 or over can join
From 2 weeks
From $2,000 USD
Load More
Can't find what you're looking for?
We have the expertise and staff on the ground to create a custom project for you, or simply help you find the best option.
Speak to one of our Nepal experts on:
(+1) 619 320 2424
or email:
Get in Touch
to start planning your project
Where we are based in Nepal
You can volunteer in different locations in Nepal. Conservation volunteers work in Ghandruk, while everyone else is based in Kathmandu or Chitwan.
Kathmandu
Kathmandu is Nepal's economic and cultural capital. It has elements of both modern and traditional life, making it a fascinating place to explore. You can visit ancient temples and monasteries, purchase souvenirs at the local bazaar, or go on a hike to admire the beautiful mountain scenery.
Chitwan
Chitwan is a district about six to seven hours from the capital Kathmandu. It's most famous for its national park which was the country's first and is also a World Heritage Site. Apart from its amazing natural wonders, you'll also also get to explore small local villages and picnic along the Narayani River. We encourage you to try delicious local cuisine, like "taas", a spicy fried goat dish.
Ghandruk
Ghandruk is a small village found in the Annapurna mountain range. It forms part of the Himalayas. It's a popular base for hikers in the area. The facilities here are quite basic, but the incredible views more than make up for it. There are unique creatures that live in the mountains, like leopard cats, bears and vultures.
Safety and staff support
Your safety and security is our prime concern. We have many procedures and systems to ensure you have the support you need to enjoy your trip with peace of mind. Our Projects Abroad staff are available 24 hours a day to help, and will be on-hand to make sure you settle in well at your accommodation and placement. If you encounter any problems, they will be available to help at any time.
Find out more about safety and backup.