Seeing the development of a child, and being a part of that process, is priceless. As a childcare volunteer with Projects Abroad, you'll play a direct role in helping children, while also learning new skills.
This is what you can expect when you volunteer with children abroad:
Work within a community-based care system
Get to know more about Early Childhood Development, and how to implement it
Plan and run fun activities and games to teach things like motor skills and teamwork
Learn directly from the professional teachers and caregivers you work with
Get a deeper understanding of the global challenges children face
You can also volunteer with disabled children. You'll help their caregivers by being an extra pair of hands in centers where we work.
On our childcare volunteer opportunities, you'll be able to give children the encouragement and educational support they need. You can be assured that you'll have an ethical experience and make a real impact, as our programs are guided by management plans and our childcare policy. On a personal level, you'll:
Gain volunteer childcare work experience, which will boost your resume
Enhance skills like communication and planning
Be immersed in the local community
Getting work experience abroad with children is a safe and sociable way to give back to vulnerable communities while building your own confidence and understanding global childcare issues.
Choose a Childcare Project
1-3 of 32 Projects
Take a Gap Semester Abroad in South America
See this project
Price:

$7,895 USD for 8 weeks

Extra Weeks:

$300 USD

Start Date:

Throughout the year

Minimum Duration:

8 weeks

Ages:

17-24
Conservation Work and Volunteer in Ecuador
See this project
Price:

$3,645 USD for 2 weeks

Extra Weeks:

$670 USD

Start Date:

Summer/Winter Break

Minimum Duration:

2 weeks

Ages:

15-18
Volunteer with Children in Sri Lanka
See this project
Price:

$2,340 USD for 2 weeks

Extra Weeks:

$320 USD

Start Date:

Anytime

Minimum Duration:

2 weeks

Ages:

16 or over
Load More
Can't find what you're looking for?
We'd be happy to talk about creating a custom project for you. Most of our staff have been volunteers themselves, so they're well placed to answer your questions, big or small.
(+1) 619 320 2424
or email:
Get in Touch
to start planning your project
Is child care volunteer work right for me?
Our Childcare Projects are ideal for volunteers who care deeply about helping children in developing communities.
You don't need previous work experience with children. All you need is the drive to help every child access the care which many of us take for granted. All of your tasks will be guided by local staff. You can expect to:
Create activities that will benefit the children you're working with for the long-term
Evaluate motor and social skills alongside local staff
Plan and run fun activities like arts and crafts or sports games
If you're interested in working with children, but feel a Childcare Project isn't right for you, you may be interested in our Teaching or Social Work projects.
Read our full list of volunteer abroad programs.
My experience at the care center was phenomenal. The staff were receptive to our feedback and welcomed any changes we suggested. One of the things we focused on was teaching basic hygiene practices, such as washing hands. The other two volunteers and I created a skit and a song about the importance of washing hands before eating, after using the restroom, and after coming in from playing. Seeing the children laugh, sing, and dance along with us was very rewarding! - Heidi M, Childcare in South Africa
What are the benefits of doing child care volunteer work?
You'll give back to a community that needs help while developing your own skills. Previous volunteers have enhanced their global competencies through childcare volunteer opportunities abroad. These include:
Teamwork
Leadership
Resilience
Organizing
Planning
Time management
Independence
Niche skills that you can expect to develop during your childcare project abroad include:
Experience in childcare and Early Childhood Development (ECD).
The ability to work and empathize with people of different cultures and backgrounds, helping to develop a 'global mindset'.
Confidence from pushing past your comfort zone.
Volunteer childcare work abroad will boost your resume, college applications, and your personal development in general.
I left Samoa with an enhanced understanding of my collegiate studies, a new perspective on aid, and a family and community of people I look forward to seeing again. I would strongly recommend Projects Abroad to anyone looking to volunteer abroad. - Maisie I, Childcare in Samoa
Why do child care projects abroad matter?
Early childhood development, educational support, and specialized therapy can be areas of real need in developing countries. In many communities around the world, vulnerable groups like children and those with special needs lack access to these services. You can volunteer to be part of our long-term mission to change this and make the world a better place, one moment at a time.
One of my students found it very hard to concentrate, and therefore would rarely do the tasks or homework. As the class is so big, it was hard for the teacher to constantly ensure that he is up to date and joining in on all the activities, so I would sit next to him during the lessons and make sure he understood what he had to do and encourage him to do it. For example, he struggled writing out the alphabet, so I would write it all out in dot-to-dot so that he could copy over it. Eventually he was able to do it by himself! - Rosanna C, Childcare in the Philippines
How does Projects Abroad help children and communities in need?
Our first aim is to benefit the communities we work in. Your childcare volunteering project will be ethical, well supported and focused on the long-term.
You'll be fully supported by staff
We don't expect our volunteers to be education or childcare experts.
You'll work alongside members of the local community and full-time Projects Abroad staff. They'll help you plan your work and will be available to advise you.
You'll also be part of a wider network of volunteers.
This is a great way in general to gain work experience with children.
Recording our work in a secure database
We created a Global Impact Database to track the positive impact our projects have in local communities.
This is a secure and anonymous database that we use to identify specific areas of need.
We can also monitor individual children in our projects to track their development.
Childcare volunteer opportunities that have a real impact
All our projects are well researched, targeted, and sustainable. We aim to make a positive difference to local communities for the long term.
Our approach is more detailed than "pitching up and pitching in". We stand apart from other volunteering projects, as we are guided by annual reviews and thorough needs assessments which are contained in our Management Plans.
For us, bringing this level of professional strategic thinking to each of our Childcare Projects worldwide is a crucial part of making sure our volunteers and the communities we serve both get the outcomes they need.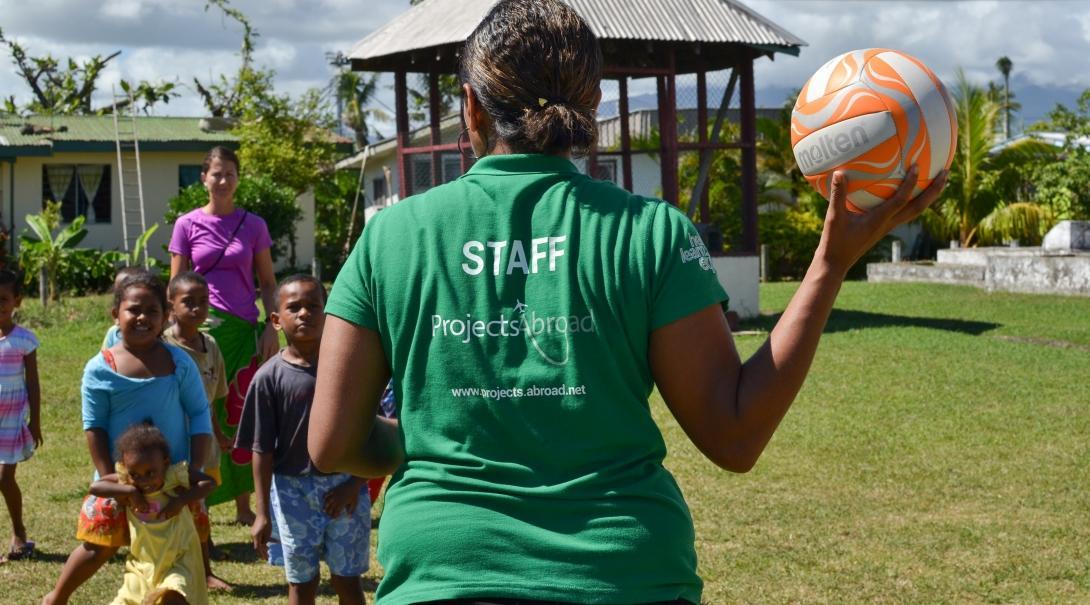 Where can I volunteer abroad to work at an orphanage?
Over the years, our volunteers have worked with children at orphanages and residential care homes. They have done incredible work at these placements, improving living conditions and creating opportunities for children by supporting their education and care.
However, we have decided to move our focus away from orphanages and homes toward community and family-based care. This is because we believe stable family environments are best for the children we aim to serve.
This means that instead of volunteering in orphanages, our volunteers work with children in placements like daycare centers, kindergartens, and schools, or support groups for the elderly and mothers and babies. This helps Projects Abroad build stronger relationships with local communities and – most importantly – help families stay together and flourish.
Find out more about Projects Abroad's views on orphanages here.
Not quite what you're looking for?
Take a look at the following pages where you'll find collections of similar projects: