Are you seeking an opportunity to travel the world? Are you interested in cultivating meaningful experiences with new friends? Would you like to learn new skills and create positive changes around the world? Then Projects Abroad is ready for you!
Here at Projects Abroad, we make your travel dreams come true. With 30 years experience in volunteer abroad programs, we provide the gold standard in international volunteering so you can participate in something you're truly passionate about, like:
Support children's education
Protect endangered wildlife and ecosystems
Provide medical services to communities without access to healthcare
Advocate for human rights and facilitate equal opportunity for all people
Volunteering overseas will elevate your travel experience to its highest potential. Volunteer work abroad will contribute to both your own personal growth and the development of communities around the world. From Africa to Asia to South America, our volunteer abroad programs take place in breathtaking destinations, that will enrich your sense of adventure and sense of purpose.
Why choose Projects Abroad?
Projects Abroad is the industry leader in safe, sustainable and hassle-free volunteer projects.
We manage everything from airport transfer to lodging and meals, so your energy can focus on your volunteering experience. From the moment you arrive in your chosen destination, we'll be available to ensure your trip is safe, secure, and unforgettable.
Our volunteer travel programs are culturally-rich, where often you'll live with a host family and work alongside local people. You'll be working with other volunteers from around the world where you will gain practical skills and first-hand insight into global issues. It's a way for you to make a real difference in today's world, while visiting new destinations and making new friends.
As an industry leader for volunteer abroad opportunities, we hold our programs to a strict ethical standard. We have a responsibility toward the people and organizations we work with, as well as our staff and volunteers like you, and we hold their - and your - trust in high regard.
It's why we champion Responsible Volunteer Travel, and work with an extensive checklist that guides all of our efforts in developing countries. You'll be working towards achieving long-term goals guided by the UN Sustainable Development Goals. These goals address needs identified by local community members and the organizations we partner with, and they rely on your contributions to create a lasting impact.
We're committed to making the world a better place, one volunteer at a time. All we need is you to make a difference!
Options for Global Volunteer Opportunities
View specific types of projects using the links below:
What are the best volunteer abroad programs for me?
We have numerous volunteer abroad programs for you to choose from, and each one is aligned with our Responsible Volunteer Travel checklist. Read on below for more details on the voluntary projects abroad we offer.
Animal Volunteer Programs Abroad
We have several Conservation Projects that are perfect for animal volunteer opportunities abroad. And where can our Conservation Projects take you? Well, anywhere!
Your interest in wildlife volunteer opportunities abroad can take you to the wild savannas of Kenya in East Africa, or to touch the sky at the top of the Himalayan Mountains in Nepal. Here are our most popular land-based Wildlife Conservation Projects:
Whichever environmental volunteering opportunity you choose, you can rest assured that your experience will be an ethical one. All of our wildlife conservation volunteer abroad programs are guided by a comprehensive Animal Protection Policy. The same policy also guides our work at Veterinary Medicine & Animal Care Projects.
Marine Conservation Volunteer Abroad
Explore our oceans as a marine conservation volunteer, and help in the fight against global issues like plastic pollution and coral bleaching. Choose from projects like:
Community Development Volunteer Opportunities
We have a range of community development volunteer opportunities overseas. If you want to help empower communities, and work and live with local people, you can choose from programs like:
Volunteering Opportunities with Children
Our Childcare Projects are built around a community-based care system. We don't work in orphanages, nor do we support volunteering at an orphanage. We strongly believe that stable family environments are best for the children we work with. If you're interested in orphanage volunteer opportunities, we encourage you to read more about it.
By doing volunteering work with children, you can support communities in need and give kids the skills they need to thrive. Your focus will be on Early Childhood Development, and teaching things like motor skills and teamwork.
All of the work you do goes into our Global Impact Database, which tracks the progress each child makes, to ensure long-term impact.
Read more about volunteering abroad with children.
Volunteer Teaching Abroad
Join a teach abroad program and empower young people around the world. By getting involved with education in developing countries, you'll also support the work of local teachers.
Education is essential for breaking down the barriers of poverty and inequality, which is why Teaching Projects are a core focus for Projects Abroad in every country we work in. Like our Childcare Projects, we also have a targeted approach:
Each project has a Management Plan, so we can work toward a goal and measure our impact for the long-term
Our Child Protection Policy ensures that the children we work with are protected, and our processes are ethical
We don't require you to have previous teaching experience, as most of our volunteers work alongside local teachers as assistants. We do welcome qualified teachers interested in volunteer teaching abroad.
Read more about our teach abroad programs.
Clinical Volunteering Abroad
Promoting healthcare is another way we help empower the communities we work with. With the help of volunteers like you, we improve access to basic medical services by doing health checks and raising awareness of diseases. At the same time, you'll gain clinical work experience.
We hold our Medicine & Healthcare Projects to a high ethical standard, and we follow strict guidelines and a code of conduct. On our volunteer opportunities for pre-med students, you won't be allowed to do work you're not qualified for, and you'll always be supervised by a medical professional.
We offer a range of specialisms for medical volunteers, including:
General Medicine
Public Health
Nursing
Nutrition
See a full list of the specialisms we offer for clinical volunteering.
Building Volunteering Abroad
Our Building Projects work toward providing disadvantaged communities with the infrastructure they need. This is because a lack of infrastructure can hold people back from fulfilling their potential. Children need safe spaces at school to learn, modern toilets prevent disease and improve hygiene, and shelter fulfills a basic human need.
Go overseas as a construction volunteer, and learn about the infrastructure challenges people face. At the same time, we'll teach you everything you need to know to do the work, and you'll be supervised by professionals. You'll also be able to see immediate physical results from your work!
Read more about building volunteering abroad.
Sports Volunteering Abroad
Our sports volunteer opportunities are about more than you getting outdoors and sharing your passion for games like soccer. Through sports, you'll do things like:
Give disadvantaged children access to coaching
Teach the importance of living a healthy lifestyle and how to keep fit
Help children learn about teamwork and improve their self-confidence
Work with us to provide a safe space for young people to learn and grow
From running physical education classes in Peru, to helping kids learn to swim and surf at a white-sand beach in Cape Town, South Africa, there are plenty of sports coaching programs for you to choose from.
Read more about sports volunteering abroad.
Worried about not having enough experience for volunteering overseas programs, or what you can accomplish if you only have a short time available? Read our popular blog articles about short term volunteering abroad and overseas volunteering without experience.
Interested in gaining professional work experience?
If you want to go overseas to add professional work experience abroad to your resume, we recommend our internships abroad. You can learn new skills in areas like Law & Human Rights, Microfinance, and more.


Types of volunteer trips abroad
Our Project Experts are here to help you choose a volunteer trip that's the best fit for you. Some of our overseas volunteer programs will be more suited for you than others. Here are the different types of volunteer trips we offer.
Volunteer Abroad Programs for High School Students
At Projects Abroad, we believe in empowering young people from a young age to help others. This is why we designed a program specifically for students ages 15-18, our High School Specials.
Each High School Special is built around the idea of safe, hassle-free volunteer travel for teenagers. Everything is group-based, so you'll live and work with people your age for the duration of your trip.
This is what our volunteer abroad programs for students include:
A schedule packed with age-appropriate volunteering activities, geared toward experiential education
Regular social and cultural activities, like cooking classes and quiz nights
24/7 support and guidance from in-country staff, so you'll never be left on your own
An exciting weekend trip with our staff, filled with guided exploration and fun
Our High School Specials help you gain independence while you explore the world in a safe environment. They fit perfectly into the summer break, and run from anywhere between 1-4 weeks, mainly in June, July, and August.
Want to learn more about our high school volunteer abroad programs? Read our popular blogs about what the journey of a High School Special volunteer is really like, and what our best volunteer abroad programs for teenagers are.
Volunteering Abroad for College Students
As a student volunteering with Projects Abroad, you can do hands-on work that adds real value to your studies. Our internships and volunteering opportunities for college students are built around experiential learning. You get to do things like:
Work directly with professionals on the job, like doctors or teachers
Give back through an ethical and sustainable volunteer program
Add relevant, practical work experience to your resume
Work with diverse groups of people around the world
Hone global skills like communication, organization, and time management
Our best volunteer trips for college students are our Flexi Trips, which give you the space to work independently while still enjoying support from our full-time staff. If you want to work with a group your age and have an organized schedule, we recommend our Team Trips.
Gap Year Programs Abroad
International volunteering is an increasingly popular option for students looking to learn and make an impact with their gap year abroad. With Projects Abroad, you can choose to volunteer overseas for a full year, or for just part of your gap year.
We specialize in planning gap years, and we offer a hassle-free and completely flexible experience. You can choose:
What kind of work you want to do
Which country you want to go to
How long you want to travel, and your own start and end dates
You can customize your gap year abroad by combining volunteer trips or internships in different countries, or join our pre-arranged and all-inclusive Global Gap Program.
Read more about gap year volunteering.
Professional Volunteering Abroad
Looking for a career break with a difference? Interested in breaking away from typical tourist activities for your next holiday? Volunteer abroad as a professional, and use your skills to actively make a difference while you travel and explore.
Our Flexi Trips are perfect for working vacations and adults looking for volunteer travel programs. They give you independence and flexibility, while still giving you structure and support if you need it.
We can match you to the project that would benefit most from your skills and experience, and also help you share that with local people through training. You can also volunteer as a retired professional with us.
Learn more about our approach to volunteering abroad for professionals.
Volunteer Opportunities for over 50s and Seniors
Through our volunteer abroad programs, you can use your skills, knowledge, and life experience to make an impact in developing countries, no matter your age.
Most of our volunteer programs are a great fit for those in their 50s, 60s, and older. If you want to travel more independently, we recommend Flexi Trips, which we can then tailor specifically to your interests.
Interested in travelling with a group your age? We also offer an organised group volunteer trip specially designed for older adults and retirees, our Grown-up Specials. These trips run over set dates throughout the year, for two weeks at a time.
Read more about our best volunteer abroad programs for older adults, and the reasons why you should volunteer abroad during retirement.
Family Volunteer Opportunities Abroad
Do something exciting and different for your next family vacation, and volunteer as a family. Many of our volunteer projects are family-friendly, and our hassle-free approach takes all the stress out of planning a trip!
You can volunteer with your partner, children, and other members of your family. No need to worry about leaving little ones at home, we can accept children as young as four years-old on our volunteer programs. Read more about how our volunteering opportunities for families work.
Want to get a deeper insight into what volunteering as a family with Projects Abroad is really like? Read our popular blog about a family who turned the world into their classroom for a few weeks.
Winter and Summer Volunteering Abroad
Summer Volunteer Programs Abroad
Our projects are a great fit for anyone who wants to make the most of their break with summer volunteering abroad. You can travel on a volunteer vacation with us at any point over June, July, or August, from as little as one week.
If you want to choose your own dates for to volunteer abroad for the summer, then we recommend joining a Flexi Trip. You can travel over pre-set dates in the summer if you want to join a group, either on a High School Special or Team Trip.
Our summer volunteering opportunities are popular, especially for high school students, recent grads, and university students. We recommend applying early to make sure you get a spot on the project you want. This is especially important if you're applying for a trip with fixed dates, as those projects fill up quickly!
Winter Break Volunteer Programs
Celebrate the spirit of giving by giving back to communities who need extra support! With Projects Abroad, you can volunteer overseas for the holidays through one of our Team Trips.
Our Team Trips take place on set dates throughout the year, and several of these trips have dates through the holiday season. Learn more about winter break volunteering abroad.
Overseas volunteer work caters to people from all walks of life, no matter what your motivation is for volunteering abroad. No matter your age, level of experience, or where you're from, you can make a difference with Projects Abroad!
Where can I volunteer abroad?
If you're asking yourself "Where should I volunteer abroad?" we can help you find the answer!
Choosing where to go is tough, especially with so many places to choose from. Your destination depends on what you want to get out of the experience, and we can help you pin that down. Our Project Experts are always available to help you decide where to go. You can also read more about where we work below.
Africa Volunteer Programs
In the continent of Africa, we work in several countries. You can volunteer with wildlife, work with children, and more in countries like:
Asia Volunteer Programs
Experience a different side of Asia when you volunteer abroad and immerse yourself in the local community and culture. You can protect coral reefs, teach English, and more in countries such as:
South America Volunteer Opportunities
We have volunteer opportunities in South America in three different countries:
Interested in volunteering in other Latin American countries? We also offer projects in Mexico and Jamaica.
Europe Volunteer Programs
Travel to Europe and actively make a difference by volunteering in Romania. In Romania, we have several projects, from digging into the past on our Archeology Project, to working with children at a kindergarten.
Torn between different countries? Combine multiple countries and projects for the ultimate volunteering abroad experience!
What do you gain from volunteering?
You may be asking yourself, "What are the advantages of volunteering?" There are numerous benefits of volunteering abroad. You can do things like:
Learn new skills
Get volunteer work experience
Add global competencies like communication to your resume
Grow as a person and learn about the world firsthand
Step out of your comfort zone and challenge yourself
Make a tangible difference at a service program
Make lifelong friends and become part of our alumni network
In addition, the skills you gain from volunteering abroad can also help you improve your employability.
Ultimately, the benefits of volunteering abroad also depend on you, and what you want to get out of the experience. Read our blog to learn more about what you stand to gain from international volunteering.
Common questions about volunteering abroad
We get a lot of questions about volunteering overseas, which we answer for you below.
Is volunteering abroad safe?
At Projects Abroad, your safety is our number one priority. We have several protocols in place to ensure your time abroad is safe, productive, and enjoyable, such as:
All of our staff are screened and trained to high standards
Our in-country staff are available 24/7 to help you with any problems that arise, or if you fall ill
Our host families are carefully chosen to ensure security, comfort, and friendliness
We carry out thorough risk assessments to ensure that all of the countries we work in are safe and politically stable
We have an in-house medical advisor who is available to consult with you and your GP before you leave, so you can discuss any health concerns to make sure you're feeling confident about your upcoming volunteer trip
Want to know more about how we keep our volunteers abroad safe? Read our blog that explains all the ways we keep you safe in greater detail.
How much does it cost to volunteer abroad?
All volunteer abroad programs with reputable organizations come with a cost. For Projects Abroad, we charge a fee because we're an independent organization that doesn't rely on fundraising or government funding to achieve sustainable, long-term goals. We get all of our funding from the fees our participants pay.
In exchange for paying to volunteer in other countries, we provide you with a world-class, hassle-free experience, with all the support you need. You can also be 100% certain you are part of an ethical, guided program that makes an actual difference on the ground.
We're clear about what our program fees cover, and there are no hidden costs. Read more about how our prices work, and how your program fees are used.
Can I volunteer abroad for free?
We often get asked if we offer free volunteer trips. The short answer is "no", and there are several reasons why it's important to pay for volunteering abroad. Read more about why we ask our volunteers to pay a fee. If you still have questions after you read our article, get in touch! Our Project Experts are to help and answer your questions.
How can I raise money to volunteer abroad?
We understand that the cost of volunteer abroad programs can be daunting, and we have lots of advice to help you achieve your fundraising goal.
With us, you can:
Which countries need volunteers?
Simply put, all of the countries we work in need volunteers. It's the reason why we're there in the first place!
Wherever you choose to travel with us, you can be assured there's a real need that you'll be helping to address. It's the way we've structured our projects, and it's reflected in our approach to responsible volunteer travel. Every volunteer project that you read about on our website will explain why we're there, and what goals we're working towards.
How old do you have to be to volunteer abroad?
The majority of our volunteer abroad programs are open to anyone over the age of 16. For younger volunteers, we offer specialized programs with constant support and supervision, ideal for first-time travelers.
You may be asking yourself, "Am I too old to volunteer abroad?" Our answer is: not at all! Our programs have no official age limit. You can join any volunteer project as long as you meet the requirements and can do the work.
What has motivated you to volunteer abroad?
This is an important question, and it's something we feel our alumni are best placed to answer! It's often a life-changing experience, and each of our alumni was motivated by different reasons to volunteer around the world. You can read reviews by our alumni, or contact us to see if we can put you in touch with former volunteers.
Can I volunteer abroad without a degree?
At Projects Abroad, it's possible to volunteer abroad without a degree. At each volunteer project, you work side-by-side with experienced professionals to guide you, and we provide extensive training. Your work will always be appropriate for your age and skill level. We'll never ask you to anything you're not comfortable with or trained to do.
Do you need a visa to volunteer abroad?
It depends on where you want to volunteer abroad, and for how long. We have an in-house visa team who can help you with this process once you've applied. They have all the up-to-date visa information you need, and can guide you through the visa process.
How to volunteer overseas
Choose a Volunteer Program
1-3 of 90 Projects
Take a Gap Semester Abroad in South America
See this project
Price:

$7,895 USD for 8 weeks

Extra Weeks:

$300 USD

Start Date:

Throughout the year

Minimum Duration:

8 weeks

Ages:

17-24
Giant Tortoise & Sea Lion Conservation in the Galapagos Islands
See this project
Price:

$2,970 USD for 1 week

Extra Weeks:

$470 USD

Start Date:

Anytime

Minimum Duration:

1 week

Ages:

16 or over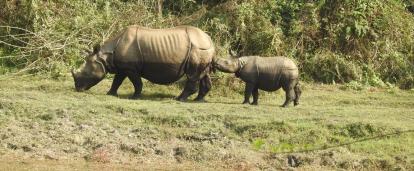 Rhino Conservation in Nepal
See this project
Price:

$3,140 USD for 2 weeks

Extra Weeks:

$470 USD

Start Date:

Anytime

Minimum Duration:

2 weeks

Ages:

16 or over
Load More