At a glance
Volunteer as a sports coach in Tanzanian schools and help children develop their fitness through structured physical education classes.
It's a great way for you to help children get access to sport coaching, while simultaneously getting practical sports coaching experience. Focus on sports like football, netball, and volleyball, as well as general fitness.
You'll be based in the vibrant town of Arusha, and stay with a local host family. Make the most of your time in East Africa and travel and explore your surroundings with your fellow volunteers!
Is coaching sports in schools in Tanzania right for me?
If you're passionate about sport, eager to support those in need, and you enjoy working with children, this is the project for you.
By coaching sports at schools in Tanzania, you'll actively make a different in children's education, and make sure they have fun exercising. You'll also be in a position to teach them skills like teamwork. This kind of work will add valuable hands-on experience to your CV, and give you interesting points to talk about in applications and interviews.
You don't need any previous experience or qualifications to join, but it does help to have some knowledge about popular sports. Projects Abroad staff will be there to guide you throughout your stay if you need help.
This project runs throughout the year, and you can join at any time. We encourage you to stay longer to make a bigger impact on your students. You should also be aware that monsoon season runs from mid-March to the end of May, so you may not want to join during this time.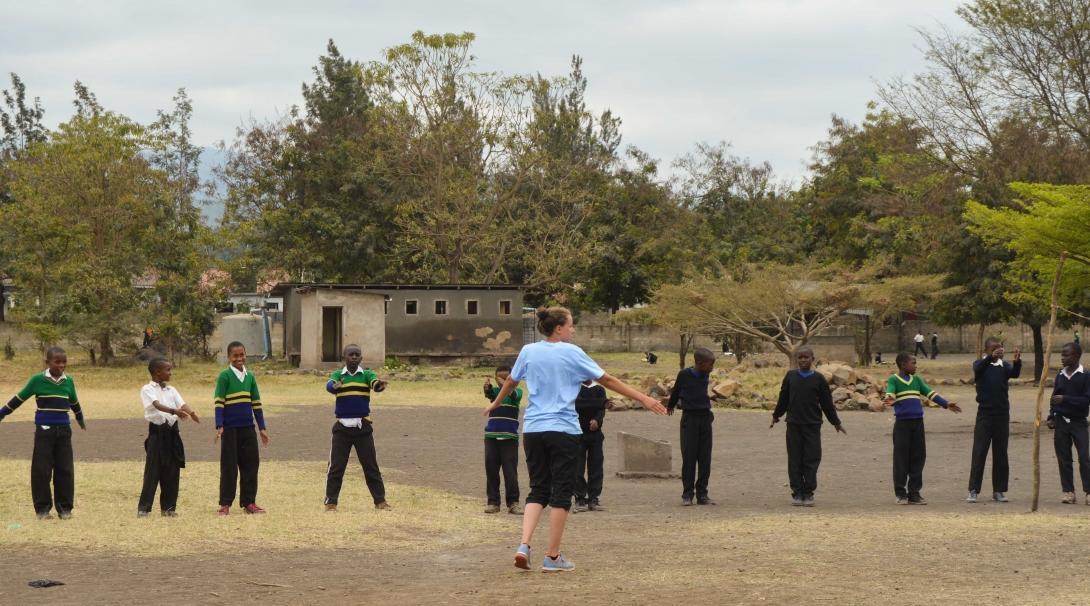 What will I do as a volunteer school sports coach in Tanzania?
You will work as a sports coach at primary and secondary schools in Tanzania. Here are some of the tasks you can expect to do during your stay:
Plan and prepare physical education classes for primary and secondary school students
Coach various different sports to encourage teamwork, fun, and fitness
You work can be divided into two main categories:
Teach physical education classes
You will spend most of your time planning and running physical education classes at a primary or secondary school. You'll be the main teacher, so you need to be prepared to take initiative. Local staff are there to support you. This will allow you to get creative with your coaching methods and introduce new sports and games.
You may be teaching dozens of children at a time, so you will need to plan for this when preparing your lessons. You'll need to ensure that each child has the opportunity to participate. If you're looking for guidance or advice, you can reach out to our Projects Abroad staff at any time.
Coach school sport
In the afternoons, after regular school hours, you'll continue working as a sports coach. You will teach sports such as:
Football
Volleyball
Netball
Rugby
Through these sports sessions, you'll enable children to become fitter and healthier and teach them to work as a team. It also gives the children a safe space to learn and grow after school. You can also ask to rotate between two or three schools during your stay, so that you can work on arranging tournaments.
Arusha
You'll work at primary and secondary schools in a small, rural community about 40 minute drive from Arusha. You'll stay in Arusha throughout your stay and use public transport to travel into USA River.
The schools we partner with are disadvantaged with limited funds. This means you will need to get creative with your physical education classes, as you may not have access to the equipment you're used to. Furthermore, most schools don't have the resources to hire a physical education teacher full time. This means that most of the time, children don't have physical education classes unless there is a volunteer like you there.
A gateway to national parks and safari destinations in Tanzania, Arusha is a bustling city located at the foot of Mount Meru. Enjoy a delicious meal at a local restaurant, go shopping, or head off on a safari!
What does a typical day as a volunteer sports coach in Tanzania look like?
You will begin your working day with breakfast with your host family. Once you are ready, you will make your way to your school placement. On your first day of work, a Projects Abroad member will accompany you to show you the way.
Classes in Tanzania usually start from 9am, and you will spend the morning running physical education classes for students. When you are not teaching classes, use your time to prepare for future lessons and come up with creative ways to get the kids moving.
After the school day ends at around 2.30pm, you will spend the afternoon coaching sport. Football is the most popular sport, but you may also get the opportunity to coach netball, volleyball, or rugby. Use this time with the children to improve their sporting skills, encourage teamwork and teach them about the benefits of participating in sport. Your work day will end at around 4.30pm or 5pm.
You will then have evenings and weekends free to experience Tanzania.
What are the aims and impact of this project?
The main aim of this project is to provide our partner schools with structured sports education.
Most of the schools we work with are located in disadvantaged areas. We have chosen to partner with them because we have identified a need there. They have limited resources and funding, and cannot afford to hire a dedicated physical education teacher. Sometimes other teachers run sports classes, but these are not structured, and other subjects are usually prioritised.
This means that the children miss out on regular physical activity, and aren't able to learn to play different sports. This is why we need the help of volunteer sports coaches like you. You'll plan and run physical education classes focused on teaching different sports and developing fitness. You'll also help the children learn about the benefits of teamwork, which can raise their self-confidence.
Join us in Tanzania and experience the beauty of East Africa while helping children develop through sports and physical activity.
Management plans
We set out the aims and objectives of our projects in documents called Management Plans. We use them to properly plan the work you'll do. They also help us measure and evaluate our achievements and impact each year.
Ultimately, our Management Plans help us make our projects better. This in turn means you get to be part of something that makes a real impact where it's needed. Read more about our Management Plans.
Measuring our impact
Our projects work towards clear long-term goals, with specific annual objectives. Every volunteer and intern we send to these projects helps us work towards these goals, no matter how long they spend on our projects.
Every year we take a step back and look at how much progress we've made towards these goals. We put together a Global Impact Report, which documents our achievements. Find out more about the impact our global community of volunteers, interns and staff make, and read the latest report.
Food and accommodation
You'll stay with a host family in Arusha. They will welcome you into their home, eager to share their customs and have you teach them about your own culture. We believe that this is the best way to immerse yourself in the culture of Tanzania and have a truly unique experience.
We will always try to let you live alongside at least one other Projects Abroad volunteer or intern at the same host family. Your room will be modest, but comfortable, clean, and safe.
Your programme fee includes three meals a day.
Find out more about our accommodation.
Leisure activities and free time
A trip to Tanzania is the chance to experience life in the heart of Africa. There's plenty to see and do here during your free time on your project.
A project in Tanzania wouldn't be complete without a safari! This is a chance to see the beautiful wildlife of this country, like elephants, rhinos, and lions.
What's more, Tanzania is home to the highest mountain in Africa, Mount Kilimanjaro. Hiking around the base through lush vegetation is a peaceful way to spend an afternoon.
Browsing through a vibrant, local market is a must while you're there. You can also spend time in a Maasai village, getting to know a completely different way of life.
There will likely be many other volunteers in Tanzania with you. This means you have the option to explore the country independently or with a group of like-minded volunteers from different projects.
Safety and staff support
Your safety and security is our prime concern. We have many procedures and systems to ensure you have the support you need to enjoy your trip with peace of mind. Our Projects Abroad staff are available 24 hours a day to help, and will be on-hand to make sure you settle in well at your accommodation and placement. If you encounter any problems, they will be available to help at any time.
Find out more about safety and backup.
Meet the team in Tanzania
Not quite what you're looking for?
Take a look at the following pages where you'll find collections of similar projects: