At a glance
Travel to Africa and get valuable work experience by joining our Nursing internship in Kenya. You will be shadowing doctors on their rounds. This will make up your future career and resume!
During the internship, you can rotate through different hospital departments. You will be taught how to give a diagnosis and treat patients.
You will be based in the town of Nanyuki and live with a local host family. Make the most out of your free time to explore the country, local food, and traditions.
Is a Nursing internship in Kenya right for me?
This project is designed so that you can gain nursing work experience in a medical setting. It'll give your resume the edge it needs if you want to study nursing. You'll get to explore different nursing specializations that could help you plan your future career.
No experience? No problem! The goal of this internship is for you to learn. You'll gain a lot from shadowing local nurses and doctors. We recommend you take notes and ask many questions.
If you participate in a community outreach, our medical coordinator will teach you what you need to know before you start working. All outreach work is supervised by a medical professional.
Our Nursing internships run all year, and you can join at any time. We always encourage you to stay longer to learn and gain as much experience as possible.
What will I be doing as a Nursing intern in Kenya?
You'll work in a health clinic or hospital in the town of Nanyuki. During your internship, you will:
Your work will focus mainly on the following:
Shadow local nurses
Your role will mainly be observational. You'll shadow the local nurses during their daily rounds, and gain insight into the work they do.
It's important to make notes and ask as many questions as possible. When the nurses see that you're enthusiastic and interested, they may give you more responsibilities. Any practical work you do will be fully supervised.
Help with basic health checks
It's important to build trust and a good relationship with the local medical staff. This will help you get involved with more practical work. The kinds of tasks you may help with include dressing wounds, monitoring a pulse, and checking blood pressure and temperature.
You'll also do health checks during community outreaches in communities that usually have very limited access to basic healthcare services.
Attend workshops
We hold regular workshops for all our medical interns. These are usually run by our qualified Medical Coordinator in Nanyuki.
Use the workshops to ask about specific things you've observed at your placement. You can also use these workshops to learn techniques and skills to put into practise during outreaches, like measuring blood sugar levels.
What type of Nursing placements are available in Kenya?
This internship is ideal for gaining exposure to different hospital departments and specializations. You can spend time in these departments:
Maternity
General Medicine
Surgery
Pediatrics
Laboratory work
You can also choose whether you want to work with adults, children, and/or mental health patients.
Where will I be working as a Nursing intern in Kenya?
Nanyuki
We're based in the little town of Nanyuki, about 125 miles northeast of Nairobi. Nanyuki is a market town where people stock up on fresh produce, meat, and other essentials. The town is also the gateway to the Laikipia plateau, one of Africa's most important wildlife conservation areas.
As a Nursing intern, you'll either work in a small health clinic or a large hospital. Both placements are in a rural setting, so you can expect to work with equipment less advanced than that back home. The placements also cater to surrounding communities, so are usually busy throughout the day.
A typical day as a Nursing intern in Kenya
Start your day with a tasty breakfast at your host family. Then set off to the clinic or hospital, using either public transport or walking. The local staff will show you the way on your first day.
Work usually begins at 8am. You'll help local nurses prepare for their rounds, and will then shadow them during their rounds as they see to the different patients.
Lunch will be between 12pm and 1:30pm. If your host family lives close by, you can go home to eat and rest over your lunch break. If not, you'll enjoy a packed lunch at the hospital.
In the afternoon, you'll continue shadowing nurses on their rounds. The most important medication of the day is normally administered in the morning (or evening). The afternoon is therefore the best time to assist nurses with more basic practical tasks. These can include monitoring heart rates and taking blood pressure or temperature.
Some afternoons will have workshops for you to learn with other medical interns. We'll let you know in advance which days these will be.
Evenings and weekends are your free time to relax, explore and learn more about Kenyan culture. Do some traveling with the other interns! Watch amazing African wildlife in a game reserve, or go hiking through the beautiful nature.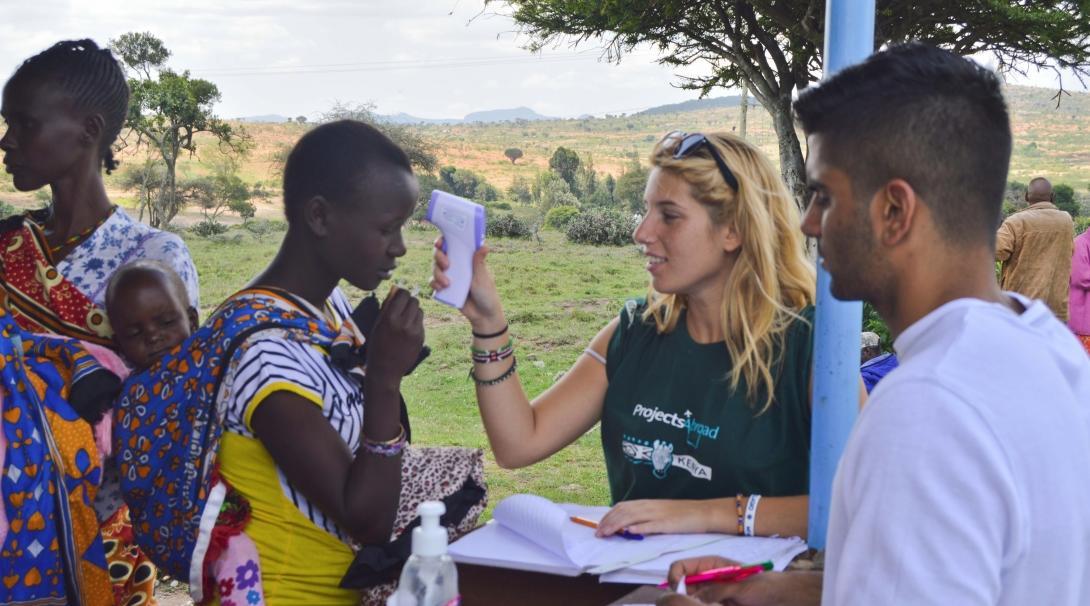 What are the goals and impacts of this Nursing Internship in Kenya?
There are two main goals of this project: to give you the opportunity to gain experience in nursing and to serve the local community through your work.
As a Nursing intern in Kenya, you'll work with medical professionals and explore the different departments of a clinic or hospital. This will give you the opportunity to explore various specializations and learn more about different conditions and illnesses. The experience you gain will improve your resume.
You'll also get to make a difference through community outreach work. Many of the communities we work with have limited access to basic healthcare services, or cannot travel for medical care.
These are some of the goals of our Medicine & Healthcare Management Plan for Kenya:
Improve understanding of medical practices and promote an exchange of medical knowledge
Improve the quality of healthcare provided to patients
Improve access to basic healthcare for communities in need
Improve hygiene standards
Reduce the number of cases of malaria
Join our Nursing Internship in Kenya and help us achieve these long-term goals while gaining professional work experience.
Management plans
We set out the aims and objectives of our projects in documents called Management Plans. We use them to properly plan the work you'll do. They also help us measure and evaluate our achievements and impact each year.
Ultimately, our Management Plans help us make our projects better. This in turn means you get to be part of something that makes a real impact where it's needed. Read more about our Management Plans.
Measuring our impact
Our projects work towards clear long-term goals, with specific annual objectives. Every volunteer and intern we send to these projects helps us work towards these goals, no matter how long they spend on our projects.
Every year we take a step back and look at how much progress we've made towards these goals. We put together a Global Impact Report, which documents our achievements. Find out more about the impact our global community of volunteers, interns and staff make, and read the latest report.
Food and accommodation
You'll stay with a host family in Nanyuki. They'll welcome you into their home, eager to share their customs and learn about yours. We believe this is the best way to immerse yourself in the culture of Kenya and enjoy a unique experience.
We'll try to ensure you live alongside at least one other volunteer or intern at the same host family. Your room will be modest, but comfortable, clean, and safe.
Find out more about our accommodation.
Your programme fee includes three meals a day. Get ready to try exciting new flavours like ugali (a maize staple), nyama choma (grilled goat meat), githeri (bean stew), and so much more. Your host will provide delicious local cuisine daily, while staff will take you to some of Nanyuki's best restaurants.
Leisure activities and free time
Interning in Kenya is the perfect opportunity to explore this extraordinary country. With a vast array of activities, you're sure to find plenty of ways to fill your evenings and weekends.
A trip to East Africa wouldn't be complete without a safari. As you explore the savannahs, spot wildlife like elephants, lions, and even the endangered Rothschild's giraffe.
Our projects are based in Nanyuki, which is known as the gateway to Mount Kenya. With this majestic mountain on your doorstep, it's worth taking a day to hike around the base.
You can spend evenings at buzzing restaurants, listening to live music and trying local dishes. Kenya also has must-see markets, with bright textiles and hand-carved sculptures.
You can spend your free time exploring independently or traveling with a group. With so many volunteers and interns joining us throughout the year, you're sure to make new friends and travel buddies during your trip.
Safety and staff support
Your safety and security is our prime concern. We have many procedures and systems to ensure you have the support you need to enjoy your trip with peace of mind. Our Projects Abroad staff are available 24 hours a day to help, and will be on-hand to make sure you settle in well at your accommodation and placement. If you encounter any problems, they will be available to help at any time.
Find out more about safety and backup.
Not quite what you're looking for?
Take a look at the following pages where you'll find collections of similar projects: