Volunteer in Madagascar with Projects Abroad and make a difference in one of the most fascinating and diverse countries in the world. You can experience amazing rainforests and iconic wildlife like lemurs, while also helping at one of our projects.
You can work with children at our local Early Childhood Development Center, or protect the rainforests through vital conservation initiatives. You can also do public health work and become part of ongoing efforts to improve wellness in rural communities through hygiene campaigns. We have a selection of projects so you're sure to find the right one for you.
Song credit: Meghan Trainor - Better When I'm Dancin' | Epic Records
All our projects in Madagascar are based in the small community of Andasibe. While you're there, our staff will be available 24/7 to support you throughout your trip.
Madagascar is a breathtaking country, most renowned for its diverse plant and animal species. During your free time, you can visit wildlife reserves and see the endemic creatures that make this island so unique.
Projects available in Madagascar
1-3 of 5 Projects
Paused Until 2022
French Language Course in Madagascar
See this project
Anytime
16 or over
From 1 week
From $1,970 USD
Paused Until 2022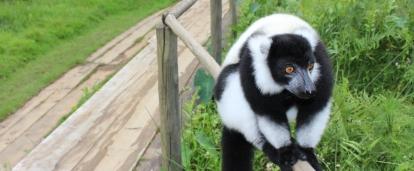 Lemur Research and Protection in Madagascar
See this project
Anytime
16 or over
From 1 week
From $3,220 USD
Paused Until 2022
Public Health Internship in Madagascar
See this project
Anytime
16 or over
From 1 week
From $2,720 USD
Load More
Can't find what you're looking for?
We have the expertise and staff on the ground to create a custom project for you, or simply help you find the best option.
Speak to one of our Madagascar experts on:
(+1) 619 320 2424
or email:
Get in Touch
to start planning your project
Meet the team in Madagascar
Where we are based in Madagascar
Andasibe
You'll work in the small town of Andasibe, which has a population of about 12,000 people. The town is located four hours east of the capital, Antananarivo, and is close to three conservation areas.
One of the highlights of volunteering in Madagascar is its endemic wildlife and vegetation. You can spend your free time exploring wildlife reserves and watching as lemurs skip nimbly through the trees.
A must-see is the UNESCO World Heritage Site, Tsingy de Bemaraha, with its towering limestone structures. You can also walk through the majestic Avenue of the Baobabs and appreciate the beauty of these uniquely trees.
Safety and staff support
Your safety and security is our prime concern. We have many procedures and systems to ensure you have the support you need to enjoy your trip with peace of mind. Our Projects Abroad staff are available 24 hours a day to help, and will be on-hand to make sure you settle in well at your accommodation and placement. If you encounter any problems, they will be available to help at any time.
Find out more about safety and backup.