Seize the opportunity to travel, make a difference, and meet new people as a teen volunteer abroad! If you're 15-18 years old, we have programs designed especially for you.
Our volunteer opportunities abroad for high school students offer:
Itinerary-driven experiences
A safe and supportive environment, with in-country staff available to you 24/7
Opportunities to gain college and career readiness skills
Receive a certificate at the end of your programme and a reference letter on request.
Organized social and cultural activities where you can build friendships with people your age from around the world
In addition, all of our service trips for high school students have fixed dates. You choose the dates that fit perfectly into your summer break plans!
Our High School Specials focus on experiential education - education through experience. So whichever summer volunteer abroad program for high school students you join, you'll learn by doing. This could be helping kids learn through play, or observing doctors in busy hospitals to prepare you for a pre-med track in college.
Our most popular High School Special projects for this summer are:
Pre-Med Internship & Spanish in Argentina
Childcare & Conservation in Ecuador
Diving & Marine Conservation in Mexico
Human Rights & Spanish in Argentina
Whichever teen volunteering opportunities overseas you join, you'll learn by doing. Tell us your interests, and we'll help you find a volunteer opportunity for teens that best suits you.
Do you need inspiration from our former volunteers and interns? Check out our High School Special testimonials.
Are you looking to get some Academic Credits whilst gaining a Level 3 Diploma? Check out our brand new International Volunteering Diploma to find out how you can take advantage of this exciting course that fits perfectly with our High School Special programmes.
Choose a High School Special
1-3 of 38 Projects
Medical Internship in Peru for Teenagers
See this project
Price:

$3,045 USD for 2 weeks

Extra Weeks:

$570 USD

Start Date:

Summer/Winter Break

Minimum Duration:

2 weeks

Ages:

15-18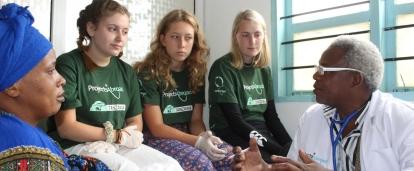 Medical Internship for High School Students in Tanzania
See this project
Price:

$3,045 USD for 2 weeks

Extra Weeks:

$570 USD

Start Date:

Summer/Winter Break

Minimum Duration:

2 weeks

Ages:

15-18
Conservation Work and Volunteer in Ecuador
See this project
Price:

$3,645 USD for 2 weeks

Extra Weeks:

$670 USD

Start Date:

Summer/Winter Break

Minimum Duration:

2 weeks

Ages:

15-18
Load More
What are High School Specials?
High School Specials are work abroad programs designed specifically for young adults.
With that in mind, you can expect to:
Participate in a well-organized high school international summer program that makes a real impact on communities
Take part in socials that spark new friendships and ensure you have fun
Receive 24/7 support from our trained supervisors
Live with a friendly host family or at local accommodation with a supervisor
Explore a new country and culture through organized activities and a weekend trip
On a personal level, you will:
Step out of your comfort zone and engage with a group of diverse people from around the world
Develop global competencies like communication, teamwork, and time management
Improve your problem-solving skills through different situations
Get a better understanding of global issues
Curious about how much of an impact you can really have as a young student? Read our popular blog about the difference our teenage volunteers made in 2018.
If you don't think a High School Special is right for you, and you want a more flexible and independent experience, take a look at our Flexi Trips. You can read our full list showing the types of volunteer trips we offer here.
My time in Peru, even if short, was very sweet and left me memories that I will always remember! I went alone, something which I was scared about at the beginning, but actually turned out to be the best option and really helped me with my confidence. On my program, I had the chance to meet some really wonderful people, who I still talk to this day. - Jordana B, Childcare & Community High School Special in Peru
Will I have an itinerary?
Yes! You'll be given an itinerary ahead of your trip. As a teenager volunteering abroad, you'll know things like:
The project schedule
Social activities
Meal times
Community outreach days
You'll also have constant contact with your supervisor, who will give you updates if anything changes. You'll always have an idea of what's going on and what's expected of you during your project.
On our volunteer opportunities for young people, an itinerary is included as part of the pre-departure kit, so you can plan your trip better. For example:
If you're on a Childcare & Community High School Special, bring your favorite English children's book to use during a reading session. If you're going to court as part of your Law or Human Rights High School Special, pack your smartest outfit. If you're at a medical placement, bring scrubs and a notebook. Or, if you see a Salsa dancing social evening, pack your workout kit and dancing shoes!
Have a look at our example itinerary to get a feel of how we operate. Each of our volunteer abroad programs for under 18s has its own itinerary. If you have any questions, chat to our Project Experts.
I had always been interested in volunteering abroad, as traveling had opened my eyes to see what is really out there in the world. I decided to look up organizations that would allow me to go on such a mission with the best safety and care while on my trip. My parents weren't very certain at first about letting me go on my own to Africa, but after reading through continuous satisfactory reviews for Projects Abroad, we were certain that this organization was the perfect choice for my trip! - Jessica K, Childcare & Community High School Special in Kenya
Need some help?
We'd be happy to talk about creating a custom program for you! Most of our staff have been volunteers themselves, so they're ready to answer your questions, big or small.
(+1) 619 320 2424
or email:
Get in Touch
to start planning your project
Not quite what you're looking for?
Take a look at the following pages where you'll find other types of trips: