On my arrival in Krabi airport, I was welcomed by a Projects Abroad staff member. Straight away I felt welcome. She asked how my flight was, how much sleep I had and if I was looking forward to my next month of work. She then took me to the conservation camp where I met the couple who ran the camp. I was welcomed into the camp and felt safe and secure straight away and I felt this way throughout my trip. I was then introduced to the conservation team that I was staying with. I was a bit unsure at first because I was the only Care volunteer but they were very friendly and happy to include me in their group.
My Care placement
My work at local day care centre began soon after my arrival in Krabi. I arrived with my coordinator and another volunteer, so I was able to learn together with someone else. Although there was little English communication between myself, the staff and children, I didn't feel left out or alone at any point. At first, it was very daunting, not knowing the ropes of how to fit in with the Thai culture and how to interact with the kids who could easily get overexcited. They were really energetic and I would go home exhausted! However, the teachers were always willing to help even though they didn't speak much English. Since the children were so young, we planned a lot of activities that they could put all their energy into. We played sports, danced and sang together. Seeing the children so happy really made me fall in love and enjoy what I was doing. After being in the day care for a few days the children were able to say my name and use basic English words such as the names of animals and colours.
Lunch time and nap time were very busy times of the day. Some children didn't want to eat, some were so small they needed one-on-one help and other children were great and loved their food! I found it very touching that every child knew not to eat until they had said their speech before eating and folded their arms on the table. At nap time, the children enjoyed us sitting with them and talking to them about their day until they fell asleep. Working at the day care centre really touched my heart, I loved every single one of my kids. After each week was completed, we got to write a report about how the week had been and the activities we had done with the kids. There were also files that we could go through to see each child's development.
Exploring during our free time
Aside from the work in the school, I got to experience different trips such as temple visits, four island boat tours and snorkelling. I even got to climb Tiger Cave temple, which had 1 260 steps! I never realised how unfit we all were until we got to the top. But the view made every bit of the struggle worthwhile! We also went on a few hikes to see the hot waterfall and the emerald pool, which is the most stunning pool I've ever seen.
The country looks stunning in pictures you see online but I couldn't believe how amazing it was when I was standing on the beach looking out at the blue sea. Over the weekends, we would get together and go out. We went to Ao Nang and had drinks and played pool. This was relaxing and gave us the chance to get to know the other volunteers.
Food in Thailand
The food was amazing! At first, it was a big change for me but then I slowly began to try new things and spice wasn't that big a problem for me. Trying traditional Thai food made my experience feel a lot more real. We took part in a cooking class and got to make our own Thai food. We prepared the food, cooked it, presented it and even got to eat it at the end! Fried ice cream was one of the most delicious things I got to taste while I was there, everybody needs to try it, especially after a long day working in the heat.
Final thoughts
My time in Thailand was out of this world! The friendliness and generosity of the Thai people were amazing. The bonds I made with the staff, volunteers and the couple looking after the camp made my experience one to remember. I am so grateful I got to experience everything I did, I can't thank everyone enough. I would highly recommend Thailand to anyone looking to volunteer abroad. I will definitely be returning!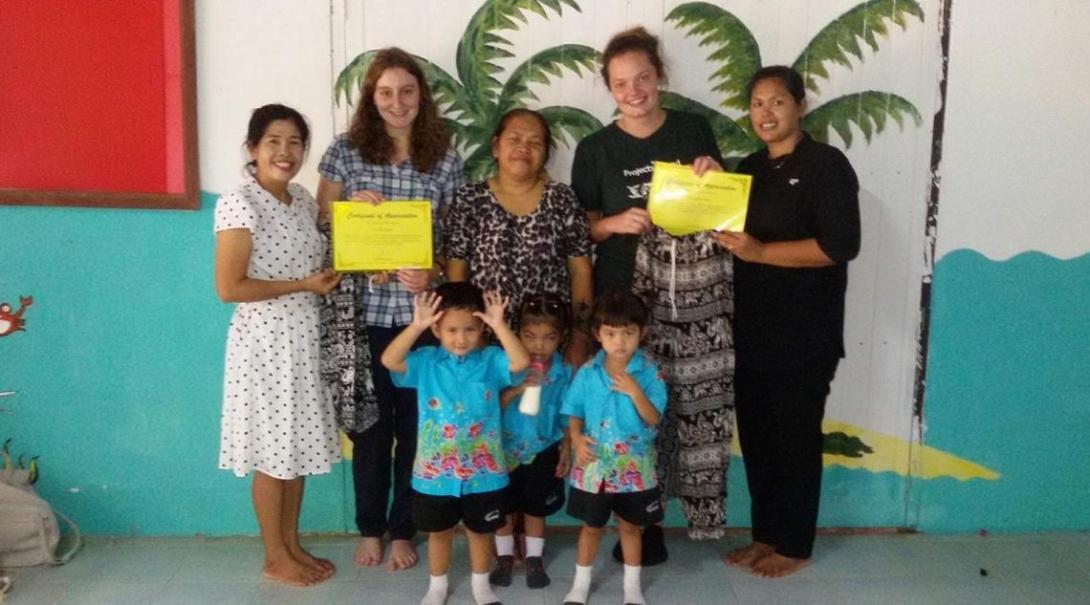 This review may include references to working in or with orphanages. Find out more about Projects Abroad's current approach to volunteering in orphanages and our focus on community-based care for children.
This is a personal account of one volunteer's experience on the project and is a snapshot in time. Your experience may be different, as our projects are constantly adapting to local needs and building on accomplishments. Seasonal weather changes can also have a big impact. To find out more about what you can expect from this project we encourage you to speak to one of our friendly staff.