Volunteer with animals in Romania and support staff at a local animal shelter by helping to care for stray dogs. You'll help with general care and maintenance, and train, exercise, and socialise with the dogs every day. This is a wonderful way to get practical experience working with animals, and help where it's needed most.
The shelter we work with takes in stray dogs. Here, the dogs get medical checks and are sterilised. The ultimate goal is to find them a new home. The shelter is understaffed, so you have an important role to play with preparing the dogs for adoption and caring for them.
You'll live and work in city of Brasov, and stay with a local host family. You'll have an exciting and memorable time exploring a different country and learning about the culture and traditions.
When you apply you only pay $295, which comes off the total price.
Looking to do more than one project? Call us on (+1) 212 244 7234 to see if we can offer a discount.
Project Overview
Flexi Trips - A flexible project that gives you the support and independence you need as you volunteer
Completely flexible dates
Anyone aged 16 or over can join
What's included in the price?
Accommodation

Food (three meals a day)

Travel and medical insurance

Airport pick-up and drop-off

Full induction and orientation by an experienced staff member on arrival

Transport to and from your work placement

In-country support and 24-hour back-up from our team of full-time local staff

Emergency assistance from our international emergency response team

Project equipment and materials, including access to our database with thousands of resources

A supervisor/mentor at your work placement

Training and workshops from our experienced local staff

Regular social events and community activities with other volunteers and interns

Access to our local office with internet connection

Certification of project completion

Access to our alumni services and discounts

Visa support and advice

Fundraising support, including your own personalized fundraising website

Pre-departure preparation by your own specialist Volunteer Advisor

Personalized MyProjectsAbroad website, with all the information you need about your project, accommodation and destination

A cultural awareness course

Membership to our volunteer social media groups, to share information and to get in touch

Support to help you complete registration or internship documents, if applicable
What's not included?
Flights

Visa costs (where applicable)
Is volunteering with animals in Romania right for me?
Do you love working with animals? Are you passionate about animal rights? Then our Animal Care Project in Romania is perfect for you!
You don't need any previous experience to join. The local staff at the shelter will show you everything you need to do, and Projects Abroad staff are also there if you need them. All you need is compassion for animals, and a willingness to work hard.
This project runs throughout the year, and you can join at any time. You can join from as little as one week. However, we strongly recommend staying for longer so you can have a bigger impact at the shelter.
What will I be doing while working with animals in Romania?
Our Animal Care Project in Romania offers you loads of opportunities to help animals. Here are some of the tasks you will help with:
Assist local staff in taking care of stray dogs living in the shelter
Get to know the dogs during training and exercise sessions
Help with other daily tasks around the shelter, such as cleaning and running errands
Assist local staff in taking care of the dogs
One of the great things about volunteering at an animal shelter in Romania is the fact that you get to work directly with the animals. During your time as a volunteer, you'll help with bathing and feeding the dogs living at the shelter. You will also spend plenty of time playing with them to help get them ready for adoption.
Your work may also extend to assisting a vet with basic surgical procedures in the small on-site veterinary clinic.
Get to know the dogs during training and exercise sessions
You will have plenty of time to get to know each of the dogs personally, as you take them for their daily walks. Exercising these animals regularly is important to keeping them healthy and happy.
You can even add more fun to this by training with them. Some may never have received any human guidance before, so you can teach them the basics, like sit, lie down, and fetch. Others may have come from a loving home and know a few tricks already, so you can keep them stimulated.
Help shelter staff with other daily tasks
While working with animals is undoubtedly the fun part of the project, you will also help out with other tasks. This could include cleaning the dog's kennels, building new ones, and running daily errands when other staff members are busy.
Where you will be working as an Animal Care volunteer in Romania
Brasov
You will be based in the ancient city of Brasov. With its terracotta-coloured roofs, gothic spires, medieval gateways, baroque buildings, and pedestrian friendly streets, it's almost like a fairy tale come to life. Although it may seem quaint and almost old-fashioned at first sight, the city is bursting with modern hustle and bustle.
Your working day will be spent at a non-profit organisation and animal shelter on the outskirts of the city. They host approximately 100 dogs at any given time.
Evenings and weekends will normally be your free time to explore. There are always other Projects Abroad volunteers around and plenty to see within Brasov and the Transylvania region in your spare time.
A typical day as an animal care volunteer in Romania
Your day will start with a healthy breakfast around your Romanian host family's table. From here, you will head to the animal shelter using public transport or cycling. On your first day, our staff will accompany you to show you the way.
Your work day typically starts around 8am and finishes at around 5pm. In the mornings, you will help feed the dogs their morning meal. With so many dogs at the shelter at any given time, this could take a good chunk of your morning. Once you've finished with that, you will be able to help out with other necessary tasks around the shelter. This might include cleaning kennels, taking delivery of new dog food, or cleaning the reception area.
After a morning of hard work, you will get an hour and a half's lunch break. If your host family lives close by, you can head home to eat and rest for a bit. Alternatively, you will be able to enjoy a packed lunch at the shelter.
During the afternoons, you will typically spend some time with the dogs. This would include taking them for walks, training them, or just playing with them in their kennels. As 5pm draws close, it's feeding time again.
Evenings and weekends are your free time to explore. Make the most of your time in this magnificent country by going on weekend excursions with fellow volunteers. Also, enjoy plenty of meals with your local host family and spend time conversing with them. It's the very best way to learn more about their life and culture.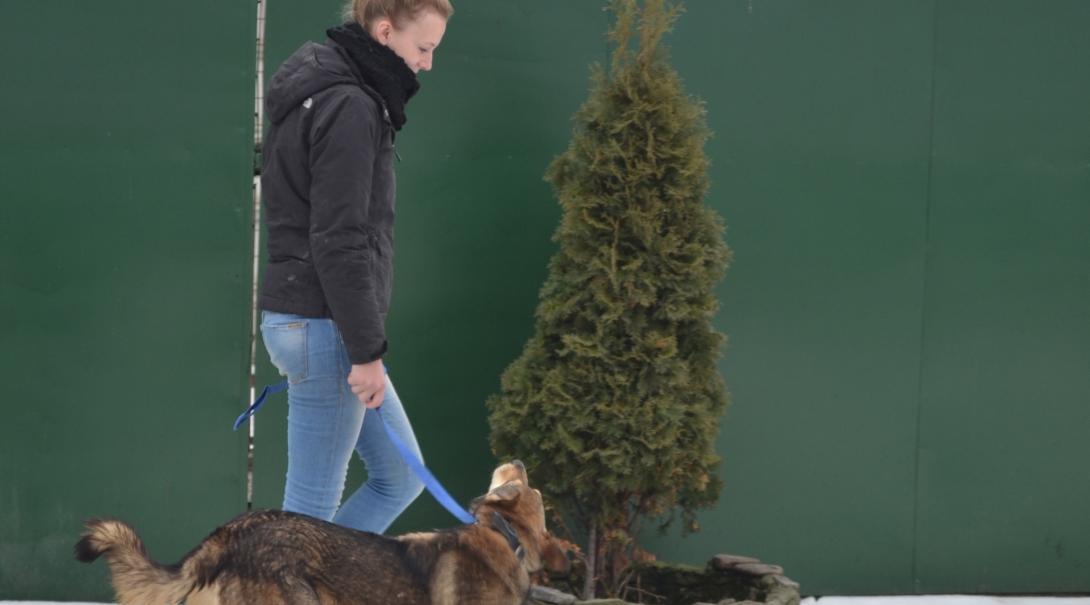 What are the aims and impact of our Animal Care Project in Romania?
The aim of this project is to help improve quality of life for abandoned dogs in Brasov.
As an Animal Care volunteer, you will do this by working at a local animal shelter. You will help take care of stray dogs that are brought in, and ultimately, you'll assist in finding them new homes. The shelter is also understaffed, and really needs extra pairs of helping hands. You'll support their work by helping out with any other tasks that need to be completed.
Join our Animal Care placement in Romania and help us improve the lives of stray animals.
Management Plans
We set out the aims and objectives of our projects in documents called Management Plans. We use them to properly plan the work you'll do. They also help us measure and evaluate our achievements and impact each year.
Ultimately, our Management Plans help us make our projects better. This in turn means you get to be part of something that makes a real impact where it's needed. Read more about our Management Plans.
Measuring Our Impact
Our projects work towards clear long-term goals, with specific annual objectives. Every volunteer and intern we send to these projects helps us work towards these goals, no matter how long they spend on our projects.
Every year we take a step back and look at how much progress we've made towards these goals. We put together a Global Impact Report, which documents our achievements. Find out more about the impact our global community of volunteers, interns and staff make, and read the latest report.
Not quite what you're looking for?
Take a look at the following pages where you'll find collections of similar projects: