At a glance
Gain practical experience in basic community healthcare and learn basic medical skills like measuring blood pressure.
You'll focus on educating disadvantaged communities on the importance of healthy living by running awareness campaigns.
Work with doctors and nurses to do basic health checks during home visits and educational outreaches.
Is a Public Health internship in Sri Lanka right for me?
This project is ideal for anyone looking to pursue a career in healthcare. You'll gain practical experience in conducting an array of basic health checks and work alongside medical and public health professionals. In addition, you'll gain valuable insight into healthcare practices in a developing country.
Use this experience in Sri Lanka to add some practical work experience to your CV. Talking about what you learned during your internship in interviews will also give you an extra edge.
You don't need any prior experience. We will teach you everything you need to know, and all of your outreach work is supervised by professionals.
Our internships in Sri Lanka run year-round and require you to participate for a minimum of two weeks. We do recommend staying longer to make sure you learn as much as possible during your public health work experience in Sri Lanka.
What will I do at my Public Health placement in Sri Lanka?
Here are some of the tasks you'll help out with when you join our Public Health internship in Sri Lanka:
Conduct screening outreaches and help doctors conduct basic health checks
Raise awareness about healthcare, nutrition, and hygiene through workshops
Shadow medical professionals at clinics and see how they perform their daily tasks
Record, analyse, and report data to help us keep improving this program
Your work will focus on the following areas:
Conduct screening outreaches
You will participate in medical camps in rural communities around Colombo. During these, you will work alongside a local medical team to conduct medical check-ups. You will check blood pressure and blood sugar levels, and observe consultations.
Raise awareness about healthcare, nutrition and hygiene
During outreaches, you will also be able to talk to communities about making healthy lifestyle choices. We normally do this by running workshops on health-related topics in various communities. Topics you could cover include:
Dangers of smoking and alcohol abuse
Dental care
Nutrition and healthy lifestyle
Hypertension and diabetes
First aid
Shadow medical professionals at clinics
One of the best things about interning in Sri Lanka is that you work closely with experienced medical and public health professionals.
During your internship, you will be able to observe their work at clinics. There is also a strong focus on maternal, child, and elderly health services. You may even be able to assist midwives during field and house-to-house visits, if permitted.
You will have the opportunity to attend monthly medical camps and seminars with all of the other medical interns in Sri Lanka. You will also visit hospitals and attend workshops, where you will learn about local healthcare systems and traditional medicine.
Record, analyse and report data
Recording, analyzing, and reporting on your findings with your program coordinators is an important part of your role.
You will use a database to record all patient details, which can then be used to refer back to information collected at previous consultations. Follow up and evaluation of intervention is completed after each visit. This helps us track and monitor long-term outcomes on our Global Impact Report.
Our Project Partners in Sri Lanka
In Sri Lanka, we work alongside a government healthcare organisation that falls under the Preventive Health Sector of the Regional Director of Health Services (RDHS) in Colombo.
The organisation offers maternal and child health services, including a training centre for midwives. There are five full time doctors and three nursing sisters who cover work at 17 clinics.
Where will I be working as a Public Health intern in Sri Lanka?
You will work in the capital city of Colombo or in the nearby Kalutara District.
Colombo
Colombo is the largest city in Sri Lanka and also the country's capital. It's home to about 5.6 million people. Over the past few years, Sri Lanka has grown in popularity as a tourist destination. Most of these visitors fly into Colombo and spend some time exploring the temples, museums, beaches, and nightlife.
You will be work in disadvantaged communities on the outskirts of the city.
Kalutara
Kalutara District is located in the south west of Sri Lanka. It's famous for its beautiful beaches, forest reserves, rivers, and the bustling city of Kalutara.
You will work in smaller communities that don't have access to healthcare services.
A typical day as a Public Health intern in Sri Lanka
Your typical day will normally run from about 8am to 4:30pm, with an hour and a half set aside for lunch.
You will normally start your day by meeting your fellow interns, supervisor, and coordinators at the office. You'll spend an hour or two preparing for the day and then set out for your morning outreach work.
If you're working close to your host family's home, you can head home for lunch and a bit of a rest. On days you're working in communities further away, you will get a packed lunch.
The morning shift is normally dedicated to preparation, travel, and some healthcare work. This means that afternoon shifts are typically dedicated entirely to healthcare work. Here, you will do basic health checks or participate in an educational campaign.
You will also spend one day a week recording, analysing and reporting on findings and inputting this information into our Global Impact Database. This will be done along with coordinators. Some time can also be set aside to create educational presentations or attend workshops to improve your medical skills.
Once a month, you will be able to attend medical camps and seminars with all of the other medical interns in Sri Lanka.
What are the aims and impact of this project?
There are two main aims of this project: to help you develop your skills and to meet the needs of the local community.
Our Public Health Project in Sri Lanka focuses on reducing the number of cases of of non-communicable diseases (NCDs). These include diabetes and heart disease, for example. This increase in NCD cases is a result of lifestyle changes, and they now account for 85% of the total disease burden in Sri Lanka. The population is aging and more people are earning a higher income. Local healthcare services are slowly increasing their capacity to focus on the treatment and prevention of these diseases.
We are assisting with this process.We do this by raising awareness of preventative measures and running intervention programs. These programs address major risk factors like smoking, alcohol, obesity, an unhealthy diet, and a lack of exercise.
As a Public Health intern, you will conduct surveys and screenings in these communities. Your work locations will vary from clinics, homes, public schools, and clinics. You'll also participate in awareness campaigns that encourage healthier lifestyle choices.
We have identified five goals in our Medical Management Plan for Sri Lanka. These are to:
Encourage an understanding of medical practices and promote an exchange of medical knowledge
Promote awareness of non-communicable diseases
Improve access to basic healthcare for disadvantaged groups
Improve hygiene standards
Reduce the number of cases of Dengue Fever
Help us achieve these long-term goals by joining us as a Public Health intern in Sri Lanka.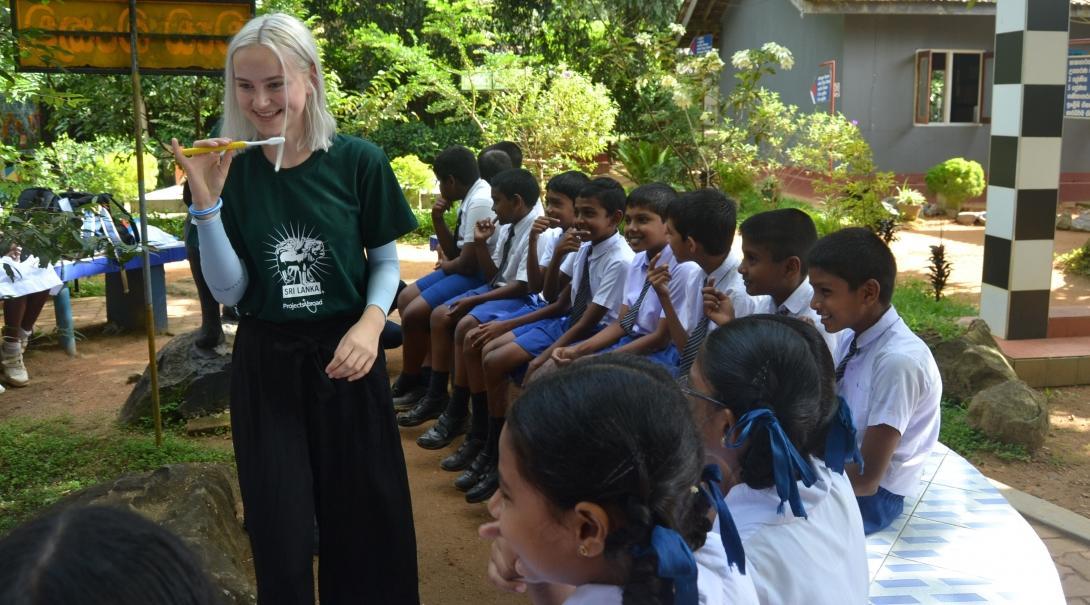 Management plans
We set out the aims and objectives of our projects in documents called Management Plans. We use them to properly plan the work you'll do. They also help us measure and evaluate our achievements and impact each year.
Ultimately, our Management Plans help us make our projects better. This in turn means you get to be part of something that makes a real impact where it's needed. Read more about our Management Plans.
Measuring our impact
Our projects work towards clear long-term goals, with specific annual objectives. Every volunteer and intern we send to these projects helps us work towards these goals, no matter how long they spend on our projects.
Every year we take a step back and look at how much progress we've made towards these goals. We put together a Global Impact Report, which documents our achievements. Find out more about the impact our global community of volunteers, interns and staff make, and read the latest report.
Food and accommodation
You'll stay with a host family in or around Colombo. They will welcome you into their home, eager to share their customs and have you teach them about your own culture. We believe that this is the best way to immerse yourself in the culture of Sri Lanka and have a truly unique experience.
We will always try to let you live alongside at least one other Projects Abroad volunteer or intern at the same host family. Your room will be modest, but comfortable, clean, and safe.
Your programme fee includes three meals a day.
Find out more about our accommodation.
Leisure activities and free time
Sri Lanka is well-known for its diverse landscapes. From beaches to tropical jungles, there's something for everyone in this vibrant country.
The buzzing Pettah Market is a must-see. You can chat to friendly vendors, buy handmade products, and enjoy the electric atmosphere around you. For cultural enrichment, you can spend an afternoon in the National Museum of Colombo. The Gangaramaya Buddhist Temple is also a highlight, with its vast collection of artefacts.
The town of Galle is a sea port with a strong Dutch heritage and plenty of old colonial buildings to explore. You can also venture inland to hike in the hills, swim in the cool waterfalls, and visit traditional hill towns.
Sri Lanka's national parks include safari parks where you can spot wildlife like leopards and elephants. Or spend an early morning bird-watching in one of the wetland sanctuaries. There are also rainforest reserves crammed full of tropical biodiversity.
You'll be sharing this unique experience with many other volunteers. This means you can travel solo or spend your free time with the friends you make during your trip.
Safety and staff support
Your safety and security is our prime concern. We have many procedures and systems to ensure you have the support you need to enjoy your trip with peace of mind. Our Projects Abroad staff are available 24 hours a day to help, and will be on-hand to make sure you settle in well at your accommodation and placement. If you encounter any problems, they will be available to help at any time.
Find out more about safety and backup.
Meet the team in Sri Lanka
Not quite what you're looking for?
Take a look at the following pages where you'll find collections of similar projects: