Join our Micro-finance internship in Ghana and use your skills and knowledge to empower women from a fishing villages and people living in a leprosy camp. You'll focus on teaching them what they need to know to run a small business, and move them a step closer to financial independence.
In Ghana, we work with vulnerable and marginalised groups. They have limited access to education and business training, and most banks will not give them loans to start a business. We give them interest-free micro-loans, and interns like you then help them start a business. You'll do things like create business plans, teach basic maths and English, and help with bookkeeping.
You'll live and work in Cape Coast, and stay with a local host family. This is a wonderful way to experience life in West Africa, while supporting local people at the same time. We'll help you make the most of your stay, and try foods like jollof and red red, and go sightseeing over weekends.
Children aged 3-14 must be accompanied by at least one adult paying full price
We offer discounts for families and groups of friends travelling together. Call us on 1 212 244 7234 for more info.
Book by 31 January 2019 and get a $201.9 discount! Excludes start dates in June, July & August Click here to read more

When you apply you only pay $295, which comes off the total price.
Looking to do more than one project? Call us on 1 212 244 7234 to see if we can offer a discount.
Completely flexible dates
Anyone aged 18 or over can join
What's included in the price?
Accommodation

Food (three meals a day)

Travel and medical insurance

Airport pick-up and drop-off

Full induction and orientation by an experienced staff member on arrival

Transport to and from your work placement

In-country support and 24-hour back-up from our team of full-time local staff

Emergency assistance from our international emergency response team

Project equipment and materials, including access to our database with thousands of resources

A supervisor/mentor at your work placement

Training and workshops from our experienced local staff

Regular social events and community activities with other volunteers and interns

Access to our local office with internet connection

Certification of project completion

Access to our alumni services and discounts

Visa support and advice

Fundraising support, including your own personalized fundraising website

Pre-departure preparation by your own specialist Volunteer Advisor

Personalized MyProjectsAbroad website, with all the information you need about your project, accommodation and destination

A free cultural awareness course

Membership to our volunteer social media groups, to share information and to get in touch

Support to help you complete registration or internship documents, if applicable
What's not included?
Flights

Visa costs (where applicable)
Is Micro-finance work experience in Ghana right for me?
This project is a great fit for you if you want to use your time and energy to help people gain the knowledge and skills they need to secure financial independence. It's also ideal if you're studying business or finance, and you want to apply your knowledge to real-world situations and help people.
Our Micro-finance internship in Ghana will also give you valuable work experience for your CV. It's a different and memorable experience, which will help you stand out. It will also give you interesting points to talk about in applications and interviews.
You don't need to have previous experience or qualifications to join. You'll work alongside qualified local staff, and they'll guide your work and help you if you need it. However, you do need to over the age of 18 to participate. You also need to be able to speak basic English.
This project runs throughout the year, and you can join at any time from a minimum of two weeks. We recommend staying longer, so you can have a bigger impact and see more progress with beneficiaries.
What will I be doing as a Micro-finance intern in Ghana?
You'll help people from marginalised communities by providing them with training and support for running their own small businesses. Here are some of the tasks you can expect to do during your internship:
Leading training sessions and educational workshops on business, English, and maths
Reporting and other business tasks, such as bookkeeping and database and profile updating
Researching the best ways to develop current businesses and implement new ones
Following up with beneficiaries following the receipt of the loan and providing them with guidance
Your tasks can be divided into the following main categories:
Monitor beneficiaries once they have received a loan
The main goal of this project is to help people from vulnerable communities secure a sustainable source of income. To do this, we provide interest-free loans. Once they have these loans, you'll help us give them business training to build or expand a small business. You'll be involved from the beginning, putting together a business plan, and you'll monitor their progress.
Provide business training and basic education
Education is a big part of this project. You'll help conduct workshops to provide communities with basic business training. You'll also teach basic literacy and numeracy and English. This will provide our beneficiaries with the skills they need to start and run a small business.
Assist with office-based tasks
You'll also do administrative tasks at the Projects Abroad office. You'll help local staff with bookkeeping, database and profile updating, and preparing reports. You will also work with staff to conduct research on how best to introduce new businesses into both communities, and ensure the success of current ones.
Where in Ghana will I be working?
Cape Coast
You will be based in Cape Coast, a fishing city in the south of Ghana. Cape Coast is home to old slave forts, multi-coloured fishing boats, and some of the friendliest people you could hope to meet. While in Cape Coast, you will work within two specific areas:
A leprosy camp just outside Cape Coast
In Ghana, people who suffer with leprosy are stigmatised because they are viewed as being contagious and a bad omen. Due to this stigma, a village-like camp was set up for people who suffered from leprosy and their families. The camp is just outside Cape Coast.
Leprosy is considered a disability in Ghana, so the people living at the camp are unable to secure loans. We are the only organisation who offers interest-free loans and business training in this community.
Abukem, a small fishing village
Abukem is located on the outskirts of Cape Coast. Fishing is the main source of income, but it's seasonal and dominated by men. This means that many of the women are unable to bring in a consistent source of income. Many of the women are eager to learn how to run a businesses, in order to create a stable source of income for themselves.
What does a typical day on a Micro-finance placement in Ghana include?
You will start your day with breakfast at your host family. Once you are dressed and fed, you will head off in a shared minibus taxi or "tro tro" to your placement. A Projects Abroad staff member will show you the way on your first day, and introduce you to your colleagues.
Your working hours are usually from 8am to 5pm. You will have a lunch break each day. You can either return to your host family for a meal if they live close by, or enjoy a packed lunch.
Activities will vary depending on whether you're heading out to meet with beneficiaries in their communities, or focusing on office-based tasks. You might spend one day in the office preparing a business presentation and updating the database. The next day may involve travelling to the leprosy camp and helping with business skill training. Your work is supervised by a dedicated loan officer, who oversees the project and is there to give you guidance.
You'll have evenings and weekends free to experience life in Cape Coast and explore your surroundings. You can watch the sunset on the beach after work, head to a local restaurant, and plan weekend trips.
What are the aims and impact of this project?
The main aim of this project is to support and empower marginalised groups. We help them grow their businesses, with the goal of achieving a stable source of income for their families.
In Ghana, we do this by providing basic business training and education, as well as interest-free micro loans. We are focused on two vulnerable groups. The first group are women from a disadvantaged fishing village called Abukem, on the outskirts of Cape Coast.
In Abukem, fishing is seasonal and dominated by men. Women struggle everyday to find a reliable source of income. Furthermore, they don't have the knowledge and training to start their own businesses. We give them the training, funds, and skills to do so.
The second group we work with live in a small leprosy camp outside Cape Coast. Entrepreneurs and business owners from this camp struggle to make their businesses work. Because of the stigma against them, they are unable to secure loans or support from banks and other institutions. We are the organisation that offers these individuals training and micro-loans with the hope of enabling them to become financially independent.
In the leprosy camp, we also provide people with free medical care, and we regularly clean and dress their wounds. We hope that by enabling them to have a stable income, they'll become more independent with their own care.
As a Micro-finance intern, you will help these groups through a range of activities, like putting together a business plan, or teaching the basics of bookkeeping. You'll be able to offer the support and guidance they need. At the same time, you will learn a lot about micro-finance and living and working in a developing country.
Join us in Ghana, and help empower people in need as a Micro-finance intern.
Measuring Our Impact
Our projects work towards clear long-term goals, with specific annual objectives. Every volunteer and intern we send to these projects helps us work towards these goals, no matter how long they spend on our projects.
Every year we take a step back and look at how much progress we've made towards these goals. We put together a Global Impact Report, which documents our achievements. Find out more about the impact our global community of volunteers, interns and staff make, and read the latest report.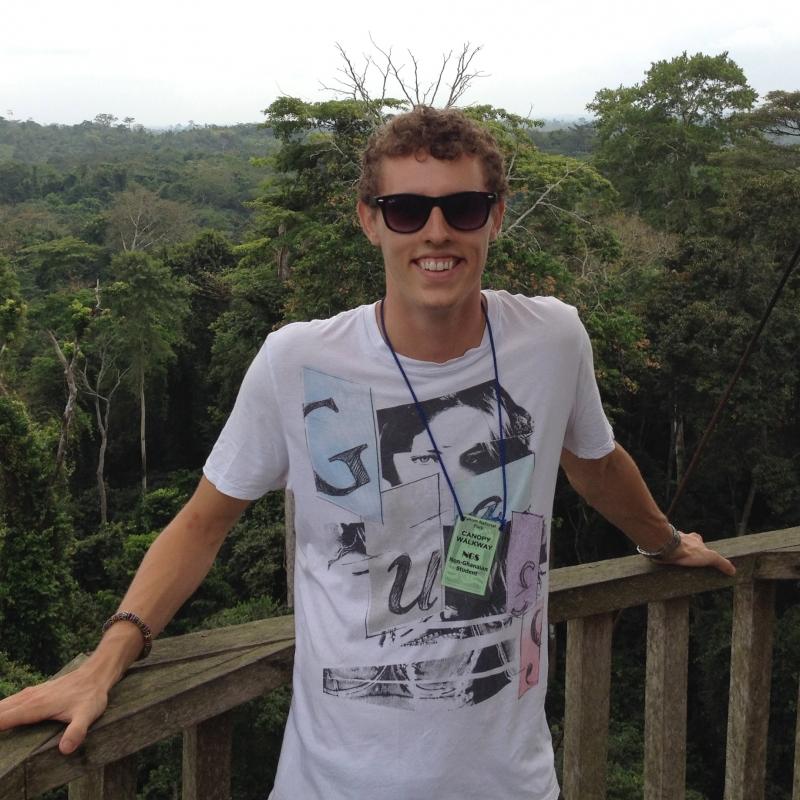 Economic development is a field that I'd love to make a career out of, so I thought I'd get some first-hand experience to see what it's really like.
Micro-finance Internship in Ghana
Not quite what you're looking for?
Take a look at the following pages where you'll find collections of similar projects: