At a glance
Get out your stethoscope and join a medical internship in Peru. How's that for something different over spring break? Not only will it be memorable, but it's also a great way to kickstart your budding medical career. You'll learn from local nurses and doctors as they perform their daily tasks.

As an intern, you'll get to see the ins and outs of a medical setting that a textbook alone won't cover. You'll perform basic health checks under the supervision of a local doctor and gain experience as you join professionals on their rounds. This is a great experience to add to your resume.

You can also expect to put your theory to the test by giving talks about infectious diseases on community outreach days. You'll be talking about diseases like pneumonia and tuberculosis, which are common in Peru.

The internship is based in Cusco, where you'll be staying with a host family. In addition to your internship work, your project supervisor will have plenty planned for you. This includes a few social outings and sightseeing adventures. Get ready to explore Machu Picchu and eat your fill of the most tasty ceviche you've ever had!
Anyone aged 16 or over can join
Is a medical internship in Peru during spring break right for me?
This spring break medical internship in Peru is an ideal opportunity for college students looking to pursue a career in medicine. An overseas internship in medicine will set you apart from other candidates and give your resume the 'oomph it needs to stand out'.

Whether you're enrolled in a medical degree or are simply considering the field, you're sure to get something valuable from this project. We know spring break can sneak up on you at the last minute, so plan your medical internship trip to Peru as soon as possible.

The internship runs for two weeks during your spring break so you can keep learning while exploring a new country. Although you don't need to be enrolled in a medical course, you'll need to have an intermediate level of Spanish. This will make it easier to communicate and gain the trust of local healthcare staff and patients.
The project runs all year round, you can start on any day, and it's fully supervised. So all you need to do is decide on some dates, complete our booking form with a £195 deposit and we'll take care of the rest.
What will I do on my medicine and healthcare spring break trip in Peru?
You'll be placed at a hospital where you'll be involved in the following tasks:
Observe doctors and other healthcare staff

Shadow doctors and other medical staff as they perform their daily duties. You'll get to listen and learn how they converse and diagnose patients. When you're paired with a nurse you'll see them dressing wounds, and giving injections.

Rotate between departments

You'll have the option of rotating between departments and seeing how each particular field of medicine is handled. This will broaden your knowledge and understanding of how you should be operating once you become qualified. You can spend time in general medicine, gynecology, dentistry, obstetrics and more.

Learn basic medical skills at regular workshops

As part of your project, you'll attend regular training workshops where you'll learn basic medical skills. This includes how to measure blood pressure, blood sugar and heart rate. You'll later use these skills to gather medical data in the community. These are vital measurements that help doctors determine the health of patients and if they need medications or further consults.

Provide free healthcare and educational talks to communities during medical outreaches

After you've done your rounds at the hospital, you'll visit communities with a supervisor. The purpose of these trips is to provide basic healthcare and educational medical information to those who don't have access to it. These awareness activities and workshops provide the community with vital information that will assist them in leading healthier lifestyles.
Types of placements available on the Alternative Spring Break Medical Internship in Peru
There are many specializations for you to observe and gain insight into in Peru. Our Alternative Spring Break Medical Internship gives you enough time to get a feel for the type of specialization you're interested in. These include:
Nursing
General Medicine
Midwifery
Pharmacy
Gynecology
Obstetrics
Laboratory
Dentistry
If you want to know more about a specific department, contact us and we'll advise the best for you.
Where in Peru will I be working?
Cusco
Cusco is one of the most fascinating cities in the world. Once, long ago, it was the capital of the ancient Incan Empire. Today, it is a UNESCO World Heritage Site filled with archaeological remains and beautiful Spanish colonial architecture. It's found in the Urubamba Valley of the Andes mountain range.
In Cusco, you can enjoy varieties of delicious Peruvian cuisine, like the national dish, ceviche, which is raw fish cured in citrus juices and spiced with chili peppers. During your free time, explore the city's cobblestoned streets, or take a hike in the lush green mountainous surroundings. And no visit to Peru is complete without visiting the incredible Machu Picchu.
What are the aims and impact of this project?
The main aim of this project is to give you and other college students the opportunity to learn basic medical skills on an internship in Peru. You'll spend your spring break learning from healthcare professionals and expanding your knowledge in the field of medicine.

This project also aims to provide free basic healthcare to communities who either do not have access or cannot afford to visit a doctor. Through our outreach program, you'll measure blood pressure and blood sugar levels among other basic tests. The doctors will then use this data to evaluate patients and refer them for further treatment, if necessary. You'll also be responsible for raising awareness about non-communicable diseases like diabetes and high blood pressure. These sessions include educating the community about how to live a healthier lifestyle.

Spend your spring break doing something different while gaining medical experience in Peru.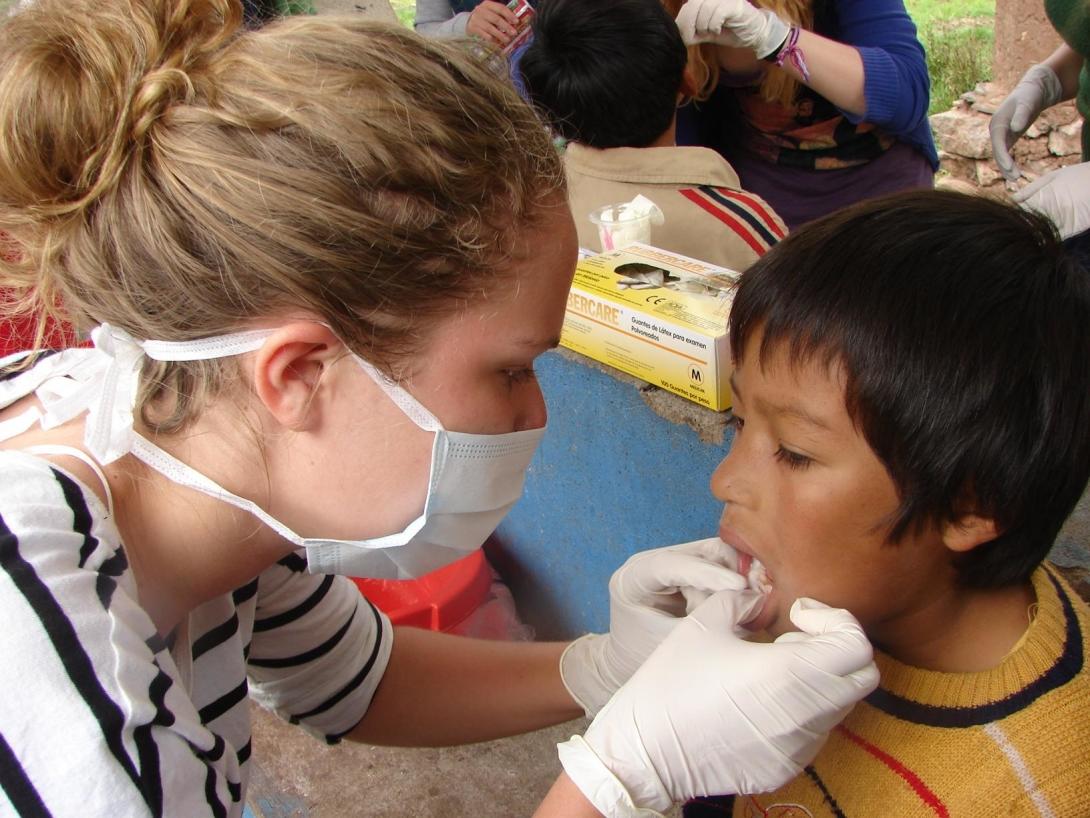 Management plans
We set out the aims and objectives of our projects in documents called Management Plans. We use them to properly plan the work you'll do. They also help us measure and evaluate our achievements and impact each year.
Ultimately, our Management Plans help us make our projects better. This in turn means you get to be part of something that makes a real impact where it's needed. Read more about our Management Plans.
Measuring our impact
Our projects work towards clear long-term goals, with specific annual objectives. Every volunteer and intern we send to these projects helps us work towards these goals, no matter how long they spend on our projects.
Every year we take a step back and look at how much progress we've made towards these goals. We put together a Global Impact Report, which documents our achievements. Find out more about the impact our global community of volunteers, interns and staff make, and read the latest report.
Food and accommodation
You'll stay with a host family in Cusco. They will welcome you into their home, eager to share their customs and have you teach them about your own culture. We believe that this is the best way to immerse yourself in the culture of Peru and have a truly unique experience.
We will always try to let you live alongside at least one other Projects Abroad volunteer or intern at the same host family. Your room will be modest, but comfortable, clean, and safe.
Your programme fee includes three meals a day.
Find out more about our accommodation.
Safety and staff support
Your safety and security is our prime concern. We have many procedures and systems to ensure you have the support you need to enjoy your trip with peace of mind. Our Projects Abroad staff are available 24 hours a day to help, and will be on-hand to make sure you settle in well at your accommodation and placement. If you encounter any problems, they will be available to help at any time.
Find out more about safety and backup.