Travel to the Caribbean and do a Disaster Management internship in Jamaica. You'll work with NGOs to help local communities prepare for and cope with the aftermath of disasters. This is a great way to get practical work experience in this area, and help those in need at the same time.
Jamaica is prone to several natural hazards including hurricanes, floods, and earthquakes, because of its geography. These disasters often have devastating effects on disadvantaged communities, and can drastically slow down the country's development. You'll work closely with local NGOs and communities to help people cope with natural disasters, and disaster management in general. You'll assist with public awareness campaigns, create education programs, and train students and teachers in disaster management techniques.
This project is based in Manchester Parish and St. Elizabeth Parish, and you will live with a host family in one of these locations. Living with a host family will give you the chance to learn all about the local way of life in Jamaica. You will also have weekends off to explore with other interns and volunteers.
When you apply you only pay $295, which comes off the total price.
Looking to do more than one project? Call us on (+1) 212 244 7234 to see if we can offer a discount.
Project Overview
Flexi Trips - A flexible project that gives you the support and independence you need as you volunteer
Jamaica > Disaster Management
Completely flexible dates
Anyone aged 16 or over can join
You should have completed at least one year of international development related studies or training.
What's included in the price?
Accommodation

Food (three meals a day)

Travel and medical insurance

Airport pick-up and drop-off

Full induction and orientation by an experienced staff member on arrival

Transport to and from your work placement

In-country support and 24-hour back-up from our team of full-time local staff

Emergency assistance from our international emergency response team

Project equipment and materials, including access to our database with thousands of resources

Training and workshops from our experienced local staff

Regular social events and community activities with other volunteers and interns

Access to our local office with internet connection

Certification of project completion

Access to our alumni services and discounts

Visa support and advice

Fundraising support, including your own personalized fundraising website

Pre-departure preparation by your own specialist Volunteer Advisor

Personalized MyProjectsAbroad website, with all the information you need about your project, accommodation and destination

A cultural awareness course

Membership to our volunteer social media groups, to share information and to get in touch
What's not included?
Flights

Visa costs (where applicable)
Is this Disaster Management internship in Jamaica right for me?
This project is perfect for if you would like to gain practical experience in the field of disaster management and support disadvantaged communities. This internship will give you valuable insight into this line of work, as well add hands-on work experience to your resume.
To join this project, you must have completed at least one year of related college studies, and have a strong interest in disaster management and relief work. There are Projects Abroad staff available 24/7 should you need guidance or help with anything throughout your placement.
This internship runs throughout the year, and you can join at any time for a minimum of four weeks. Please be aware that we focus on different disasters at certain times of the year. From January to March, the focus is on earthquakes. From April to June, you will do more shelter inspections. Between June and November, the focus is on hurricanes.
What will I do at my Disaster Management placement in Jamaica?
Our Disaster Management Project is located in Manchester Parish and St. Elizabeth Parish, and you'll work with local NGOs and communities. Below are some of the tasks you will do:
Make public education programs about disaster management
Help to train students, teachers, and community groups in basic disaster management
Develop evacuation plans and prepare and coordinate drills and evacuation strategies
Facilitate a recycling initiative at elementary schools
Plan and coordinate workshops and exhibitions in communities to raise awareness
At your Disaster Management placement in Jamaica, your work will focus on the following areas:
Make public education programs about disaster management
You will create and present programs teaching local schools, businesses, and communities about possible disaster scenarios and the impact that these could have on their lives. You will also share knowledge on how they can be properly prepared in times of crisis. Although we focus on all types of disasters, natural disasters such as hurricanes and earthquakes happen most frequently in Jamaica, so our emphasis will be on preparing for these.
Help to train students, teachers, and community groups in basic disaster management
It is very important that people in each community are able to take charge in times of crisis. They need to be equipped with the necessary knowledge and skills to manage disasters, should they arise. You will create disaster plans and teach local people how to prepare for different disasters.
Develop evacuation plans and prepare and coordinate drills and evacuation strategies
You will assist with creating comprehensive evacuation plans for schools and community centers. You will also coordinate drills in order for people to practice implementing these plans.
Facilitate a recycling initiative at elementary schools
Part of our Disaster Management Project involves teaching local communities to respect and look after the natural environment.
You will help with:
Facilitating recycling initiatives at elementary schools
Teaching children to think more about where trash goes
Teaching children not to litter, and to appreciate the environment around them
Planning and coordinating workshops and exhibitions in communities to build awareness
As this project is always lacking enough personnel to carry out its goals, you will assist with running workshops to teach locals how to be prepared for disasters. You will also take part in campaigns aimed at raising awareness about the seriousness of such disasters.
Where in Jamaica will I work?
Mandeville
The Disaster Management Project is located in Mandeville, Manchester Parish, and St. Elizabeth Parish. You'll live with a local host family in Mandeville or Black River.
Manchester Parish
This is an administrative parish located in west-central Jamaica, in the county of Middlesex. Its capital is Mandeville, the largest town in Manchester Parish. There are many disadvantaged communities in this area, and there is a desperate need for better infrastructure in many parts.
St. Elizabeth Parish
This is one of Jamaica's largest parishes, located in the southwest of the island. Its capital, Black River, is situated at the mouth of the Black River, the widest river on the island. Black River is the center of environmental tourism.
You will work in and around these areas, and will have the opportunity to explore and travel on weekends. In general, Jamaica is a lush, mountainous island with turquoise beaches, pounding waterfalls, and exciting hiking trails. You will have a chance to visit the Bob Marley museum, explore markets, and relax on beautiful beaches.
A typical day on the Disaster Management internship in Jamaica
A typical day on this placement will begin at 8.30am, and will run until around 1.30pm. You'll start the day with a home-cooked breakfast with your host family before heading out. On your first day, you will be shown how to get to your placement by our staff, and we'll introduce you to your new colleagues.
You should be prepared to work after hours at certain times for special events. You're expected to be hard-working and punctual at all times, as this is a professional program.
You will spend your time either in the NGO office, developing presentations and disaster plans and meeting with members of NGOs, or out on fieldwork days. Field days will involve assisting with education programs about the dangers of natural and man-made disasters, and teaching local communities how to prepare for such disasters.
You will have weekends free to explore the area with fellow interns or other volunteers, or to spend time with your host family, learning more about the Jamaican way of life.
Mandeville is less likely to be affected than other parts of Jamaica, but it may be the case that a disaster does happen while you're here. If this does take place, you can help with the response, which would mean longer working hours than normal. This is also more likely to happen in hurricane season, from June to November each year.
However, please be aware that this is outside of your normal disaster management work, and we cannot guarantee that you'll get involved in disaster response work.
What are the aims and impact of the Disaster Management Project in Jamaica?
The aim of this project is to support local NGOs in their efforts to manage both natural and man-made disasters in Jamaica.
Disasters, whether man-made or natural, can hold communities back, and slow down development. This is especially devastating in developing countries where growth is slow and resources for disaster recovery are scarce. Since independence, Jamaica has experienced high levels of debt, unemployment, and poverty, which has left a large portion of the population extremely vulnerable in times of disaster.
We've partnered with local NGOs to educate local communities on the dangers of natural disasters, as well as to formulate comprehensive disaster recovery plans. The project aims to teach locals to respect and look after the natural environment through recycling programs, and to mitigate disasters in any way possible.
By joining us, you'll become part of ongoing efforts to support disadvantaged communities in Jamaica. Alongside local NGOs, you'll work toward our long-term goals by doing:
Awareness campaigns
Education programs
Recycling initiatives
Evacuation plans
You'll also train students, teachers and community members in disaster management.
Join this internship and help us empower local communities, as you gain invaluable disaster management work experience while in Jamaica.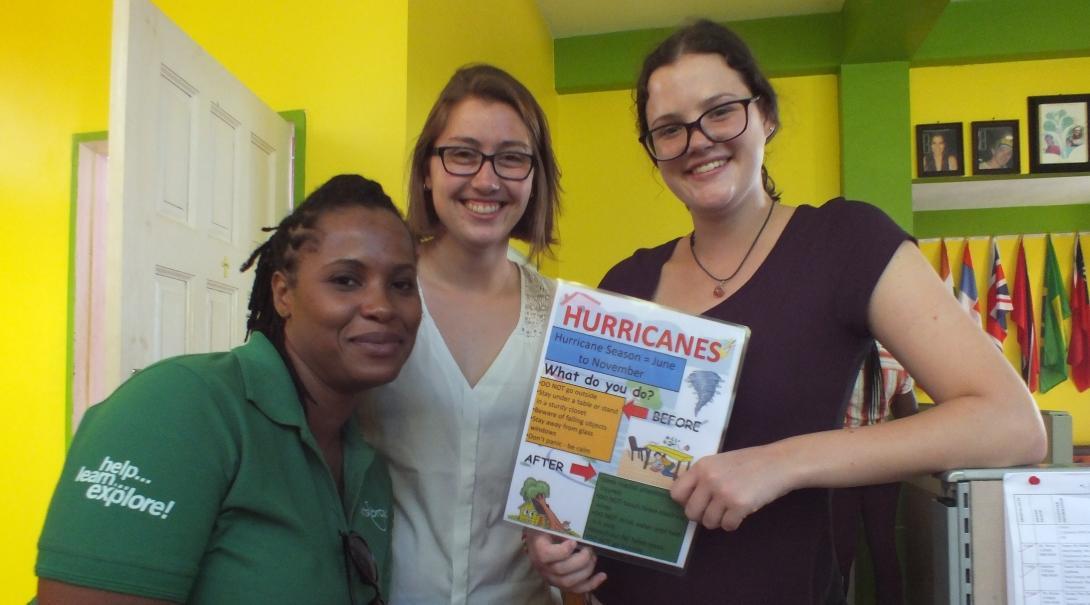 The project definitely intrigued me. I've been a British Red Cross volunteer for a while and always had an interest in emergency planning and how communities cope with disasters.
Disaster Management Internship in Jamaica
Measuring Our Impact
Our projects work towards clear long-term goals, with specific annual objectives. Every volunteer and intern we send to these projects helps us work towards these goals, no matter how long they spend on our projects.
Every year we take a step back and look at how much progress we've made towards these goals. We put together a Global Impact Report, which documents our achievements. Find out more about the impact our global community of volunteers, interns and staff make, and read the latest report.
Not quite what you're looking for?
Take a look at the following pages where you'll find collections of similar projects: