At a glance
Work in Ghana and build important infrastructure for less fortunate communities -gaining hands on experience.
Build classrooms, toilet blocks. Libraries or homes. It's a great way to leave something tangible behind for communities to use in the future.
You'll live in the Akuapem Hills and stay with a local host family, try traditional Ghanaian food from the street markets and visit national parks over weekends.
Is construction volunteering in Ghana right for me?
Not afraid of hard work and getting your hands dirty? Then our Building Project in Ghana is for you! You don't need experience, as our supervisors and local masons teach you everything you need to know. This is the perfect placement for anyone who wants to help using their own hands.
Construction volunteering in Ghana is also a great project for those who are interested in construction but it is also beneficial for those who are looking to add skills and experience to their CV. Volunteering on a Building Project in Ghana shows you are dedicated, hard-working, and adaptable. These are all skills you can apply to any job you pursue.
Our Building Project in Ghana is available from as little as a week, and you can choose when to start at any time throughout the year. We encourage you to stay for as long as possible. The longer you stay, the more progress you make, and the more likely you are to see the final results of your work.
What will I do as a volunteer on the Building Project in Ghana?
In Ghana, you'll help with the construction of classrooms, toilet blocks, libraries, or homes in the Akuapem Hills. During the project, you will:
Your building volunteer work in Ghana will be split into three areas:
Create homemade bricks used for construction
You will learn new building techniques from local builders when arriving in Ghana. Instead of regular brick and cement, you'll prepare your own materials used for construction. We'll teach you to create environmentally friendly bricks using mud and some water. This involves applying the mud mix to a press and squeezing out excess water to give the brick its shape before leaving it out to harden in the sun.
Get your hands dirty with building and renovation work
You'll build classrooms or community buildings from the ground up by digging and preparing the foundations before starting on the structure. After the foundation is built, you'll assist with laying mud bricks one by one and quickly construct the walls of the new building. A new classroom usually takes around one month to complete.
Finalise building work with a few finishing touches
A building is not complete until the final touches have been added. With the guidance of the local builders and your supervisor, you'll help turn this building into something special. You'll plaster the walls with a steady hand, assist with the laying of flooring, paint the walls and spend time landscaping or beautifying the outside areas. To help improve the learning environment for the students, you'll also paint fun educational murals on the walls. This can be anything that will stimulate and excite the children such as ABCs, 123s, and colours.
Where in Ghana will I be working?
Akuapem Hills
You'll work at various building sites in the lush green mountainside of Akuapem Hills. This more rural region is home to a group of small villages where your project is based. As a Building volunteer in Ghana, you'll carry out construction work at local schools and renovate buildings that will benefit the community.
Akuapem Hills is one of the quieter regions that we work in. You will get to know the locals as you explore and hear shouts of 'Obroni' (foreigner) as children try to catch your attention. Although a mostly quiet area, the locals in the village know how to entertain! You can join in on the street festivities or try dried fish and yams at one of the many food stalls dotting the main street.
A typical day on the Building Project in Ghana
The tropical Ghanaian climate is hot and humid with the temperatures reaching over 30 degrees at midday. Because of this, you'll start your work day at 8.30am and end around 12.30pm, with a 15 minute break around mid-morning.
Each morning, you'll wake up in your host family's home and put on old clothes you don't mind getting dirty. To get to the construction site, you'll catch a tro tro or a shared taxi.
Depending on the building progress, you might dig and set foundations, use a press to build bricks out of mud and water, mix cement using shovels, build walls brick-by-brick or assist with the construction of the roof. After the construction is done, you can plaster and sand the walls, paint the walls and design murals, or help with landscaping in the garden. In the afternoon, you can choose to relax or help out with community initiatives such as the reading club for children or sports activities.
In your free time, you can visit Cape Coast and learn more about the country's history of slave trade by visiting the castles and museums in the area. With warm weather year round, Ghana is also perfect if you'd like to spend the day relaxing on the beach or exploring one of the many national parks.
What are the aims and impact of this project?
The aim of this project is to build important infrastructure in underprivileged communities. In the past, we have built classrooms, accommodation for school teachers, homes, toilet blocks, libraries, bookshelves and more.
Many Ghanaians in the more rural areas live on less than one dollar a day, which means that many families struggle and live in inadequate housing. We have been building sturdier homes for families who cannot afford to build their own.
Public schools also do not receive sufficient funding so there is a limited number of classrooms available. Many of these classrooms are split between two classes. This can prove quite challenging for the teachers and students who are sharing this small space. To improve the learning environment for both students and teachers, we have been helping with the construction of new classrooms.
Through your volunteer building work in Ghana, you'll provide communities with better-quality homes and the children with safe schooling environments. This will encourage learning and promote a sense of pride in their school.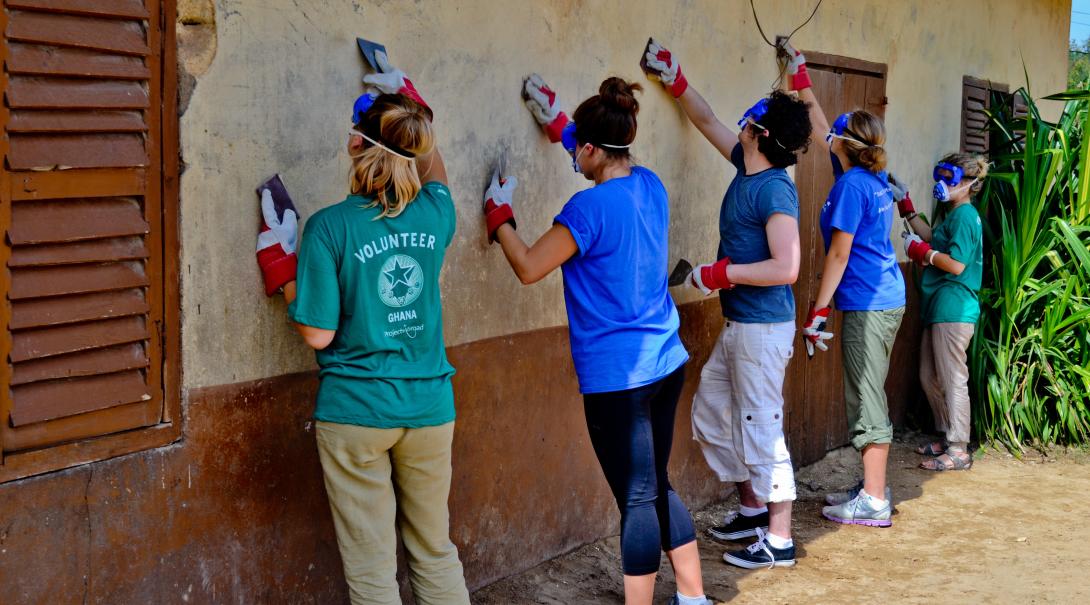 The project runs all year round, you can start on any day, and it's fully supervised. So all you need to do is decide on some dates, complete our application form with a £195 deposit and we'll take care of the rest.
Measuring our impact
Our projects work towards clear long-term goals, with specific annual objectives. Every volunteer and intern we send to these projects helps us work towards these goals, no matter how long they spend on our projects.
Every year we take a step back and look at how much progress we've made towards these goals. We put together a Global Impact Report, which documents our achievements. Find out more about the impact our global community of volunteers, interns and staff make, and read the latest report.
Food and accommodation
You'll stay with a host family in Ghana. They will welcome you into their home, eager to share their customs and have you teach them about your own culture. We believe that this is the best way to immerse yourself in the culture of Ghana and have a truly unique experience.
We will always try to let you live alongside at least one other Projects Abroad volunteer or intern at the same host family. Your room will be modest, but comfortable, clean, and safe.
Your program fee includes three meals a day.
Find out more about our accommodation.
Leisure activities and free time
Volunteering in Ghana is an ideal way to explore this colourful West African country. There's a huge variety of different activities to do while you're there, giving you plenty of exciting ways to spend your free time.
Music is a central part of Ghanaian culture. In the bigger towns, especially Accra, you will hear some great live bands and have some memorable nights out. Evenings spent at buzzing restaurants will also give you a taste of some of the delicious local cuisine.
For a look into Ghana's history, you can tour the slave forts of Cape Coast and visit museums. Nature lovers will relish trekking through the rainforests of Kakum National Park or Mole National Park.
We run a wide range of projects in Ghana so there's sure to be other volunteers there during your trip. This means you can explore the country solo or connect with other volunteers and travel as a group.
Safety and staff support
Your safety and security is our prime concern. We have many procedures and systems to ensure you have the support you need to enjoy your trip with peace of mind. Our Projects Abroad staff are available 24 hours a day to help, and will be on-hand to make sure you settle in well at your accommodation and placement. If you encounter any problems, they will be available to help at any time.
Find out more about safety and backup.
Not quite what you're looking for?
Take a look at the following pages where you'll find collections of similar projects: